Jerry Rice's Stacked 1985 NFL Draft Class: Where Are the 1st-Round Picks Now?
When listing the best NFL draft years in history, it's impossible to ignore the one that produced Jerry Rice — easily the headline of this draft. The wide receiver went 16th overall in the first round. Across 20 seasons, Rice had a Hall of Fame career, most of them with the San Francisco 49ers. To many, he's the GOAT.
Even to those lukewarm on Rice's GOAT credentials, it's nearly impossible to make a case that the 13-time Pro Bowler isn't a top wide receiver in NFL history after he racked up 1,256 points, more than any non-kicker in NFL history. It all looks more impressive when you realize just how strong the rest of Rice's draft class was.
1985 NFL draft: the 28 first-round players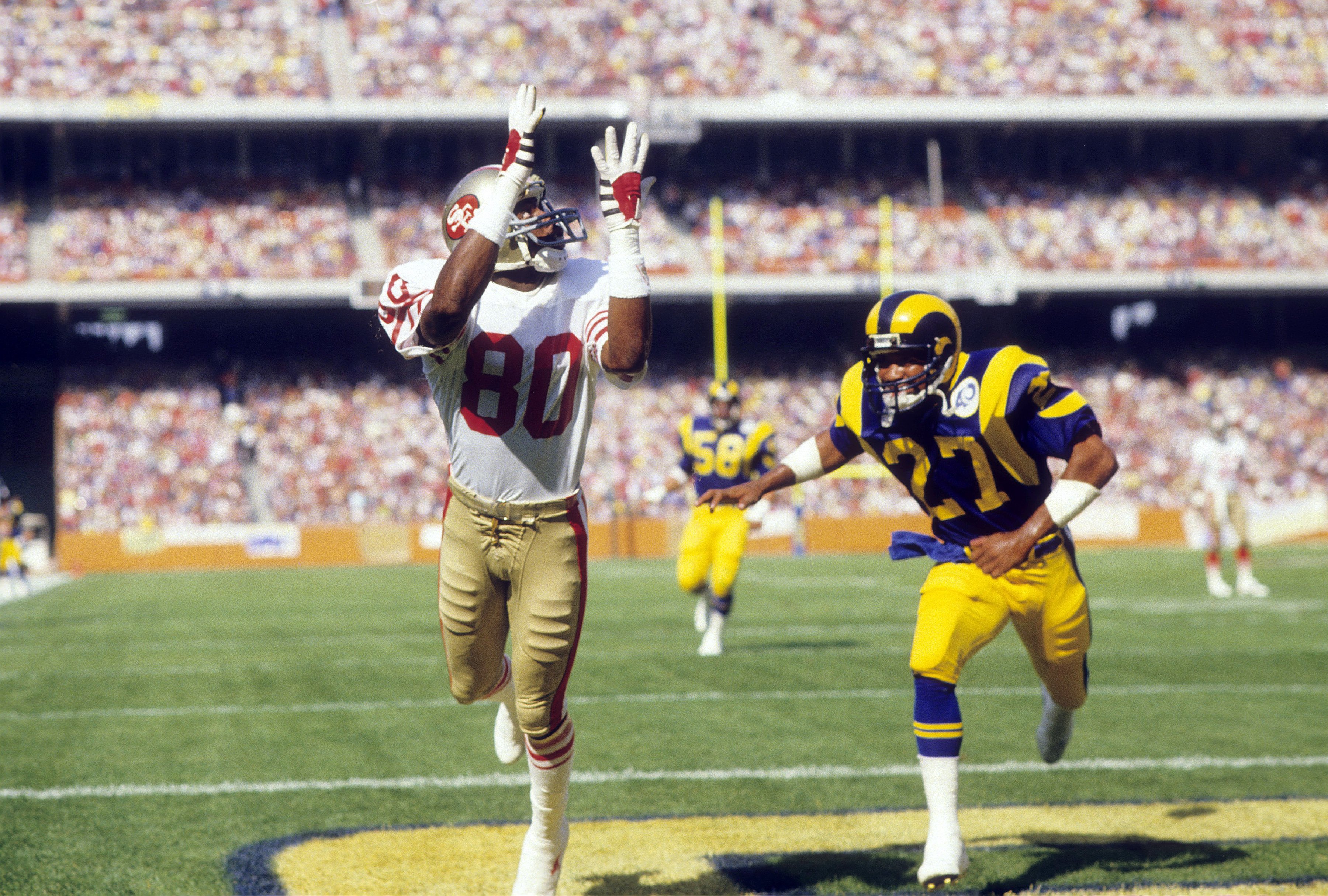 RELATED: Jerry Rice Would Have Been Extremely Underpaid If He Played in 2020
According to Athlon Sports, the 1985 draft was the fourth best of all time. It doesn't hold that honor just because of Rice. It brought the NFL the all-time best receiver, the career sacks leader, and some of the biggest names from the collapsing USFL.
Pro Football Reference collects the full record of the first round, with several notable players in bold:
No. 1: Bruce Smith, Buffalo Bills, retired in 2003, Hall of Fame in 2009
No. 2: Bill Fralic, Atlanta Falcons, retired in 1993, became a pro wrestling commentator
No. 3: Ray Childress, Houston Oilers, retired in 1996
No. 4: Chris Doleman, Minnesota Vikings, retired in 1999, Hall of Fame in 2012
No. 5: Duane Bickett, Indiana Colts, retired in 1996
No. 6: Lomas Brown, Detroit Lions, retired in 2002
No. 7: Ken Ruettgers, Green Bay Packers, retired in 1996
No. 8: Ron Holmes, Tampa Bay Buccaneers, retired in 1992
No. 9: Kevin Allen, Philadelphia Eagles, released from the NFL after testing positive for cocaine use
No. 10: Al Toon, New York Jets, retired in 1992
No. 11: Richard Johnson, Houston Oilers, retired in 1992
No. 12: Jim Lachey, San Diego Chargers, retired in 1995
No. 13: Eddie Brown, Cincinnati Bengals, won Rookie of the Year over Rice, retired in 1991
No. 14: Derrick Burroughs, Buffalo Bills, retired in 1989
No. 15: Ethan Horton, Kansas City Chiefs, retired in 1994
No. 16: Jerry Rice, San Francisco 49ers
No. 17: Kevin Brooks, Dallas Cowboys, retired in 2004
No. 18: Freddie Joe Nunn, St. Louis Cardinals, retired in 1996
No. 19: George Adams, New York Giants, retired in 1995
No. 20: Darryl Sims, Pittsburgh Steelers, retired in 1988
No. 21: Jerry Gray, Los Angeles Rams, retired in 1993
No. 22: William Perry, Chicago Bears, known as "The Refrigerator," remains the heaviest player to ever score a Super Bowl touchdown
No. 23: Jessie Hester, Los Angeles Raiders, retired in 1995
No. 24: Alvin Toles, New Orleans Saints, retired in 1988
No. 25: Emanuel King, Cincinnati Bengals, retired in 1989
No. 26: Steve Sewell, Denver Broncos, retired in 1991
No. 27: Lorenzo Hampton, Miami Dolphins, retired in 1989
No. 28: Trevor Matich, New England Patriots, retired in 1996
Other Hall of Fame heroes from the first round of the 1985 NFL draft
RELATED: Jerry Rice Learned How to Catch by Snagging Bricks
Bruce Smith went first overall. He was no Rice. But who is? He still has the most career sacks in NFL history to this day: a nice, even 200. While Rice holds many of the records from this draft class, and indeed the NFL in general, Smith managed to eke out his own all-time level stat. The defensive end was so great, he made it to the Hall of Fame in 2009, his first year of eligibility.
Chris Doleman had a long career, mainly with the Minnesota Vikings. NBC Sports reports that he lands fifth on the all-time sacks list. That was accomplished, in part, because he stayed healthy enough to play 232 of 236 possible regular season games. He went fourth overall, and easily proved his worthiness of that high pick.
Some of the best NFL players from the 1985 draft fell out of the first round
Andre Reed, the longtime Buffalo Bills Hall of Fame wide receiver, was picked 86th overall in the fourth round. His 27 receptions across his four Super Bowl appearances, the Pro Football Hall of Fame reports, is second only to Rice's 33.
Two of the most high-profile USFL players were fairly underrated as NFL draft picks. Herschel Walker was the subject of one of the most shocking trades in NFL history. And the Dallas Cowboys sent the blockbuster running back to the Minnesota Vikings. Doug Flutie had one of the most fascinating careers of any quarterback. He bounced between the USFL, CFL, and NFL before finally retiring in 2006.
Kevin Greene is firmly enshrined in the Hall of Fame. Somehow, in 1985 he wasn't picked until deep in the fifth round by Los Angeles Rams. According to CNN, he remains third on the all-time NFL sacks leader board.