Jerry West Despised Phil Jackson Before Being Forced to Offer Him the Los Angeles Lakers Coaching Job: 'F*** Phil Jackson'
Phil Jackson is one of the great coaches in NBA history. He helped guide the Chicago Bulls to six championships in the 1990s before becoming a Los Angeles Lakers legend and bringing five more titles to Hollywood. But before Phil's time in LA, Jerry West wanted no part in Jackson coaching his team.
West, the Hall of Fame player and former general manager of the Lakers, had a few reasons for hating Jackson. But ultimately, the Logo didn't have much of a choice before offering his foe the head coaching job.
Jerry West wasn't a fan of Phil Jackson
While West was a superstar scorer for the Lakers, Jackson was physical 6-foot-8 forward for the New York Knicks. The two played each other countless times over the years, but none was more memorable than the 1972 NBA Finals. As West was walking off the court after one of the games, Jackson connected with a wild elbow, breaking the guard's nose.
Years later, Jackson spoke to the media shortly after the Lakers released Dennis Rodman in April 1999. The former Bulls coach said LA didn't offer his former player much of an opportunity to succeed, which prompted Jerry West to shoot back, "Apparently we don't do things right."
In Jeff Pearlman's Three Ring Circus: Kobe, Shaq, Phil, and the Crazy Years of the Lakers Dynasty, West's dislike of Phil was increasingly apparent during the playoffs.
"When West was asked during his team's playoff loss to San Antonio about the possibility of hiring Jackson, he said, curtly, 'F*** Phil Jackson.'"

Jeff Pearlman
However, West would eventually have to swallow his pride and bring his enemy to Los Angeles.
West didn't have much of a choice in hiring Jackson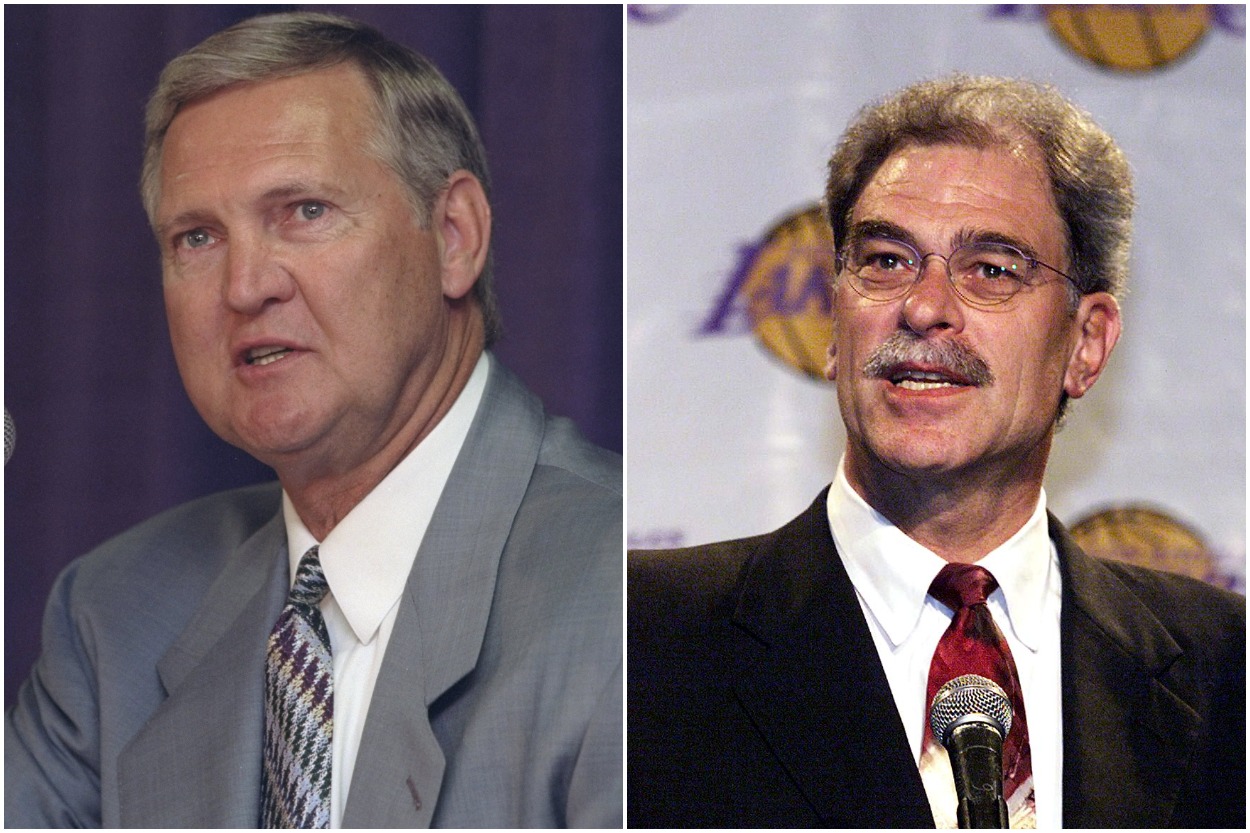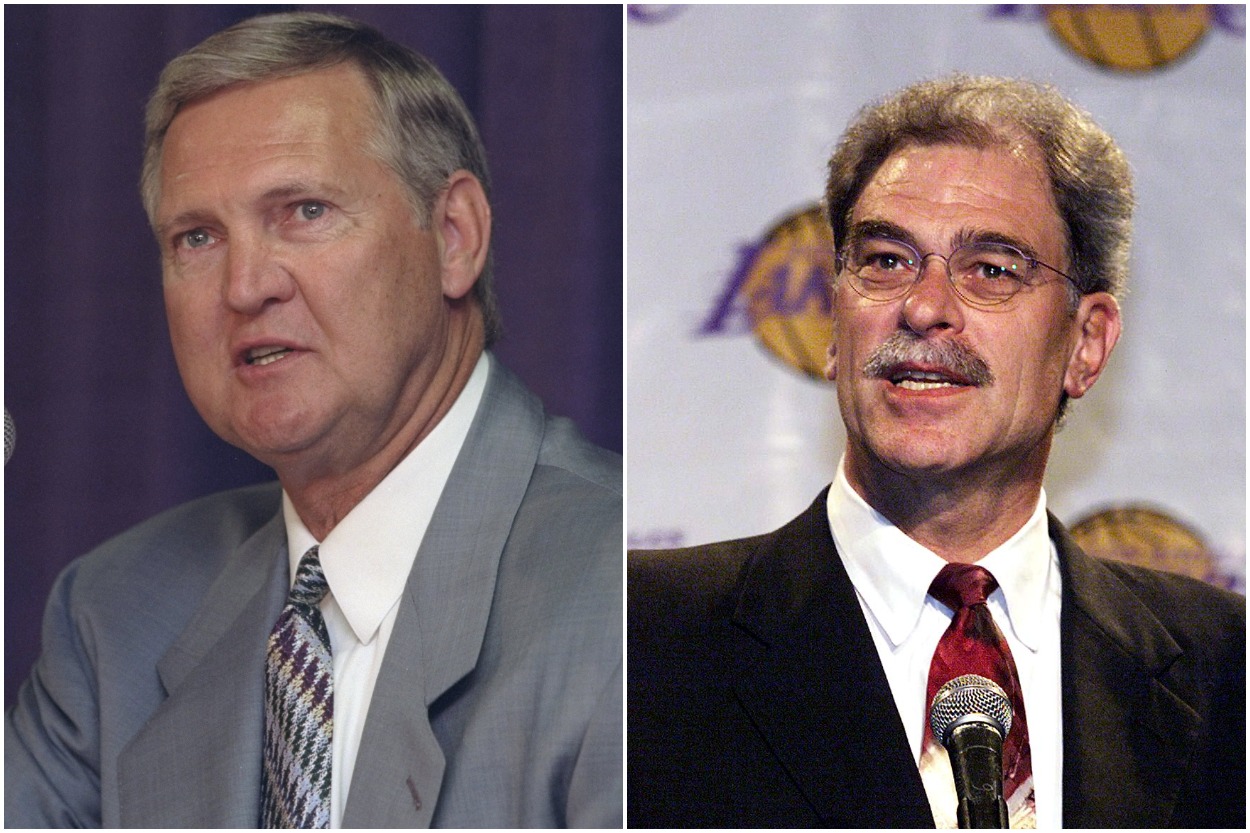 Jackson had a decorated resume even before the turn of the century. He was Chicago's coach for all six of its titles, most recently in 1998. But West likely wouldn't have moved toward Jackson if it wasn't for current head coach Kurt Rambis.
Rambis, a former Laker himself, became the team's head coach in 1998-99 after Del Harris was fired. In 37 games, Rambis led LA to a 24-13 record, but it wasn't enough to earn support from his players.
"Within a week of the end of the 1998-99 season, [Shaquille] O'Neal made a demand of [agent Leonard] Armato," Pearlman wrote in Three Ring Circus. "He called him and said, 'Listen, tell [West] I'm not playing for Kurt. Nobody wants to play for Kurt. If Kurt's coach next year, I ain't playing."
Shaq then presented Armato a list of coaches he would play for, one of which was Jackson. Other key players like Kobe Bryant and Glen Rice also made it known they would want to play for Jackson. West and the Lakers listened, firing Rambis and reaching out to Jackson.
"We have talent here," West told Jackson on the phone. "We just lack leadership and maturity. It's probably not all that different than what you walked into with the Bulls. This team is ready." After some negotiating, the Lakers held Jackson's introductory press conference on June 16, one year and two days after the Zen Master won his last title with the Bulls.
A Los Angeles Lakers title wasn't enough to heal West and Jackson's relationship
Once Jackson signed his five-year, $30 million deal to coach the Lakers, the results were immediate. LA went 67-15 in his first year, winning the NBA Finals against the Indiana Pacers. The Lakers won the title in each of the next two years after that, giving Jackson three more rings to add to his decorated list of accomplishments. But success couldn't bridge the gap between Phil and Jerry.
"So one of the problems I had with Phil was this," West wrote in his autobiography West by West. "His office was right near mine and when he would arrive in the morning, he would walk right past and never even bother to wave or duck his head in to say hello."
"Phil and I had no relationship. None. He didn't want me around and had absolutely no respect for me — of that, I have no doubt."

Jerry West
One of the more heated moments came during the 2000 Western Conference Finals. After years of rumors, West confirmed that Jackson kicked him out of the locker room after a game, telling him, ""Jerry, get the f*** out, I'm not finished here yet."
"In the process, I know Jerry was hurt by me asking him to leave the room," Jackson told the Los Angeles Times. "It has always been what I've done any time it got intimate or personal, to ask people that were outside, trainers and ball boys in particular."
The partnership between West and Jackson lasted for one year. After an 18-year run as general manager, West left the Lakers in August 2000. The Logo's motivation for leaving the only franchise he ever knew stemmed from a number of things, including Phil earning more money than he did and the non-existent relationship he had with his coach.
West's roster moves, along with Jackson's coaching, helped turn the Los Angeles Lakers into a dynasty. But don't expect the two Hall of Famers to go out for a cup of coffee anytime soon.
All statistics courtesy of Basketball Reference.
RELATED: Phil Jackson Used an Undrafted Rookie to Prepare the Los Angeles Lakers for Allen Iverson