The Jets' Baffling Trade Deadline Message Proves Their Inability to Accept Reality
Expectations were high for the New York Jets entering 2020. They finally parted ways with former head coach Adam Gase, replacing him with Robert Saleh (who many viewed as the top head coaching candidate on the market this past offseason). They also used the No. 2 overall pick on BYU's Zach Wilson, who looked like a future franchise quarterback in the NFL.
Through six games, and these expectations could not have fallen much flatter. The Jets are 1-5, and Wilson is on the injured reserve with a hurt knee. The wheels are quickly falling off the bus in New York, seemingly setting the Jets up for another fire sale at the trade deadline.
The Jets need to be sellers at the trade deadline
While Jets fans are surely tired of the organization punting the season away at the trade deadline every year, there aren't many options for the team to explore at the moment.
Their starting quarterback is out for a few weeks at a minimum, and he wasn't playing all that well, to begin with. Wilson is tied with Patrick Mahomes for the most interceptions in the NFL with nine. Clearly, the Jets' offense has a long way to go before they can support a young quarterback.
The Jets' defense isn't fairing any better, either. They rank seventh-worst in the NFL in expected points contributed by the defense, and star pass-rusher Carl Lawson is done for the year with an Achilles injury.
With so many issues plaguing both sides of the ball, the Jets would be better served to stock up on draft picks for the future, committing to another rebuilding year here in 2021. They should even consider benching Wilson for the rest of the season to keep him safe.
New York aren't being realistic
While common sense suggests the Jets should offload as many players for draft picks as humanly possible, that's not how they view things.
According to head coach Robert Saleh, the Jets aren't looking for a "fire sale" at this year's trade deadline.
"I'm in complete lockstep with Joe with regards to making every decision that we need to make that's in the best interest of this organization and the future of it and the direction we're trying to go," said Saleh.
"So, if it's something that will help us, great. If it's not, great. Forcing things is not Joe's forte. He is very deliberate; he communicates with us all the time. So, I love the way he goes about his business, and I love his process. But I'm with Joe. If it's something that's going to help us, awesome. But I also know we're not looking for a fire sale either."
Coach speak? Or are the Jets delusional?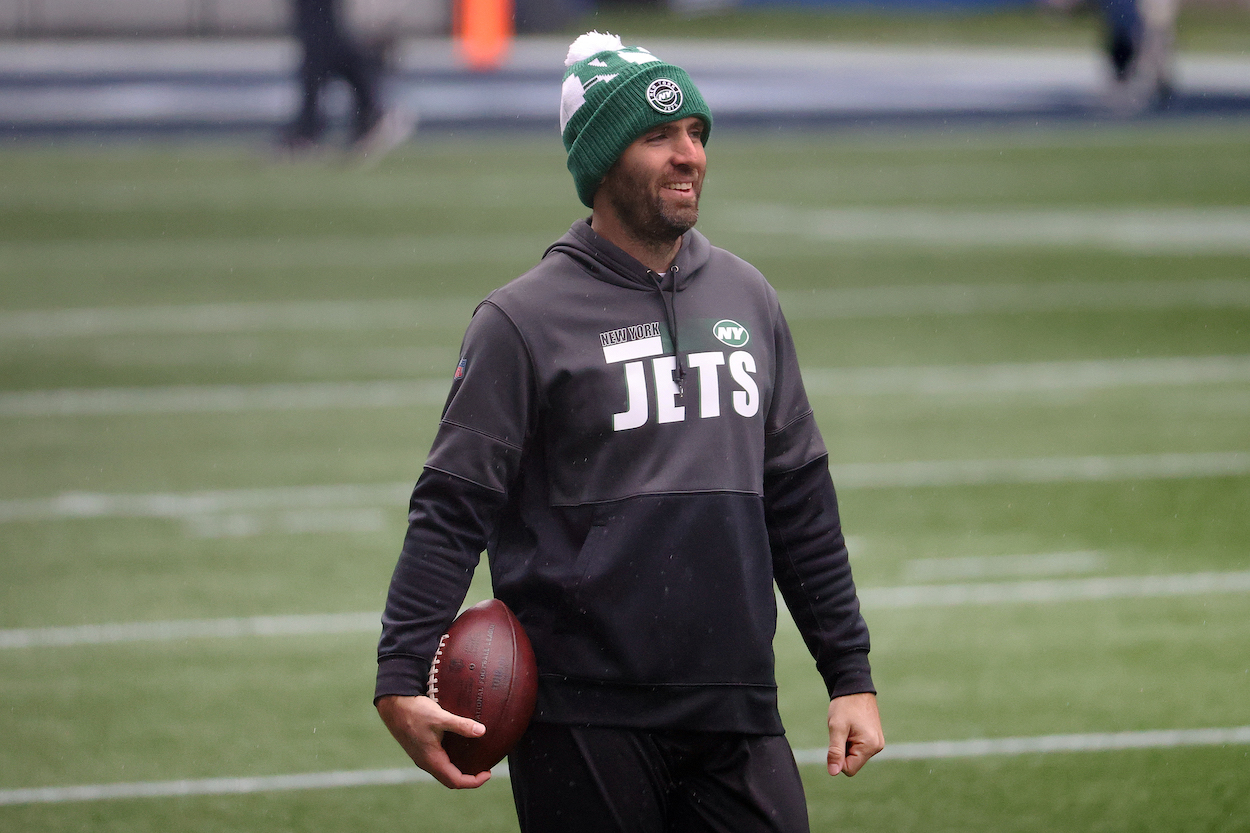 This could be coach speak from Saleh, for what it's worth. NFL head coaches aren't supposed to reveal their GM's plans leading into the trade deadline.
However, if we look at GM Joe Douglas' most recent roster move, he actually gave up a draft pick for former Philadelphia Eagles quarterback Joe Flacco. Instead of searching for future picks, Douglas went out of his way to forfeit draft capital to have Flacco start a few games during Wilson's absence.
This is the exact opposite of what the Jets should be doing right now.
Maybe the Jets turn around and sell off a few pieces at the deadline. However, their move for Flacco suggests they're being dishonest about where the team is now. Giving up draft picks for a 36-year-old QB while possessing a 1-5 record is laughably poor roster management from the Jets.
All stats courtesy of Pro Football Reference.
RELATED: Eagles Head Coach Nick Sirianni Needs to Bench Jalen Hurts for Gardner Minshew to Save His Job