Jets LB CJ Mosley Crushed Robert Saleh's Failing Rebuild After Another Ugly Loss: 'Right Now, Teams Are Not Respecting Us'
During this past offseason's coaching carousel, San Francisco 49ers defensive coordinator Robert Saleh was viewed as the clear best candidate. Teams were lining up left and right to hire the charismatic DC, with the New York Jets ultimately winning the bidding war.
The Jets were thrilled. They felt Saleh was the personality they needed leading their organization's new rebuild and were looking forward to pairing him alongside eventual No. 2 overall pick Zach Wilson.
Fast forward to December, and things couldn't be going much worse for the first-year head coach.
Robert Saleh's Jets career is off to a miserable start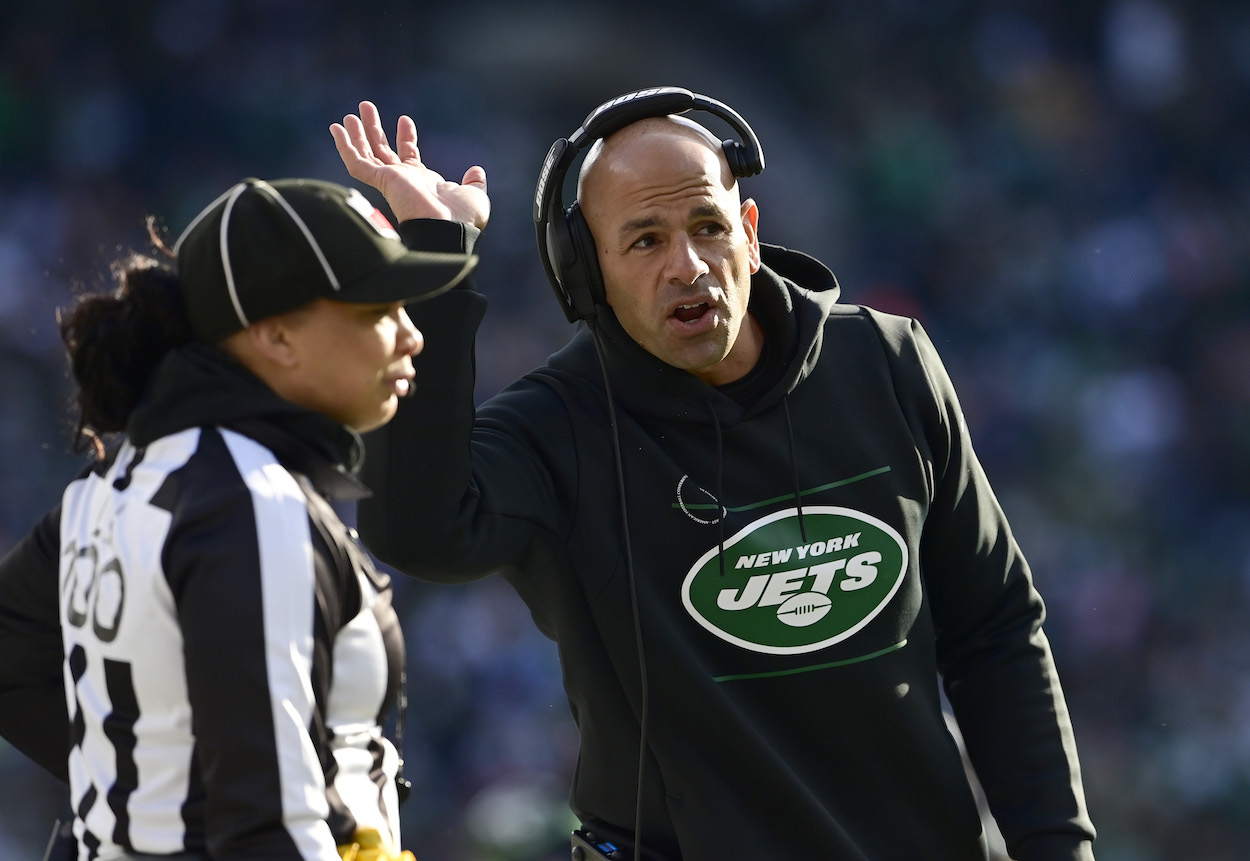 The Jets have a measly three wins through 12 games this season. They're dead last in the AFC East and are currently positioned to pick toward the top of the 2022 NFL Draft.
While Saleh has taken his fair share of criticism over the past few months due to his endless string of lousy coaching performances, Week 13 against the Philadelphia Eagles may have been his worst outing to date.
The Jets were playing a bad Eagles team with a backup quarterback under center and a first-year head coach of their own. If there was ever a time for Saleh to flex his defensive muscles, it was now.
Despite the favorable scenario for Saleh (they were at home as well), the Jets' defense was once again steamrolled. The Eagles beat them 33-18, running up the score with Gardner Minshew II at QB. It was yet another embarrassing performance for Saleh and his side of the football.
Jets players are starting to speak up — in a negative way
To make matters worse for Saleh, his players are seemingly starting to give up on his message as a head coach. Saleh made a few comments earlier in the season about a plan that needed to be followed to complete the rebuild. However, it appears at least part of the locker room isn't buying it.
After the Week 13 loss to Philly, veteran linebacker CJ Mosley commented on teams not taking the Jets seriously this season.
"Right now, teams are not respecting us," Mosley said. He also stated that Eagles players refused to shake hands during the opening coin toss and that some even laughed at Robert Saleh for complaining to officials.
This is a disastrous outcome for a struggling first-year head coach attempting to establish a sense of respect. Opponents view Saleh and the Jets as a laughing stock, and Jets players are starting to take notice. It's embarrassing for them.
Robert Saleh needs to finish 2021 strong
Ultimately speaking, it's doubtful the Jets bail on Saleh after one lousy year. They committed too much money to him, to begin with. However, he still needs to round out 2021 with a sense of momentum. Otherwise, his career as an NFL head coach could be extremely brief.
The Jets ' defense is the most concerning part about Saleh's struggles this season (to go along with the lack of respect he commands). He was supposed to come in and instill a robust scheme on that side of the ball. Instead, it's been a consistent area of weakness.
New York entered Week 13 with the worst expected points contributed by the defense. They presumably still rank last in that department after a lowly effort against the Eagles.
Regardless, pressure is undoubtedly mounting on Saleh's shoulders. People are literally laughing at him on Sunday. He needs to be better.
All stats courtesy of Pro Football Reference.