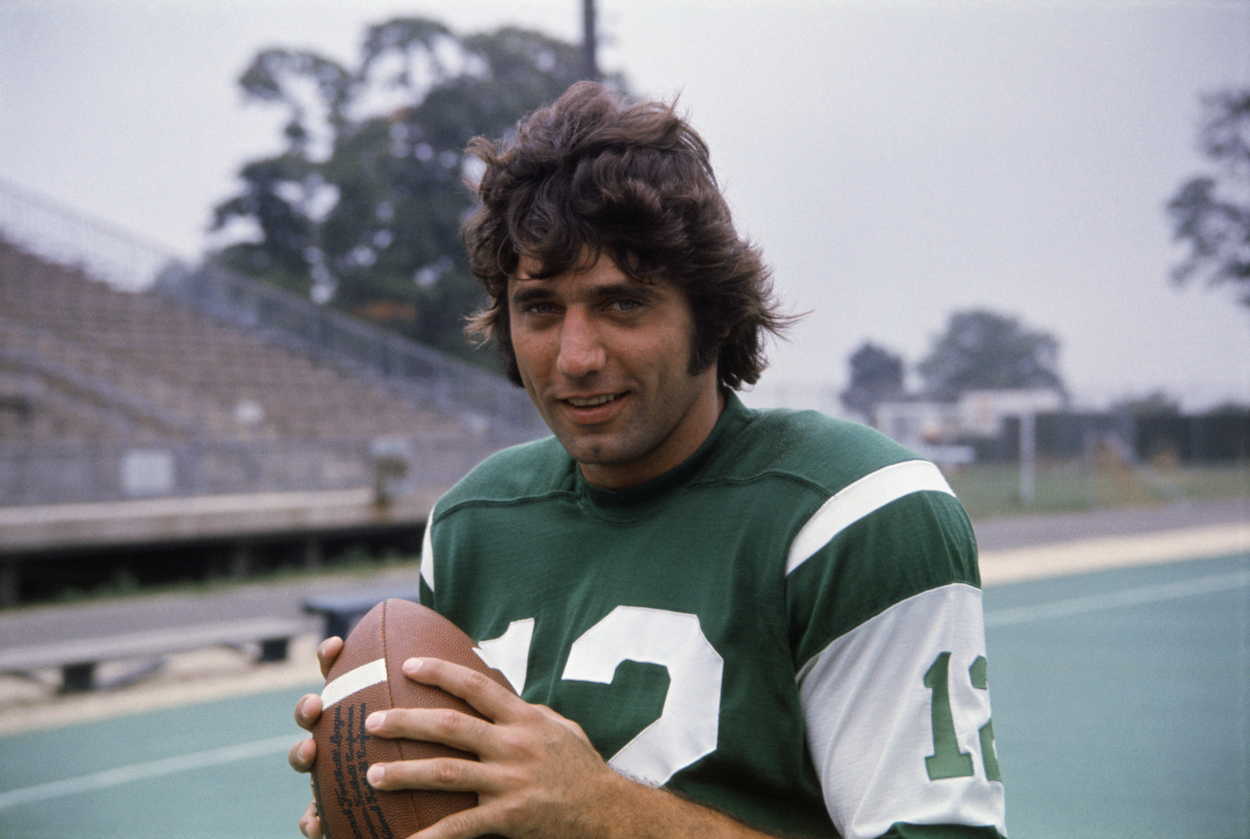 When and How Did Jets Legend Joe Namath Earn His 'Broadway Joe' Nickname?
You likely know New York Jets legend Joe Namath as "Broadway Joe," but did you ever wonder how he got the nickname? We have the answer for you.
There are some players who you just know by their nickname. Atlanta Hawks great Anthony Webb goes by "Spud." Pittsburgh Steelers legend Charles Edward Greene is "Mean Joe."
Then, there's New York Jets great Joe Namath. For everyone who calls him "Namath" or "Joe Willie," there's a large segment of football fandom which knows him as "Broadway Joe." The origin behind the moniker is far more intriguing than him simply spending 12 seasons with the Jets.
Joe Namath earned his 'Broadway Joe' nickname after appearing on the 'Sports Illustrated' cover in 1965
In the NFL's 102-year history, few players have entered the league with more fanfare than Namath. The Alabama Crimson Tide legend famously bypassed the NFL's St. Louis Cardinals and signed with the AFL's Jets.
Yes, Namath picking the AFL over the NFL still counts as NFL history because of the merger. We don't make the rules.
It didn't take long for the talented quarterback's "Broadway Joe" nickname to catch on, and it made sense. The Jets still played in New York at the time, and Namath's presence would propel them to a greater stage, much like Broadway shows and performers.
In a 1969 interview with Playboy, the charming quarterback explained how the nickname came about, and it's fairly simple. When Sports Illustrated profiled Namath and the Jets' rookies in 1965, the magazine put him on the cover and did a photoshoot on Broadway. SI captioned the photo, "Football Goes Show Biz," and featured him smiling in New York City.
"We were in the locker room the day the magazine came out, and offensive tackle Sherman Plunkett looked at it, kind of shook his head a little, and said, 'There goes Broadway Joe.' And it stuck."

Joe Namath
There you have it. One of professional football's most iconic nicknames originated from a photoshoot and a 32-year-old offensive tackle.
Namath cemented his 'Broadway Joe' legacy when he won Super Bowl 3
For many athletes who are always known for their nicknames, there has to be a reason why we as fans opt to call them by their moniker. Sometimes, like with Alex "A-Rod" Rodriguez or Terrell "T.O" Owens, it's just as simple as people being lazy and sticking to initials or shortened names.
The same can't be said for the legitimate and creative nicknames, though. Joe Greene is among the greatest defensive players in NFL history and mauled opposing offensive linemen throughout the 1970s. His play and his four Super Bowl rings certainly went a long way in ensuring we'd never forget him as "Mean."
Similarly, Namath's famous guarantee and upset of the Baltimore Colts in Super Bowl 3 clinched his spot as "Broadway Joe." Sure, those who grew up in the 1960s would likely know him by that name, but the moniker might not have been passed down or stood the test of time without the Super Bowl ring.
It probably also helps that Namath's Super Bowl victory remains the Jets' most joyous occasion in over 50 years. As for the negatives, where do you want to start?
Jets fans can only hope Mike White and his new nickname attain similar success
Not only have the Jets lacked a steady franchise quarterback since Namath left for Los Angeles in 1977, but none of those signal-callers have really had memorable nicknames. Counting Ryan Fitzpatrick and his FitzMagic is a reach.
Enter Mike White, the fourth-year quarterback from Western Kentucky who threw for over 400 yards and three touchdowns in an upset victory over Joe Burrow and the Cincinnati Bengals. Jets running back Ty Johnson, who previously called the ex-Dallas Cowboys backup a "stud," coined a new nickname: Mike F-ing White.
Hey, we like that one. It rolls well off the tongue, it's not too edgy, and it provides a striking visual. Who needs Zach Wilson, the 2021 NFL Draft's second overall pick, when teams have Mike F-ing White catching touchdowns on a Philly Special?
White, a fifth-round pick of the Cowboys in 2018 who hadn't thrown a pass before replacing an injured Wilson in Week 7, now has two objectives on his plate. First, he needs to continue winning the hearts and minds of Jets fans and bring some wins to a long-suffering franchise. He can start by recording a primetime victory over those same Colts in Week 9.
The other mission? He needs to tell us if it's Mike F-ing White or Mike F'Ing White. Sooner rather than later would be ideal.
Like Sportscasting on Facebook. Follow us on Twitter @sportscasting19.