Jets' Overnight Sensation Mike White Once Called Out Hall of Fame Quarterback Peyton Manning: 'I'm Gonna Break Your Record One Day'
Is Mike White the greatest quarterback of all time? The New York Jets hope so as they head into Thursday Night Football to take on the Indianapolis Colts.
White took the NFL by storm when he helped lead the previously one-win Jets to a win over the Cincinnati Bengals. This was the same Bengals team that a week before had demolished the Baltimore Ravens, mind you. The same Bengals team that had taken the lead in the tough AFC North, the same team that features a young up-and-coming star quarterback in Joe Burrow and a superstar rookie wide receiver in Ja'Marr Chase.
With rookie first-round pick Zach Wilson out with a knee injury, all White did was make the first start of his NFL career and lead his underdog Jets team to a 34-31 win against that team.
Is White the greatest of all time? He certainly wants to be.
New York Jets quarterback Mike White once called out Peyton Manning on Twitter
Anybody who knows anything about the NFL knows that Peyton Manning is arguably the best overall quarterback to touch the football. Tom Brady and Joe Montana have collected all the rings, and Aaron Rodgers may be the most physically gifted ever, but nobody commanded and understood the position like Manning.
A member of the Pro Football Hall of Fame class of 2021, Manning is a 14-time Pro Bowler, a seven-time All-Pro, a five-time NFL MVP, and a two-time Super Bowl champion. He threw for 71,940 yards and 539 touchdowns in 17 glorious seasons. 
During his NFL career, Manning broke all kinds of records and still holds the record for most passing yards and passing touchdowns in a season. He threw for 5,477 yards and 55 touchdowns in 2013 as a member of the Denver Broncos. He also averaged 342.3 passing yards per game that season, which is the highest single-season average in NFL history, tied with Drew Brees.
He's an all-time great, and there's no doubt about it.
With that context, White's tweet about Manning back in 2013 looks quite audacious.
"I'm going to break your record one day," he Tweeted.
White is an unlikely hero for the Jets 
White's college career saw him start at South Florida, but he ultimately transferred to Western Kentucky, where he put up solid numbers in 2016 and 2017. In his senior year, he led the No. 7 passing attack in college football, and he boasted a streak of eight consecutive 300-yard passing games.
White was a fifth-round pick of the Dallas Cowboys in the 2018 draft but was waived in 2019. He ended up on the Jets' practice squad and seemed to be mostly an afterthought until this season when he got the job backing up Wilson.
Wilson, who the Jets drafted No. 2 overall in this past draft, was injured in New York's 54-13 loss to the New England Patriots, which allowed White to get playing time. He completed 20-of-32 passes against the Patriots for 202 yards, one touchdown, and two interceptions.
White is kind of a Hall of Famer after all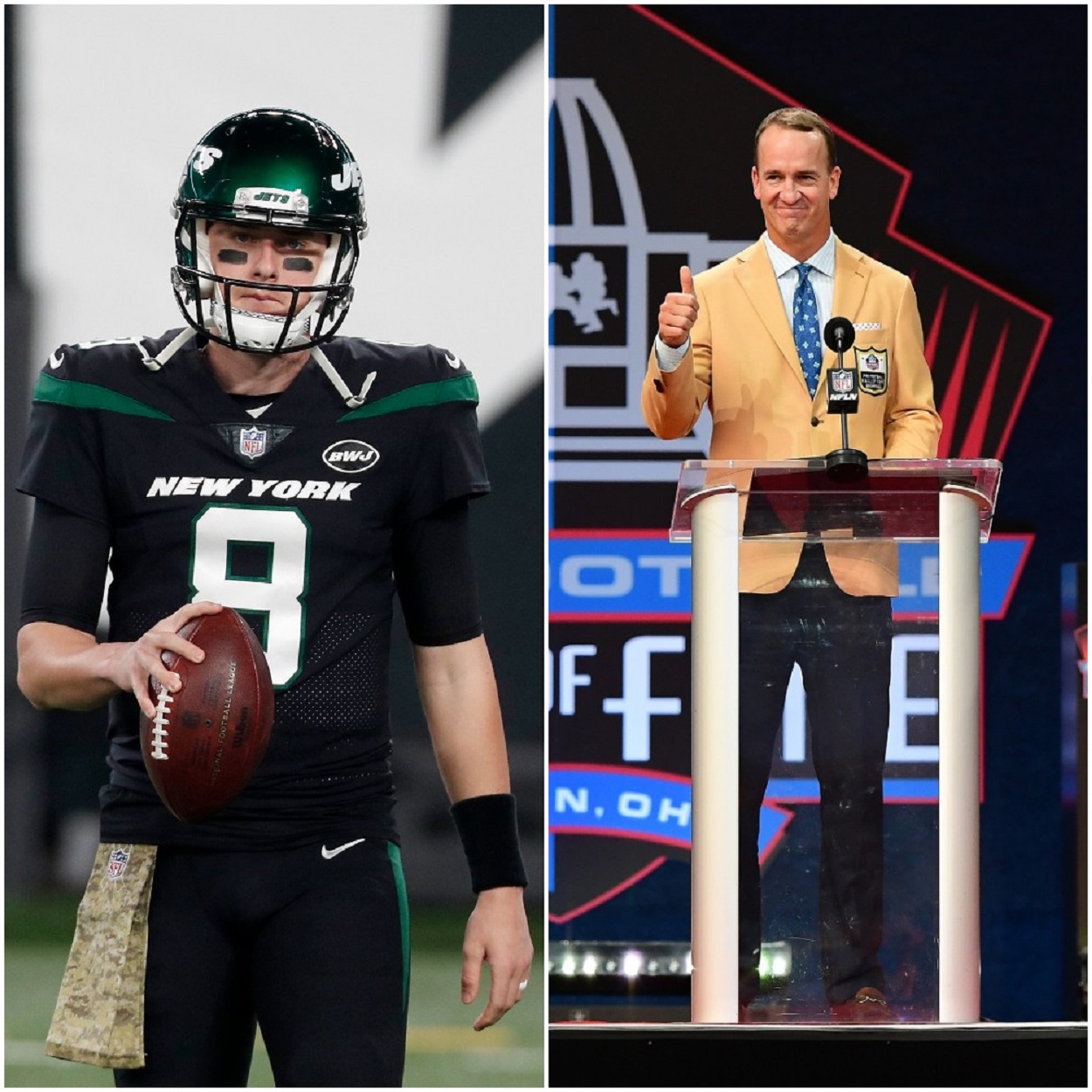 The story was quite different against the Bengals. White benefited from a week of practice as the starter, which resulted in him completing 37-of-45 passes for an astonishing 405 yards and three touchdowns. He did throw two more interceptions, but it's worth noting that his receivers tipped both picked passes. They weren't necessarily the quarterback's fault.
White started the game 11-of-11 and finished with a completion percentage of 82.2 and a passer rating of 107.9. At one point, the Jets were down 11 with 7:24 to go in the game. That deficit didn't matter to New York's new quarterback darling.
White helped lead the comeback and his play was so impressive that he'll actually be immortalized in the Pro Football Hall of Fame. His 37 completions were the most ever by a quarterback in their first start. He was also the 2nd quarterback since 1950 to throw for 400-plus yards in a debut game. 
So, after all this, in a way, White's Tweet back in 2013 has been validated.
Manning is in the Hall of Fame. Now, so is White.
Is Mike White the greatest quarterback of all time? He'll have another chance to make the Hall on Thursday Night Football. 
Stats courtesy of ESPN and Pro Football Reference.
RELATED: Mike White Gets a New NSFW Nickname From His Running Back After Hall of Fame Performance: 'He's a Savage, He's a Dog, He's an Animal'