Jets QB Zach Wilson Handled His 1st Potential New York Controversy with Impressive Maturity
New York Jets rookie quarterback Zach Wilson is already a long way from Draper, Utah.
After missing out on Clemson star quarterback Trevor Lawrence, the long-suffering Jets used the second overall pick in the 2021 NFL draft on Wilson, the standout signal-caller from BYU. Before even playing his first game for the Jets, Wilson had to deal with his first New York-style headlines.
Zach Wilson's mother trended on social media during the NFL draft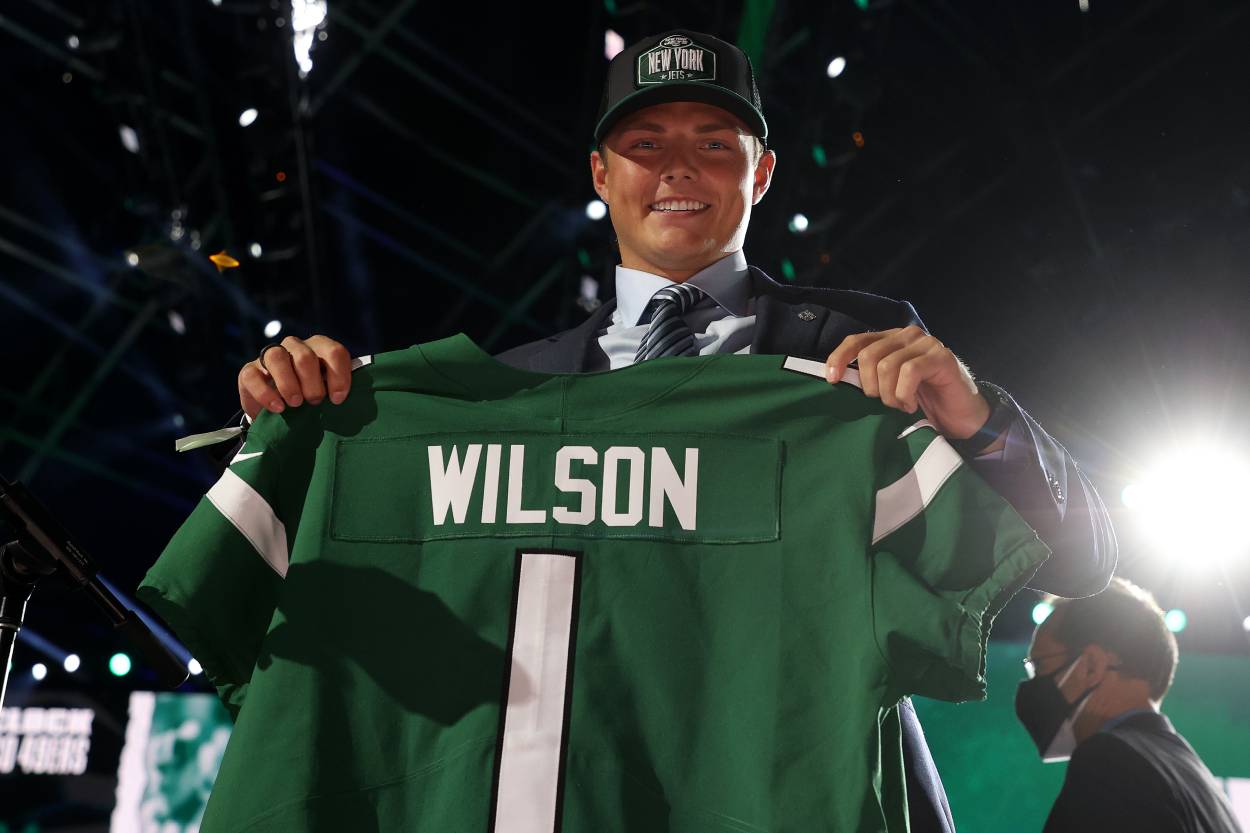 RELATED: Mel Kiper Jr. Firmly Believes the New York Jets Will Make a Franchise-Altering Mistake in the 2021 NFL Draft
There were plenty of stories that the media and football fans could focus on regarding Zach Wilson.
Wilson, who turns 22 in August, skyrocketed up draft boards with an excellent 2020 season. He became the first BYU player selected in the draft's opening round since the Lions used the fifth overall pick on Ezekiel Ansah, a pass-rusher, in 2013.
Yet, that's not what anybody wanted to talk about on Thursday night. It was Zach's mother, Lisa, who became a trending topic on social media.
According to the New York Post, social media users posted about Lisa's looks after TV cameras panned over to her. One Twitter user wrote, "Welcome to New York, Zach Wilson's mom."
Wilson handled a question about the situation with impressive grace
RELATED: The Inspiring Story of Kwity Paye: From Being Born in a Refugee Camp to Becoming a Top 2021 NFL Draft Prospect
The internet made Lisa a superstar, and it was Zach who wound up having to address it.
Hours after meeting the local media, Wilson appeared on Carton & Roberts on WFAN in New York. Craig Carton, a co-host, had previously mentioned Lisa's rise to Twitter fame before Zach came on the show.
Late in their conversation, Carton mentioned how Wilson's mother had been trending on social media during the draft. Carton specifically cited the New York Post's coverage and his belief that the newspaper had made Lisa the focus of the draft because, in his words, "she's a very attractive woman."
Carton asked Wilson if it had been awkward seeing so many people comment on his mother's looks.
"It's not my favorite [topic], for sure. We like to keep her out of the spotlight, but she's an awesome lady, and I love having her support."

Zach Wilson
Wilson should be commended for that response. Although Carton framed the question as respectfully as possible, Wilson could have reacted angrily or simply hung up. Instead, the quarterback acknowledged the topic and tried giving it a positive spin.
Carton said that he felt he had to bring the subject up because the New York Post had made Lisa a significant story. Though the topic can be considered a controversial one, Carton's decision to bring it up had merit. At the very least, it showed that Wilson is ready to handle the off-field pressure that comes with being a professional athlete in the New York area.
The Jets are ready to turn things around with Wilson at QB
RELATED: Zach Wilson to the New York Jets Makes NFL Draft Sense Since His Uncle Founded JetBlue
After years of suffering, the New York Jets hope to have finally found their franchise quarterback.
The Jets haven't made the postseason since the 2010 season, and they have one winning season to their name in the last decade. More often than not, the Jets have been a below-average franchise since the 2011 season began.
Jets fans hope that Wilson is the man who can change the Jets' fortunes, and he should get his chance early. Barring an injury or something unexpected, he'll likely be the one starting in Week 1 and hoping that, unlike Geno Smith or Sam Darnold before him, he can stick around for the years to come.
Like Sportscasting on Facebook. Follow us on Twitter @sportscasting19.