Jets HC Robert Saleh Dishes Ruthless Response to Rex Ryan's Harsh Comments: 'He's Always Got Something to Say'
Things just aren't getting any easier for the New York Jets football team. After Adam Gase and Sam Darnold finally went out of town, the additions of Zach Wilson and new head coach Robert Saleh gave this gloomy franchise a glimmer of California sunshine.
Unfortunately, the first half of the season has not been the best for the Jets. Wilson has struggled on the field and has undergone an injury. Saleh's squad has a 2-7 record and has given up 45 points or more over three of the past four games.
Saleh is doing everything he can for now, but former head coach Rex Ryan dished some blunt comments after another Jets loss, bringing an epic response from Saleh himself.
The Jets disappointing performance pushed Rex Ryan to drop some harsh criticism of Robert Saleh
After the Jets got embarrassed by the Buffalo Billa 45-17 on Sunday, Ryan laid into Saleh for being an apparent "defensive guru" on ESPN's DiPietro and Rothenberg Podcast.
"This guy was supposed to be a defensive guru … I heard everything and I take it personal on this one. Everything I've heard about was, well this guy's a lot like myself, but without the bad part. Yeah, well some of the bad part you need because this team doesn't play with any damn heart. That's the thing that's disappointing to me. Don't ever compare this guy to me, this Robert Saleh to me."

Rex Ryan on Robert Saleh comparison
Ryan was irked by the comparisons, especially after the Jets' defense got beat up for the fourth straight week.
The defense is last in the NFL in points allowed (32.9) and second-to-last in interceptions (2). However, this can't entirely be blamed on Saleh alone, although his coaching has been a hot topic as of late.
The roster is bleak and full of young players still finding their way in the NFL. Either way, Ryan is furious with the comments.
Robert Saleh responds to Ryan's criticism with an epic clapback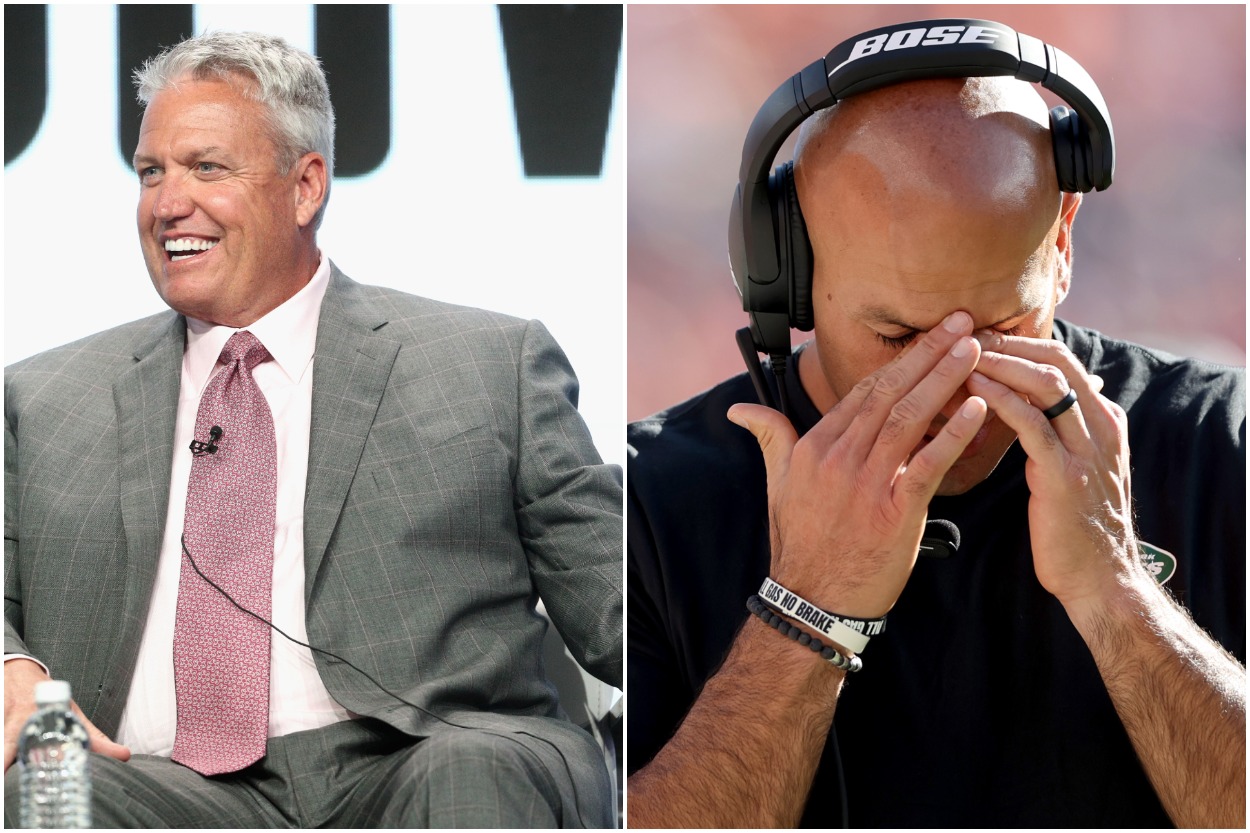 Surely the first-year head coach wasn't happy with Ryan's comments. Things could be better in New York, and they will be after some time.
Nonetheless, Saleh's impressive resume with the San Francisco 49ers should give this team some hope, although Ryan isn't pleased with the Jets' performance as of late.
Well, Saleh responded to Ryan's comments with a ruthless take (h/t Scott Thompson of SNY).
"Obviously, if it's that personal for him, he knows where to find me … I'm not surprised. He's always got something to say."

Robert Saleh's response to Rex Ryan
Saleh isn't wrong. Ryan always does have something to say about everything, especially the Jets. The current Jets head coach has every right to be frustrated with the current situation, but his tenure from Ryan's is totally different.
Sure, Ryan had success in his first season with the Jets, but the roster was much, much better.
Patience must be preached around the Jets organization. As hard as it is to stay the course, good things are coming with Saleh at the helm.
The Jets have a roster full of young talent that is right on the cusp of turning a corner
Yes, 2-7 is not at all what Saleh imagined when he took the job. But, these things take time, especially after the massive mess Gase made during his team wearing the headset.
Wilson needs more time to develop but has plenty of talent. Michael Carter has caught fire lately and is entrenched as the Jets starting running back. Corey Davis and Elijah Moore give Saleh steady pass-catching options.
Quinnen Williams, Marcus Maye, and C.J. Mosley lead the group on defense, although Maye suffered a devastating injury. The Jets will also add a top-five pick, likely a defensive player, to this group in the 2022 NFL Draft. The amount of playing time these young guys get in new York is tops in the NFL, so take the 2-7 record with a grain of salt.
Good things take time to develop, especially after hitting rock bottom, and Saleh needs to be given a fair shot by everybody.
Stats Courtesy of Pro Football Reference