Jets' Rookie Quarterback Zach Wilson Gets to Attend Aaron Rodgers U: 'He's just messing around, playing backyard football'
The New York Jets selected BYU quarterback Zach Wilson with the second overall pick in the 2021 draft. New York traded Sam Darnold to the Carolina Panthers, so Wilson will be thrown straight into the fire as the Jets' quarterback in 2021. As is the case with any rookie QB, Wilson has a lot to learn as he prepares for his initial season behind center. But the Jets and the Green Bay Packers had two joint practices on Aug. 18 and 19, so Wilson had the opportunity to spend a few days soaking up knowledge from Aaron Rodgers.
The Jets' rookie starter said he learned a lot just by being on the field and having conversations with one of the greatest to ever play the position while attending Aaron Rodgers U.
Zach Wilson commented on how "calm and cool" Aaron Rodgers is under pressure
Zach Wilson is a 22-year-old rookie. Aaron Rodgers is a 37-year-old, 16-year-veteran who has three MVPs to his name. If Wilson even sniffs Rodgers territory during his career, the Jets will have finally found a franchise quarterback.
The BYU-product has yet to play in a regular season game, but at least he was able to take the same field as a Super Bowl champion when New York joined the Packers for two practices at Ray Nitschke Field.
Wilson said he was in awe just being on the field with one of his idols, but specifically pointed out how calm and cool Rodgers seems under pressure, according to NBCSports.
"He's got a lot of knowledge. He's a smart dude, he knows what's going on out there. It's cool to ask him about footwork, what's going on on the field, what he's seeing. If I could spend more time with him and just keep asking questions, I would.

"The biggest thing I picked up … just how calm and collected he is. He's kind of just out there, almost like he's just messing around, playing backyard football. He's having a good time and he makes it work."

Zach Wilson on Aaron Rodgers
Wilson had his best game as a pro in a win over the Packers, and Rodgers sent praise right back in the rookie's direction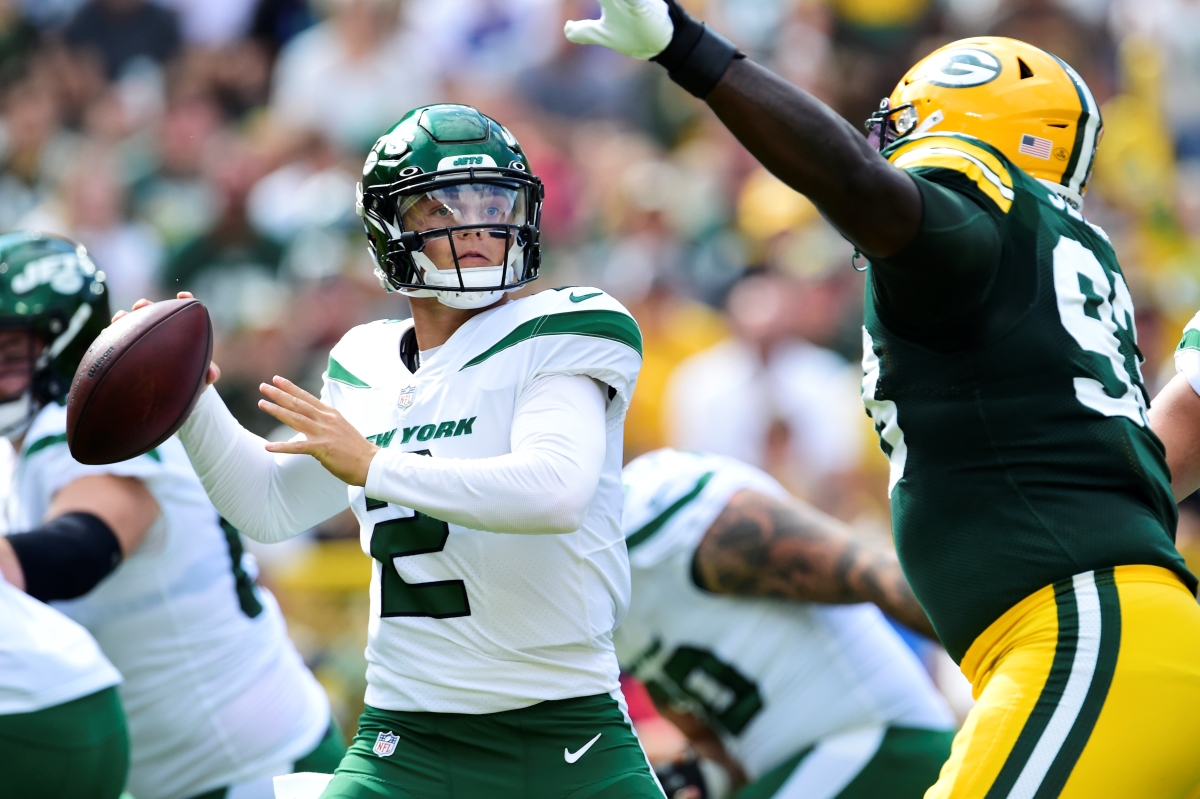 Whatever Wilson picked up from Rodgers, it worked. The rookie was 9-of-11 passing for 128 yards, two touchdowns and no interceptions as New York beat Green Bay 23-14 to give Jets' coach Robert Saleh his second NFL victory. Wilson found tight end Tyler Kroft for an 18-yard TD pass in the second quarter, and the two hooked up for another 18-yard score just before halftime. Wilson seems to be developing rapport with his tight ends as he also made some big plays with Ryan Griffin during the teams' joint practices.
The 6-foot-3 QB started against Kurt Benkert as Rodgers is sitting out the preseason, but the three-time MVP was impressed by what he saw from Wilson, according to SportingNews:
"He's a good young kid. I really like his disposition, his mentality. He can throw the heck out of it.

"As we saw this week in practice, they got a lot of young guys up front, offensive line still needs to gel together. I said, 'Man, you've got to be on your footwork, and making sure you're dealing that ball,' because there's growing pains as a rookie for sure, especially for a team that struggled last year. But I'm excited for him."

Aaron Rodgers on Zach Wilson
Wilson said he hopes it's not the last time he gets to take lessons from Rodgers
The Jets' rookie is just beginning his NFL journey, while Rodgers is toward the tail end of his. Wilson was able to be Luke Skywalker to Rodgers Yoda, at least for a few days. The former Cougar has a lot of lessons to learn along the way, but soaking up some knowledge from a three-time MVP isn't a bad place to start. And it doesn't hurt to know that your idol, and one of the greatest quarterbacks of all time, thinks you can "throw the heck out of it."
Statistics courtesy of NFL.com.