Jets Rookie Zach Wilson Dishes True Feelings on Facing Bill Belichick's Patriots Again After 4-INT Game: 'I Think It's Going to Be a Blast'
The New York Jets have not had much success in the 2021 season with their new regime in place. Rookie quarterback Zach Wilson has struggled, and new head coach Robert Saleh has just one victory through the first five weeks.
Next up for the Jets is a matchup against Bill Belichick and the New England Patriots. Last time around, Wilson tossed four interceptions in a forgettable performance. The BYU product could not get anything going, and indeed he wants to forget about that game.
Nonetheless, he spoke on the looming matchup against New England and gave a surprising answer.
Zach Wilson has to face New England again but is wildly optimistic
The Jets rookie had to face the Patriots in just his second career start. It did not go well at all. He finished the game just 19-of-33 for 210 yards with no scores and four interceptions. New York was held out of the endzone entirely as the Patriots cruised to a 24-6 victory.
However, Wilson doesn't seem too concerned about the matchup this weekend (h/t Mark Cannizzaro of the New York Post).
"Just like it was the first time we played them, everything's a steppingstone … We're building something here that's going to be special for a long time. When it's going to be super-special, we don't know, but all we have to focus on is one step at a time, throwing those bricks down and getting better. I'm excited to play these guys again. I think it's going to be a blast.''

Zach Wilson on facing the Patriots for the second time in the first six weeks
Wilson said it will be a "blast" and hopefully he does better than their first matchup. The Patriots smacked them around on both sides of the ball.
Wilson's leading receiver in that game was Braxton Berrios, who caught seven balls for 73 yards. The Jets' significant offseason addition Corey Davis has just two catches for eight yards in a forgettable effort by everybody.
But, labeling this game as a "blast" is optimistic by the youngster. Will he throw four interceptions again? Who knows, but it doesn't help that the Jets have to travel to Foxborough of all places.
Wilson's struggles are just one issue for the Jets
After ditching Adam Gase following an awful few years, they landed on Saleh as the head coach. The Jets traded away Sam Darnold and snagged Wilson 2nd overall in the 2021 NFL Draft over Trey Lance, Justin Fields, and Mac Jones — who will suit up for the Patriots again on Sunday.
So far, the selection of Wilson has not looked good. However, the Jets as a team have not looked good, either. Their lone victory came against the Tennessee Titans — yes, you read that right.
Somehow, someway, the almighty Titans lost to the Jets. The New York offense scored two touchdowns in the 4th quarter and allowed the Titans to tie the game with 19 seconds left.
Fortunately, the leg of Matt Ammendola was the difference maker, and the Titans could not even benefit from a 157-yard outing from MVP-candidate Derrick Henry.
The Jets are fresh off their bye, and perhaps Saleh and the team will look better will two weeks of preparation. On the year, Wilson has thrown for 1117 yards with four scores and an NFL-high nine interceptions — including four in the game against New England.
As a sum, the rookie quarterbacks have struggled. Trevor Lawrence is second with eight interceptions, Davis Mills has seven, and Jones has six. Nonetheless, Wilson's dealt with the most issues through the first six weeks but remains optimistic about the team's future.
The rookie has his head up even against Bill Belichick and the Patriots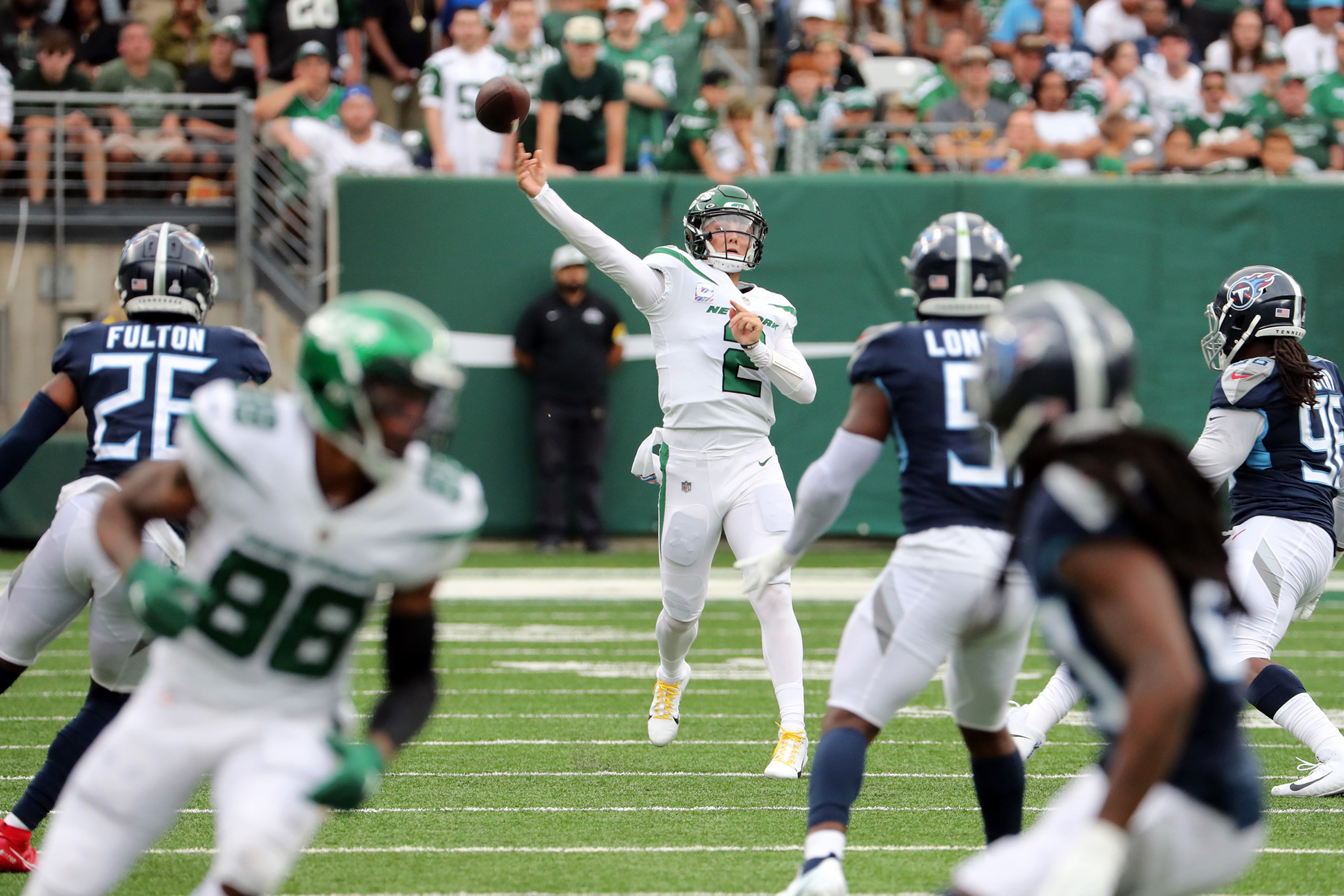 For as much as Wilson has struggled this season, the fact he has an optimistic mindset is a great sign. Moreover, he is just 22 years old, and the Jets as a whole are still trying to figure out their identity on both sides of the ball.
Rookie running back Michael Carter is starting to get more reps, and fellow rookie Elijah Moore is just waiting for his breakout game to happen. Rookie quarterbacks — and rookies in general — take time to grow in this league. Now more than ever, the first-year signal-callers are struggling across the board, and Trey Lance has started just one game for the San Francisco 49ers.
The time will come for Wilson, and if he can remain positive throughout, the future could be bright for the Jets franchise quarterback.
First things first, another matchup against the Patriots — this time in New England — and hopefully he can take care of the football.
Stats Courtesy of Pro Football Reference
RELATED: New York Jets Head Coach Robert Saleh Embarrassingly Compared Zach Wilson to Josh Allen to Divert Blame Away From His Bad Coaching