Jets Safety Marcus Maye's Career-Altering Injury Just Crushed His Chances of Securing a Massive Contract
Despite some intense Mike White hype, the New York Jets were unsuccessful in their attempt to knock off the Indianapolis Colts during Week 9. The Colts ended up running away with the affair, dropping 45 points. To make matters even worse for New York, they lost an essential piece of their secondary during the affair.
Safety Marcus Maye ruptured his Achilles while making a move he's made a million times before. He pressed off the ground, and his Achilles simply snapped.
Maye will miss the remainder of 2021 due to the injury and could easily miss part of 2022.
Marcus Maye and the Jets failed to reach an extension in the offseason
To give some background on Maye's financial situation pre-injury, his contract status was a hot topic this past offseason in New York.
With Jamal Adams no longer in the building and the organization shifting toward a defensive-minded approach with Robert Saleh as head coach, Maye was viewed as a critical potential building block. 2020 was arguably Maye's best season as a pro, as well. He racked up career-highs in tackles (88), passes defensed (11), and sacks (2.0).
Unfortunately for Maye, he and the Jets could not agree to terms on a long-term contract extension. The Jets ultimately slapped the franchise tag on him, setting the stage for Maye's departure at the trade deadline or in the upcoming offseason.
The Jets obviously didn't trade Maye, and now he's staring down an offseason spent rehabbing his Achilles, as opposed to leveraging interested teams against each other in free agency.
Marcus Maye's injury will cost him millions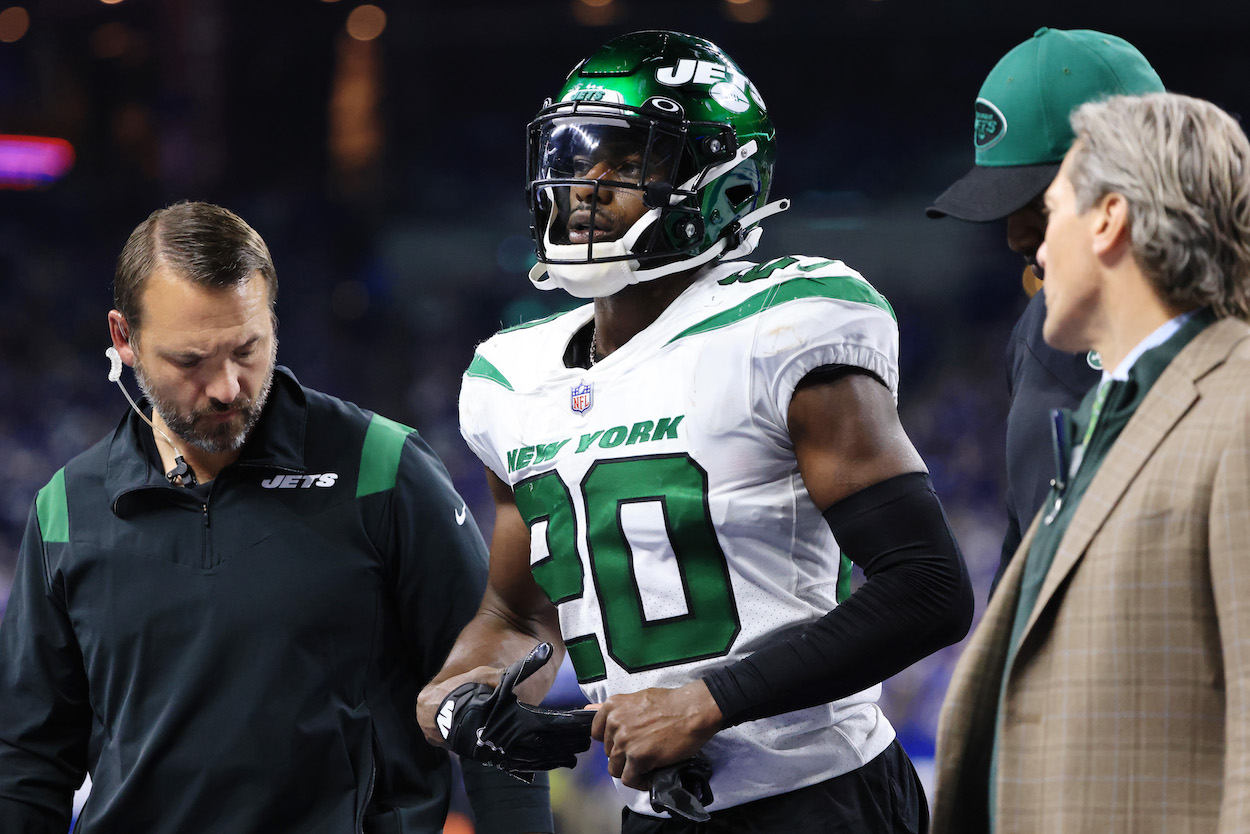 Maye isn't a superstar by any stretch of the imagination. However, he's still a 28-year-old safety playing at the top of his game.
The expectation was that he would demand a relatively sizable number in free agency. Plenty of teams around the NFL could use a player of his stature.
Now, with Maye set to be sidelined for upwards of one full calendar year, it's doubtful he's able to cash in like he was presumably expecting. Instead, Maye will have to take a minor multi-year deal or latch on with a team on a one-year contract in an attempt to reset his value for the following offseason.
Either way, it's a frustrating spot for Maye to be in. Getting injured on the franchise tag right before free agency is brutal, no matter how you slice it.
The Jets' injury issues won't go away
Maye isn't the first key starter the Jets have lost to injury this season. In fact, they've had pretty miserable luck when it comes to the injury bug in 2021.
They lost marquee free-agent addition Carl Lawson to his own respective Achilles tear at the start of the year. Rookie QB Zach Wilson has missed two games with a PCL injury. WR Corey Davis isn't healthy. Veteran defenders Vinny Curry and Lamarcus Joyner are both on injured reserve.
It's been a mess of a year for the Jets, only further making their recent loss of Maye more significant. It's a lousy situation for all parties involved, to put it bluntly.
All stats courtesy of Pro Football Reference.
RELATED: The Jaguars' Brutal Struggles With Time to Prepare Is a Direct Reflection of Urban Meyer's Inability to Adjust to NFL Life