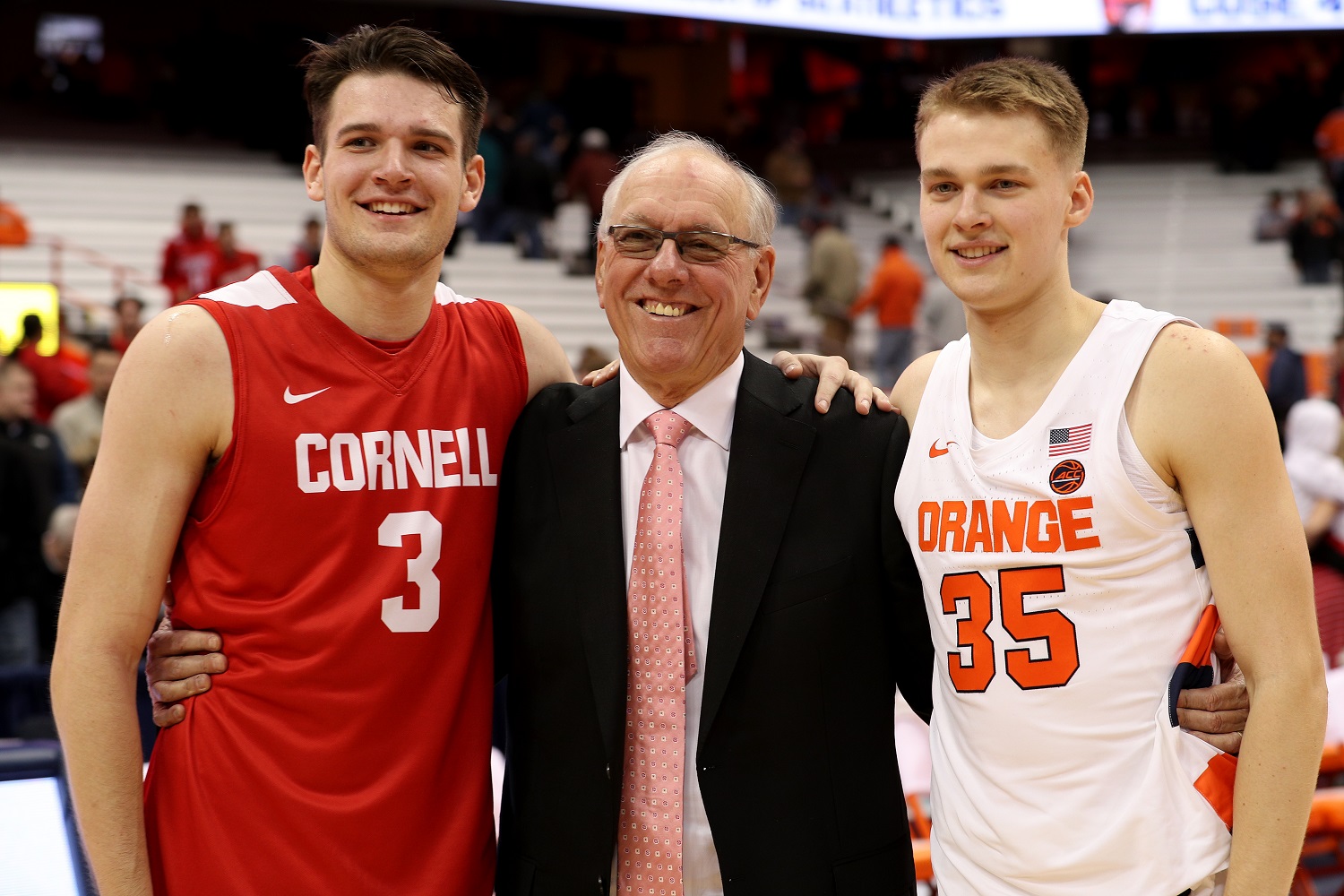 Jim Boeheim's Latest Player Signing Might Signal His Impending Retirement at Syracuse University
Jim Boeheim will be reunited with sons Jimmy and Buddy next season at Syracuse University, where he has coached for 45 seasons.
There has been a Boeheim in the college basketball program at Syracuse University since Jim Boeheim returned to his alma mater in 1969 as a graduate assistant. There have been two Boeheims there the past years seasons as Buddy Boeheim has made 62 starts at guard.
Father and son will have company for the 2021-22 ACC basketball season. Jimmy Boeheim will join his brother on the roster as a transfer from the Ivy League.
It should make for a memorable season in Central New York, but it will likely also mark the end of an era.
Most of Jim Boeheim's life has been spent in Syracuse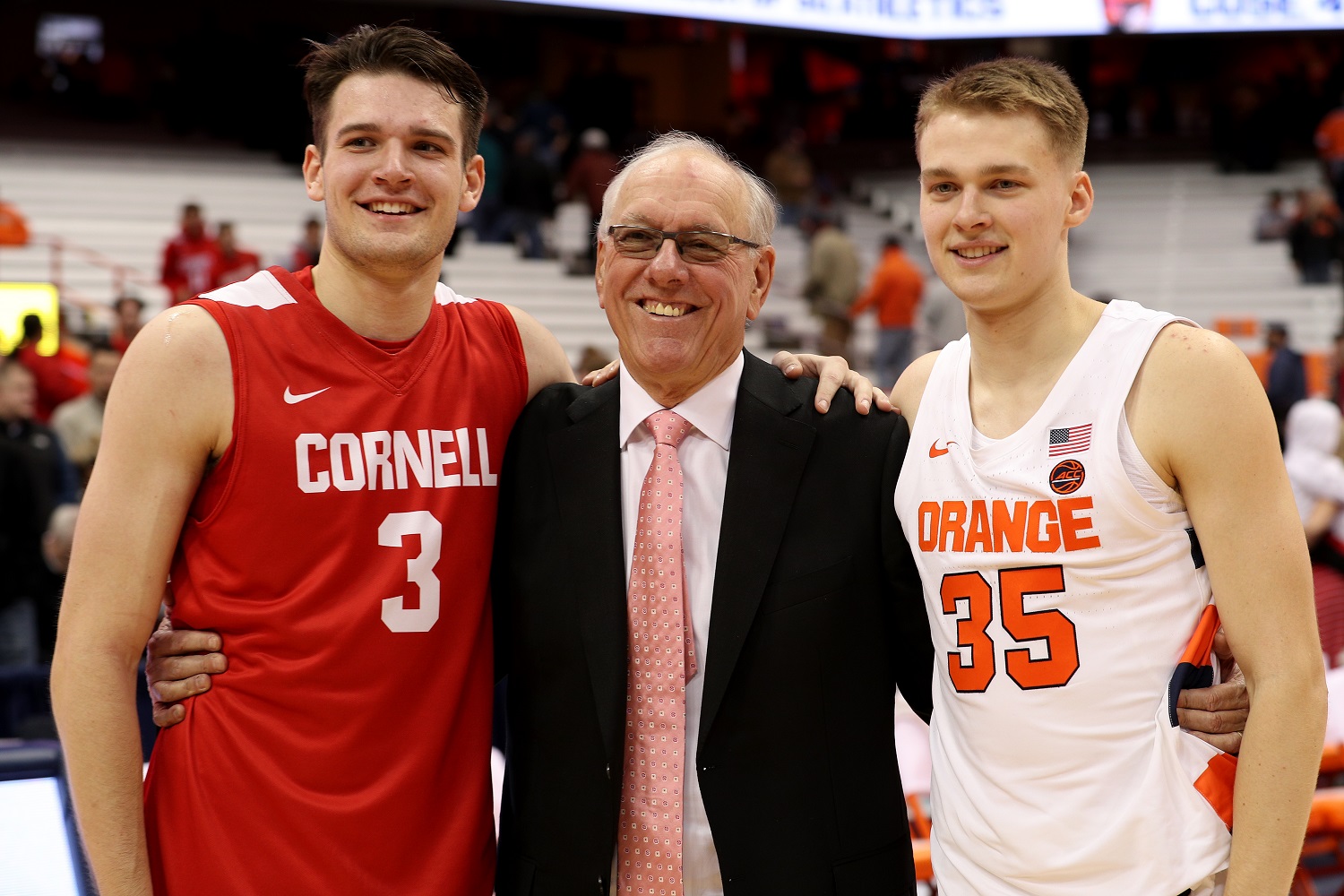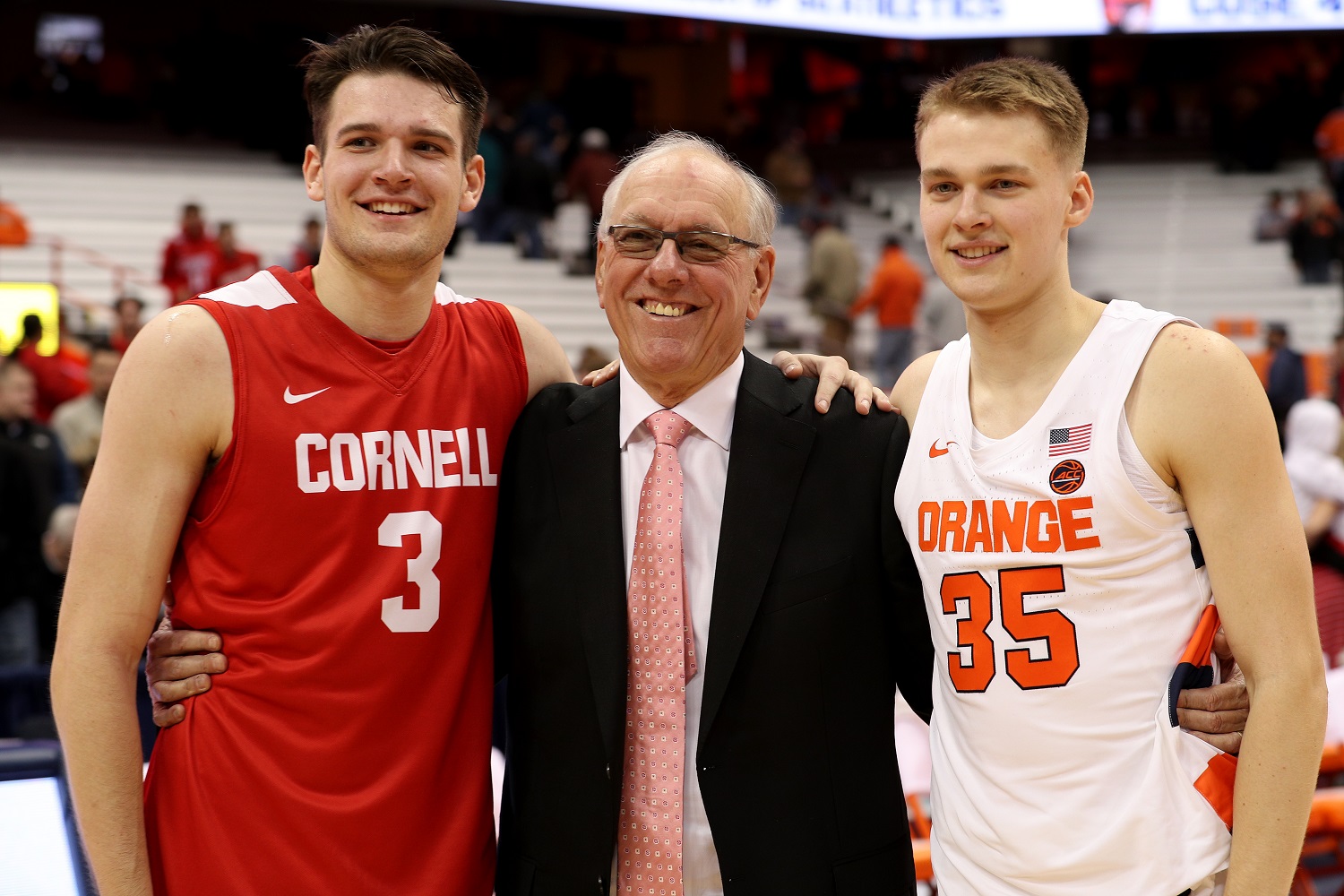 Even without the 101 victories that the NCAA stripped from his record over rules infractions, Syracuse men's basketball coach Jim Boeheim has won 982 games as the head coach of the Orange. The high point came in 2003 as freshman Carmelo Anthony led the team to the NCAA Tournament championship.
Boeheim's history at Syracuse University began in 1962 as a player alongside future NBA great Dave Bing. After a brief career in the Eastern Professional Basketball League, Boeheim returned to SU in 1969 as an assistant to coach Roy Danforth.
When Danforth left in 1976 to coach and run the athletic department at Tulane, Syracuse promoted Boeheim. Freshmen Louis Orr and Roosevelt Bouie – "The Louie and Bouie Show" – led his first team to a 26-4 record and a spot in the NCAA Sweet 16, and the Naismith Memorial Basketball Hall of Fame inductee never left.
Boeheim, 76, just completed his 45th season as the head coach, finishing 18-10 and once again taking the Orange to the Sweet 16.
He'll coach two sons next season
Jim Boeheim and his second wife Juli have three college-age children. Daughter Jamie plays basketball 90 minutes from home at the Division III University of Rochester. Meanwhile, their two boys have been playing Division I ball in Central New York.
Buddy Boeheim has been a full-time starter at guard for his father the past two seasons and has one year of eligibility remaining. He averaged 15.3 points and 2.2 assists as a sophomore, then 17.8 points and 2.6 assists in the recently concluded season. He was one of the stars of the opening weekend of the NCAA Tournament last month.
Older brother Jimmy, who wasn't as highly regarded coming out of high school, enrolled at Cornell and played three years there, averaging 16.7 points a game. This should have been his senior season, but the Ivy League called off winter sports because of the ongoing pandemic.
While the NCAA made an additional year of eligibility an option for most senior athletes, Jimmy Boeheim has earned his undergraduate degree, and the Ivy League eschews post-grad athletes. After hearing from 15 to 20 other schools about a transfer this year, according to Syracuse.com, the 6-foot-8 forward decided to team up with his father and brother at Syracuse for a final season.
Jim Boeheim's retirement seems imminent
Jimmy and Buddy Boeheim have one season of NCAA eligibility remaining, Buddy will be a third-year starting guard, and there appears to be room in the rotation for Jimmy to log minutes at forward. Playing alongside each other and for their father should make for great memories.
Meanwhile, Jim Boeheim will turn 77 years old early in the upcoming season. If Syracuse has a normal season, he should accumulate the 18 victories he needs to hit 1,000 for his career. Reaching that milestone after having previously had 101 wins stripped from his total (and losing out on four others due to a suspension) would give Boeheim the last laugh in what has been a running battle with the NCAA.
With his boys gone and the milestone in the bag, it would make sense for Boeheim to walk away and begin his retirement.
Like Sportscasting on Facebook. Follow us on Twitter @sportscasting19.