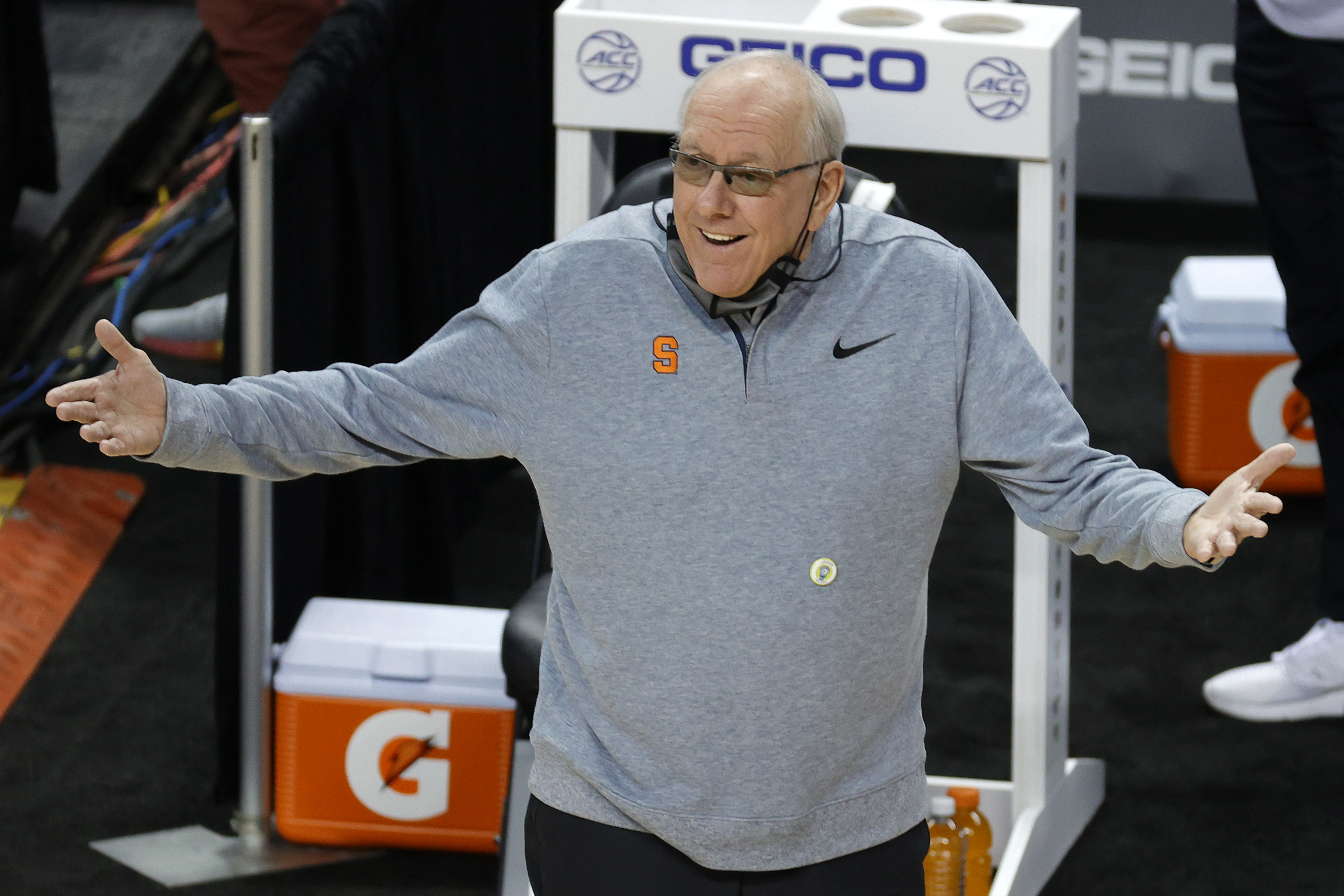 What Is Jim Boeheim's Salary Coaching Syracuse's Men's Basketball Team?
Jim Boeheim has been the head men's basketball coach at Syracuse since 1976. How much money is Boeheim receiving from Syracuse this season?
The college basketball world has enjoyed or loathed Syracuse legend Jim Boeheim's presence on the sidelines for a staggering 45 years.
Since taking over the Syracuse head coaching job in 1976, Boeheim has ensured that the Orange remain consistent championship contenders. Despite turning 77 later this year, Boeheim is still going strong and is about to participate in his 35th NCAA Tournament. 
Boeheim is among the oldest head coaches in sports history, and he's also still making good money, especially at his age.
Jim Boeheim has been Syracuse's head coach since 1976
To understand how long Jim Boeheim has been a college head coach, the NCAA hadn't fully adopted the 3-point line when he won his first game in 1976.
It isn't hyperbole to say that Boeheim has been around Syracuse forever. He played at Syracuse from 1963-66 and joined the Orange as an assistant coach three years later.
Since replacing Roy Danforth in 1976, Boeheim has been the head coach at one of college basketball's most successful programs. Through March 17, 2021, Boeheim held a 980-407 record; the NCAA vacated 101 wins for various scandals over the years.
Technically, Boeheim held a 1,081-408 record entering the 2021 NCAA Tournament.
Boeheim is a college basketball coaching legend
Although Jim Boeheim only has one national championship to his name, he is among the most prolific winners in sports history.
Boeheim has led Syracuse to an amazing 35 NCAA Tournament appearances in 45 seasons, and he's reached three national title games. Syracuse has played in five Final Fours and seven Elite Eights since 1987.
The 2002-03 Orange, led by Carmelo Anthony, defeated Kansas in that year's National Championship Game. Syracuse last reached the Sweet 16 in March 2018. Baylor defeated Syracuse, 78-69, in the 2019 NCAA Tournament.
If not for the coronavirus pandemic, Syracuse likely would have needed to win the ACC Tournament to reach the NCAA Tournament last spring.
Syracuse is a No. 11 seed in this year's NCAA Tournament. The Orange play San Diego State in the Midwest Regional on Friday, March 19.
What is Jim Boeheim's salary coaching Syracuse?
Jim Boeheim continues to bring in the big bucks, even in what might be his final season on the sidelines.
According to USA Today's coaching database, Boeheim — who coached almost all of the 2020-21 campaign at age 76 — will make $2.84 million this season. That ranks 33rd among head coaches in total pay.
Although many head coaches took reduced money this season because of the pandemic, Boeheim was not among them as of March 9, 2021.
Kentucky's John Calipari leads all coaches with an $8 million salary, and Duke's Mike Krzyzewski is right behind him at $7 million. Jay Wright, the longtime head coach at Villanova, is third with a $6.14 salary.
Those three are the only head men's basketball coaches in the country making over $5 million this season.
All contract figures courtesy of USA Today.