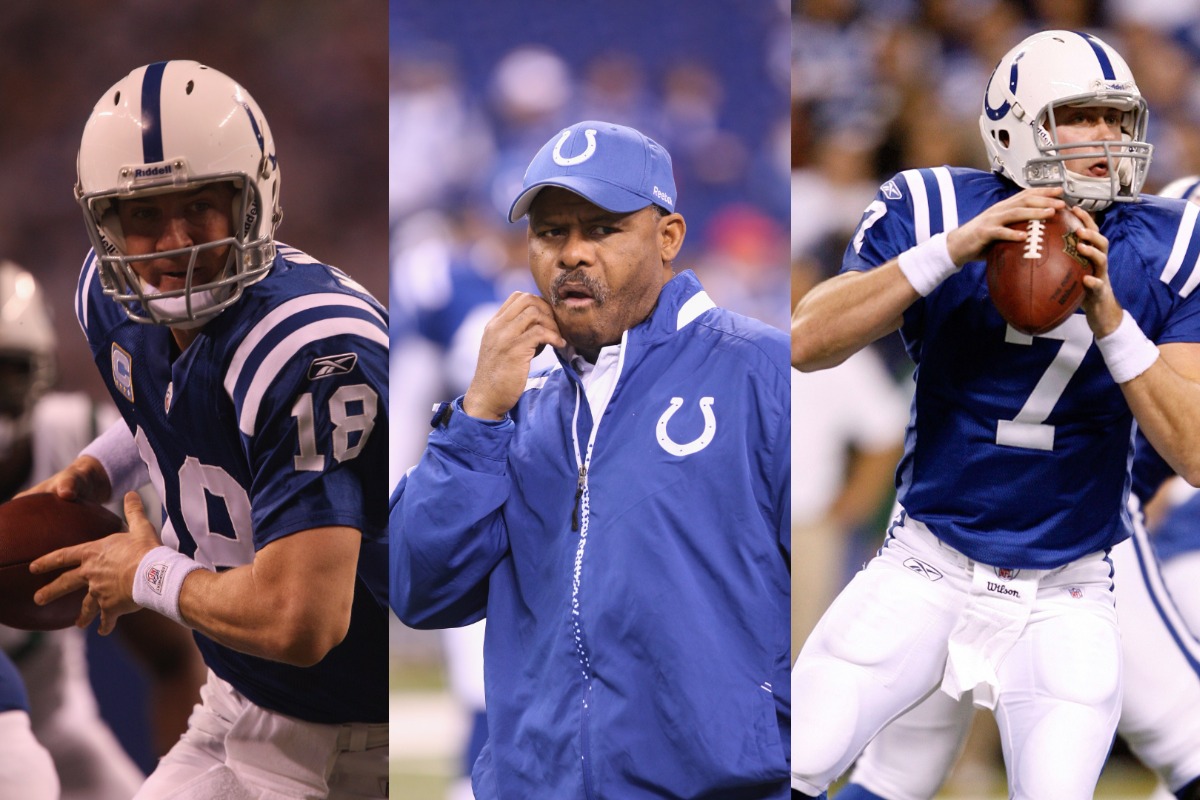 Jim Caldwell and Curtis Painter Cost Peyton Manning His Shot at a Perfect Season
Peyton Manning and the Colts could have had a perfect season in 2009. Enter the duo of backup Curtis Painter and head coach Jim Caldwell.
If Peyton Manning ever came up with a revenge list, Jim Caldwell and Curtis Painter may have permanent spots on there.
Manning, the consummate teammate and likely lock for the Pro Football Hall of Fame, didn't retire with many what-ifs. The former No. 1 overall pick left football with numerous records, won two Super Bowl titles, and is firmly entrenched as one of the greatest quarterbacks in league history.
So why would Manning have something against Caldwell and Painter, his former head coach and teammate on the Indianapolis Colts? Let's bring it all the way back to December 2009 and the Colts' pursuit of a perfect season.
Peyton Manning is an NFL legend
Peyton Manning retired with numbers that still read off like they came straight out of Madden. 
The No. 1 overall pick in 1998, Manning completed 65.3% of his passes for 71,940 yards, 539 touchdowns, and 251 interceptions in 266 career games. Until Week 17 of 2015, his final season, Manning started every game he ever appeared in. 
Manning didn't miss a game from 1998, his rookie season, through 2010; a neck injury got in the way and cost Manning boh the 2011 season and his future with the Colts. Manning retired with 14 Pro Bowl nods, seven first-team All-Pro selections, five MVP Award, and an incredible legacy. 
The legendary gunslinger completed 63.2% of his passes in 27 postseason games for 7,339 yards, 40 touchdowns, and 25 interceptions. 
A charitable player and all-around good guy, Manning was the ultimate teammate. Even when he was arguably the sport's best and most popular quarterback, Manning's confidence and charisma radiated off him, on and off the field.
Peyton Manning had an excellent 2009 season
The 2009 season marked a new era for Peyton Manning and the Indianapolis Colts. 
Longtime head coach Tony Dungy was gone and replacing him was assistant coach Jim Caldwell. Manning also had a new rookie to mentor, ex-Purdue quarterback Curtis Painter. Manning turned in one of his best seasons, completing 68.8% of his passes for 4,500 yards and 33 touchdowns. 
Although Manning threw 16 interceptions, his most since 19 in 2002, he earned MVP honors for the fourth time and second straight season. Manning led the Colts to a 14-2 record in a season the Colts started 14-0. 
How the Colts lost their first game, though, is still a sore subject for their fans — and for good reasons.
Curtis Painter and Jim Caldwell ruined the Colts' perfect season
By Week 16 of the 2009 season, the Indianapolis Colts didn't have much to play for beyond securing a perfect 16-0 record in the regular season.
Indianapolis clinched the No. 1 seed in the playoffs by that point. Peyton Manning started a Week 16 game against the Jets — who, at 7-7, were fighting to stay alive in the postseason — but Jim Caldwell removed him in the third quarter.
Manning completed 14 of his 21 passes for 192 yards and left with the Colts up 15-10. Making his NFL debut, Curtis Painter completed just four of his 11 passes for 44 yards and an interception against a stingy Jets defense. 
When Painter fumbled late in the third quarter at the Colts' 1-yard line, Jets defensive lineman Marques Douglas returned it for a short touchdown. 
The Jets scored 19 unanswered points and moved to 8-7; thanks to other losses around the league, New York only needed a win in Week 17 to clinch a spot in the postseason. 
Led by rookie quarterback Mark Sanchez, the Jets routed Cincinnati in Week 17 and, a week later, beat them in the wild-card round.
Manning and the Colts got their revenge in the AFC championship game, defeating the Jets and clinching a spot in the Super Bowl. 
Of course, even if the Colts won their Week 16 game and the Week 17 trip to Buffalo, the perfect season would have ended at the hands of Drew Brees and the Saints in Super Bowl 44.
Like Sportscasting on Facebook. Follow us on Twitter @sportscasting19.