Jim Edmonds' Success With the Cardinals Helped Him Rack up a Massive Net Worth
Jim Edmonds had a good amount of success in his baseball career, especially during his time with the St. Louis Cardinals. From earning multiple All-Star selections to winning several Gold Glove awards, Edmonds was a big reason why the Cardinals won a lot of games over the years and ultimately won a World Series title while Edmonds was there. Edmonds' impressive play, in addition to the work he has done after his career, has ultimately led to him having a nice net worth.
Jim Edmonds was an excellent player throughout his career
RELATED: Things Between Jim Edmonds and His Soon-To-Be Ex-Wife Are Getting Nasty
Starting his career with the Angels, Edmonds showed that he had a lot of potential early on. He earned an All-Star selection in 1995, his second actual season in the MLB as he only appeared in 18 games in 1993. In that 1995 season, Edmonds went .290 at the plate to go with 33 home runs and 107 RBIs.
Edmonds then continued to have success with the Angels over the next few seasons. He did not earn another All-Star appearance while he was there, but he won two Gold Gloves in 1997 and 1998.
Edmonds then started playing with the Cardinals in 2000 and earned an All-Star selection in his first season in St. Louis. He went .295 at the plate that season to go with 42 home runs and 108 RBIs. Edmonds ultimately spent eight seasons with the Cardinals and earned two more All-Star selections while he was there. He also won six Gold Glove awards in St. Louis and was a Silver Slugger in 2004 as he hit .301 to go with 42 home runs and 111 RBIs that season.
After playing for the Cardinals, Edmonds spent some time with the San Diego Padres, Chicago Cubs, Milwaukee Brewers, and Cincinnati Reds. He finished with a career .284 batting average to go with 393 home runs and 1,199 RBIs.
Leading the Cardinals to a lot of success
RELATED: St. Louis Cardinals Legend Scott Rolen Is Still Succeeding in Baseball
Not only did Jim Edmonds have a lot of success individually in his career, but the Cardinals won a lot of games while he was there. In his first season there in 2000, the Cardinals won 95 games and made it to the NLCS. They then won 93 games in 2001, but lost in the NLDS, but then made it back to the NLCS in 2002 after winning 97 games.
Edmonds and the Cardinals missed the playoffs in 2003 but then had an amazing three-year stretch after that. The Cardinals went all the way to the World Series in 2004 before losing to the Boston Red Sox. The team then went back to the NLCS in 2005 but failed in getting back to the World Series. However, they finally reached the mountain top in 2006. The Cardinals won the 2006 World Series 4-1 over the Detroit Tigers.
Edmonds only went 1-for-15 in the 2004 World Series loss and then 4-for-17 in the 2006 World Series win. However, despite not having any huge performances in the World Series, Edmonds still has a lot of money.
Edmonds has a massive net worth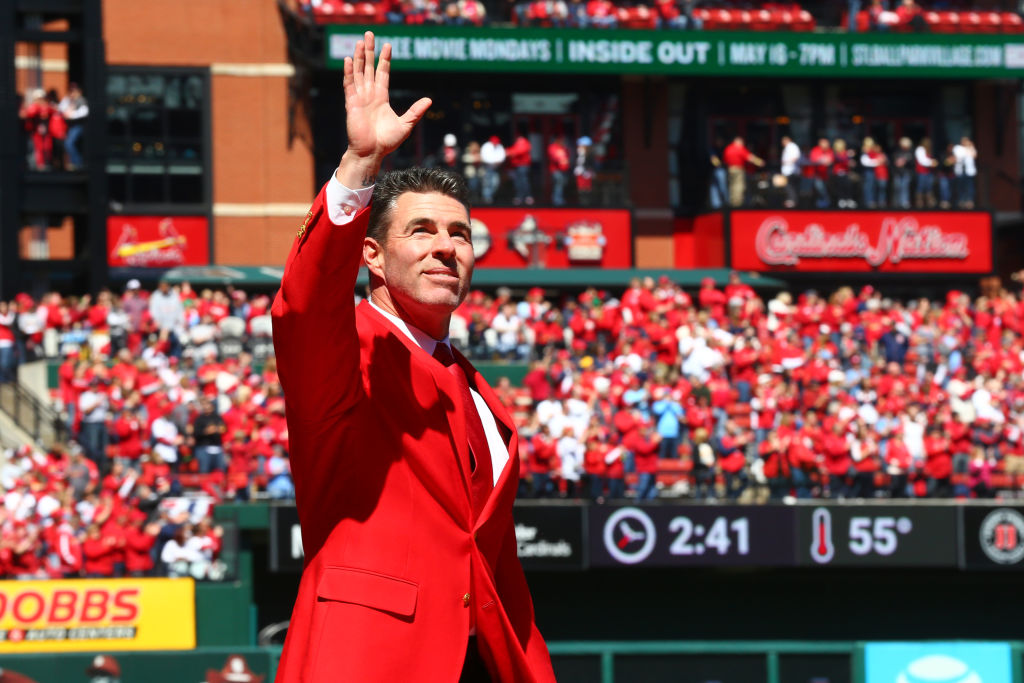 RELATED: Albert Pujols Once Almost Signed With the Cincinnati Reds
The great years Jim Edmonds had in his baseball career certainly paid off for him. He has also done broadcast work in retirement as he is a Cardinals analyst on FOX Sports Midwest, according to FOX Sports. His accomplishments in his playing career and the work he has done during his retirement have led to Edmonds accumulating a pretty colossal net worth.
Celebrity Net Worth reports that Edmonds has an estimated $35 million net worth. That certainly is a lot. 
Jim Edmonds is a St. Louis Cardinals legend. His four All-Star selections, eight Gold Gloves, one Silver Slugger award, one World Series ring, and his career in the broadcast booth have helped Edmonds become a pretty wealthy man.
All stats courtesy of Baseball Reference