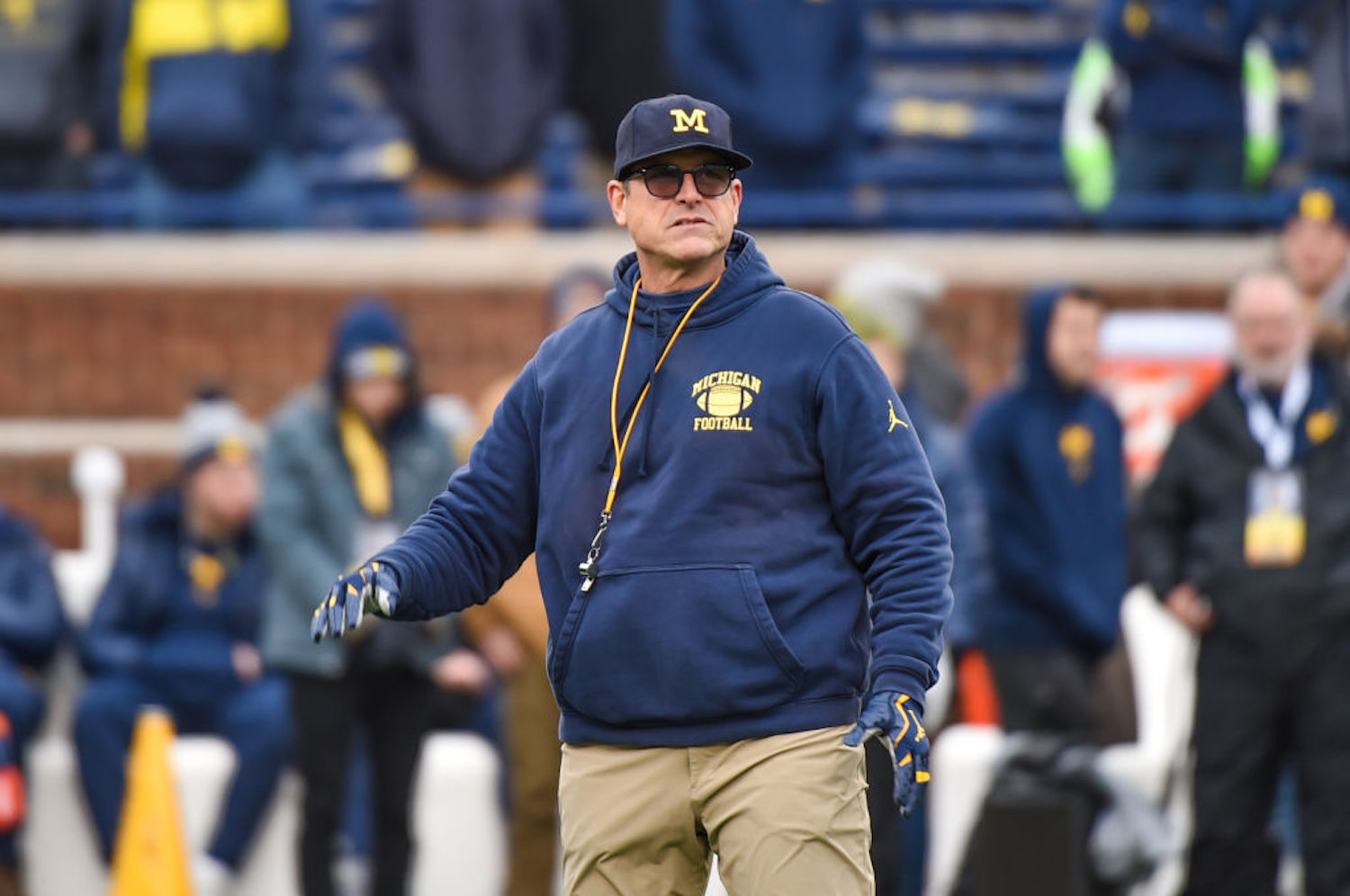 Jim Harbaugh Can Finally Get a Win Over Ohio State by Sabotaging Their College Football Playoff Hopes
Jim Harbaugh is 0-5 against Ohio State at Michigan, but he can finally get a win if he purposefully spoils the Buckeyes' CFP hopes.
Ohio State seems to be a lock to make the College Football Playoff this season. Well, that is if they play enough games to make it there.
Ohio State has only played five games so far this year, whereas every other team around them in the CFP rankings has played at least eight. The Buckeyes have one more game left on their regular-season schedule and a possible Big Ten Championship game to follow, but one man stands in their way of a conference title game and a CFP appearance.
That man is Michigan head coach Jim Harbaugh.
Jim Harbaugh is 0-5 against Ohio State at Michigan
When Jim Harbaugh took the Michigan head coaching job in 2015, Wolverine fans believed they finally had the missing piece to bring them back to a championship-caliber program.
The Harbaugh era got off to a fine start in year one, as the first-year head coach led the team to a 10-3 record and a Citrus Bowl victory over Florida. Michigan returned the following season with a No. 7 preseason ranking. The Wolverines got all the way up to No. 2 in the AP Poll, but they fell short of the College Football Playoff after losing to Ohio State late in the season.
Michigan took a step back in 2017. Harbaugh led the program to an 8-5 record as the Wolverines finished the season unranked. Again, the regular season finished with a loss to Ohio State.
Fast forward to 2020. Harbaugh is now 0-5 against Ohio State at Michigan. He's only 2-12 against top-10 opponents, and he hasn't even led the program to a Big Ten Championship game.
In the unprecedented 2020 season, Harbaugh finally has a chance to beat his biggest rival, but not in the way you might think.
Ohio State is in danger of missing the Big Ten Championship
This college football season has been filled with uncertainty throughout. The COVID-19 pandemic has decimated numerous locker rooms and canceled a slew of games across every major conference.
Because the Big Ten had a delayed start to the season, the conference had little margin for error if it wanted to see a B1G team make it to the College Football Playoff. The conference laid out an eight-game schedule before starting the season.
The wrinkle? A team needs to play at least six games to be eligible to play in the Big Ten Championship game. And that's not good news for Ohio State. The Buckeyes have had two games canceled due to COVID-19 issues, so they need to play their final contest to be eligible for the title game.
Jim Harbaugh can keep Ohio State out of the College Football Playoff
Ohio State is the clear favorite to win the Big Ten Championship this year, but it needs to get there first. The Buckeyes need to play their final matchup to be eligible for the title game. They're scheduled to face Jim Harbaugh and Michigan on Saturday, Dec. 12.
Now, Michigan's game this weekend against Maryland was already canceled due to COVID-19 issues. If positive tests continue to roll in for the Wolverines, the Week 8 matchup against the Buckeyes could also be in peril.
Even if Michigan gets the outbreak under control, Harbaugh might not want to push to play next weekend. The Wolverines would surely be upwards of 20-point underdogs against Ohio State. Harbaugh would be on his way to 0-6 in the rivalry, and his future would be largely in question.
If Harbaugh holds his team out for The Game, he'll also sabotage the Buckeyes in the process. Ohio State wouldn't reach the minimum threshold of games played to be invited to the Big Ten Championship game.
Would the CFP committee put Ohio State in with only five games played and no conference championship to their name?