Jim Harbaugh Celebrates Linebacker's Commitment With Viral Cartwheel
Better days may be coming for Jim Harbaugh and the Michigan Wolverines. Despite the Wolverines' lack of success relative to their expectations in recent years, Michigan has hit numerous home runs on the recruiting trail as of late.
Jim Harbaugh has had plenty to be pleased about with regards to his next signing class. But Harbaugh took his feelings to a new level with how he celebrated high school linebacker Jaydon Hood's pledge to Michigan.
Jim Harbaugh's Michigan tenure has been mostly disappointing
At first glance, the Michigan Wolverines looked like they had an excellent first five years under Jim Harbaugh. Michigan went 47-18 across that span and 32-12 in Big Ten play.
Those are great records for Group of 5 programs and a sizable chunk of Power 5 schools. But the same can't be said at Michigan, where winning national titles and beating Ohio State are supposed to be the expectation.
Harbaugh has done neither at Michigan and he hasn't come close, either. Ohio State has regularly routed the Wolverines in a series that Michigan hasn't won since 2011.
Only one of those games, a 23-20 Ohio State victory in 2016, was a one-score outing.
Jim Harbaugh has lost his last four bowl games, too.
Harbaugh landed a key 2021 player in linebacker Jaydon Hood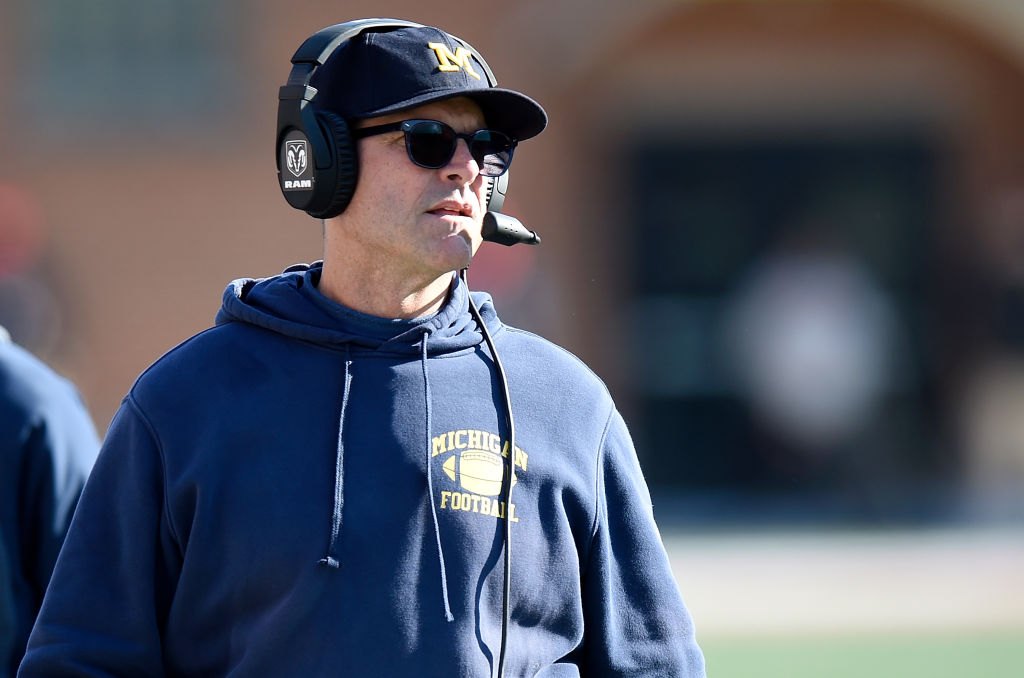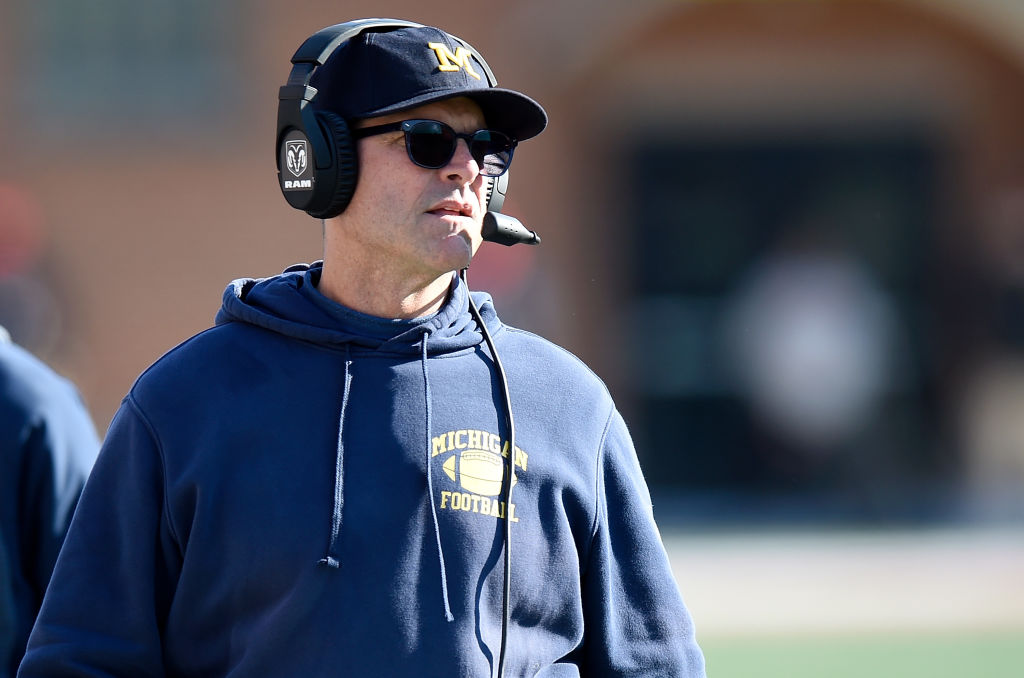 Michigan's on-field struggles haven't stopped some of the country's top prospects from pledging to the Wolverines.
Michigan's latest commit is Jaydon Hood, a 6-foot-1, 212-pound linebacker from Florida. Hood played last season at Cardinal Newman, a private school in West Palm Beach.
Hood transferred to state powerhouse St. Thomas Aquinas, located in Fort Lauderdale, earlier this year. NFL Hall of Fame pass-rusher Jason Taylor is the school's defensive coordinator.
Jaydon Hood chose the Wolverines over the likes of Minnesota and Miami.
Jaydon Hood registered 75 tackles, two forced fumbles, and two sacks last season, according to MaxPreps. He also scored two touchdowns on five carries as a goal-line running back.
247 Sports listed Hood as the country's 16th-best inside linebacker prospect and the 54th-best player in the state of Florida.
The site's composite score system similarly ranks Hood as the country's 11th-best inside linebacker and 48th-best Floridian.
Hood's high school teammate, cornerback Ja'Den McBurrows, pledged to Michigan on April 24. Outside linebacker Junior Colson from Brentwood, Tenn., committed to Michigan on May 26.
Jim Harbaugh promptly celebrated Jaydon Hood's commitment with a cartwheel
Jaydon Hood is not a lock to play at the University of Michigan. His tweet represented a non-binding verbal commitment and he can change his next destination without consequence until he signs a letter of intent.
With that said, Jim Harbaugh flipped out when he learned Hood was Ann Arbor-bound. Literally.
The end of Hood's recruitment video showed Harbaugh, defensive coordinator Don Brown, and linebackers coach Brian Jean-Mary all performing cartwheels.
If Jim Harbaugh is cartwheeling to celebrate a player who hasn't even officially signed on to play at Michigan, one has to wonder what will happen when or if the Wolverines win the College Football Playoff.
For that to happen, Michigan needs to get past Ohio State at some point. Players like Hood give Michigan an increased chance of that possibly happening.