Jim Harbaugh Could Make History and Some Serious Cash With Upset Win Over Ohio State
The bonus cash head coach Jim Harbaugh stands to make if his Michigan Wolverines can pull off the upset of their rival Ohio State Buckeyes is secondary. Harbaugh is winless in his career as head coach against the Buckeyes, and securing that elusive 'W' is the primary focus in Saturday's Big Ten clash. A victory would not only get the proverbial monkey off his back but would also fatten his wallet.
Jim Harbaugh and the Michigan Wolverines have had a nice bounce-back season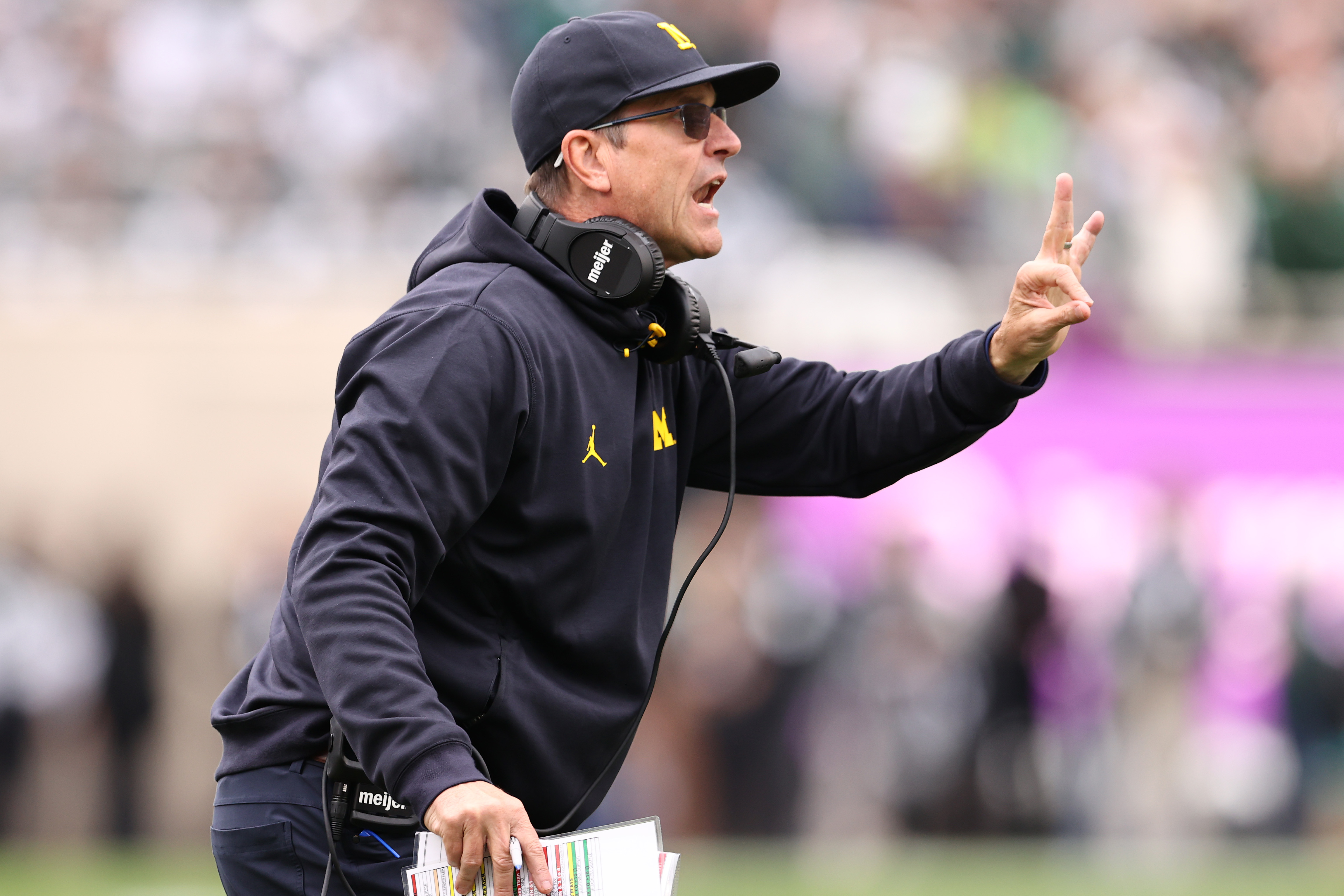 The Wolverines are in the midst of their best season under Harbaugh, who has his team at 10-1 entering Saturday's showdown with the Buckeyes. A year ago, during a season shortened by the pandemic, Michigan finished with two wins in six games. Saturday, Harbaugh has his team playing for the Big Ten East championship.
"Can we give massive credit to (Harbaugh)?" former Michigan tight end Jake Butt wrote on Twitter on Friday. "He takes all of the blame and deflects all of the praise as a true leader would do. No one gave him or this team a shot — yet they have fought all year and have an opportunity to beat Ohio and play for a B10 championship."
Michigan, ranked fifth, rattled off seven straight wins to open the season and had its lone hiccup against Michigan State. The Wolverines blew a 16-point lead in the third quarter as the Spartans rallied for a 37-33 victory.
Harbaugh is 59-23 in his seven years as head coach of his alma mater. He's 41-17 against Big Ten teams. He just can't get over the hump against Ohio State, which comes in ranked No. 2.
Jim Harbaugh and his coaches can earn some extra cash with a win over Ohio State
Throughout his tenure as head coach of Michigan, Harbaugh was highly compensated. Last year, he made slightly more than $8 million despite the two-win season. Harbaugh and the school agreed to a contract extension in the offseason that will keep him on as head coach through the 2025 season.
"I continue to believe that Jim is the right man to lead our program in pursuit of Big Ten and CFP championships," Michigan AD Warde Manuel said in a statement in January, per ESPN. "Our program didn't achieve at a level that anyone expected this year but I know those setbacks will drive the coaches, players, and staff moving forward. Jim is a tireless worker and competitor. Following the completion of the season, we talked for many hours on what it will take for Jim to lead and get us back on the right trajectory."
Harbaugh's 2021 base salary was cut in half to $4 million. While it's still not pocket change, Harbaugh can add to that with some high-priced incentives. A win over the Buckeyes would significantly add to his bank account and open the door to more bonus cash.
Should Harbaugh and the Wolverines win, he would pocket a half-million dollars for winning the Big Ten East championship. He can earn a maximum bonus of $3.475 million in each year of his contract. Winning the Big Ten title would net him $1 million, as would winning a national championship.
According to Maizenbrew.com, Harbaugh's coaching staff can get some extra cash as well. Offensive coordinator Josh Gattis and defensive coordinator Mike Macdonald can each pocket an extra $50,000 win a win. The two earn an extra $50,000 for each win over eight for the season. They have already cashed in $100,000 each with Michigan's 10 wins.
A quick breakdown of Harbaugh's incentives
A win over Ohio State is probably the only thing Harbaugh needs, but it could also lead to nearly $3.5 million more in his paycheck.
In addition to the $500,000 he would earn for winning the Big Ten East championship, here is a quick breakdown of Harbaugh's incentives, courtesy of Maizenbrew.com.
$50,000 for Big Ten Coach of the Year
$75,000 for National Coach of the Year
$150,000 for Meeting Academic Progress goals
$200,000 for a New Year's Six Bowl Game
$500,000 for an outright Division Championship
$500,000 for a berth in the College Football Playoff
$1 million for a Big Ten Championship
$1 million for a National Championship
It won't be easy for Harbaugh and the Wolverines, who enter as a seven-point underdog. Harbaugh needs to prove he can beat the Buckeyes cross that task off his list.