Jim Harbaugh's New $36 Million Contract With Michigan Contains a $3 Million NFL Return Clause We Can't Ignore
Jim Harbaugh blew his interview with the Minnesota Vikings and headed back to Ann Arbor to coach Michigan. Then, Harbaugh insisted he is done chasing NFL jobs, although we can hardly believe that promise. Harbaugh wants another crack at the Super Bowl, but he returned to college and now signed a massive $36 million extension.
After failing to land the Vikings job, Harbaugh seemed content with the Wolverines and might seem even more content after locking in more than $7 million per season. But, the language in this new deal is too hard to ignore that a return to the NFL is still very possible.
Jim Harbaugh signs a hefty contract extension with Michigan
The Wolverines wasted no time locking up Harbaugh for the next five years. After a thrilling ride to the College Football Playoff, they knew what they had to do.
Harbaugh took a pay cut last season. Then during the College Football Playoff, his name floated around in rumors for the Las Vegas Raiders job. However, Harbaugh claimed he would "do this job for free" and appeared to silence the NFL talks.
That was all before the Vikings came calling, and he came running to the Twin Cities only to flop his interview because he thought the job was his.
Nonetheless, the Wolverines give him a nice raise, and it's a well-deserved one for the veteran HC who brought unranked Michigan to the Playoff just a couple of months ago.
Things look good for Michigan fans, right?
No, they don't. Even with the extension, there are many reasons to believe that Harbaugh won't see the end of this deal — 3 million reasons at that.
Harbaugh's new contract is friendly to NFL teams looking for a head coach in 2023 and beyond
Ian Rapoport of NFL Network hit the nail on the head. This extension does nothing to stave off NFL interest. If anything, Harbaugh's new deal is a loud shout from the top of the mountain that a return to the NFL is likely.
Yes, Harbaugh will be making NFL-type money in Ann Arbor. That's not the point. He wants back in the NFL down the road, even if he insists he doesn't.
If that were the case, why would the buyout be so low? This is a friendly deal for NFL teams who want to make a run in 2023 or beyond.
The buyout number decreases year after year for Harbaugh. Even then, $3 million isn't very much, especially if he leaves and goes to the NFL. As Nick Shook of NFL.com mentions, the buyout number is nothing for the owners in the NFL.
Should Harbaugh again get the itch to give the NFL another go, the price to bring him on board will amount to pennies to an NFL owner. Despite insisting his flirtation with the NFL was a "one-time thing," thanks to the structure of his current contract, the door on a return to the NFL will remain open for Harbaugh.

Nick Shook
That is a modest number, and the year after, it will be just over $2 million. These details are tough to ignore, and Michigan must know deep down that Harbaugh isn't done with chasing an NFL job.
Back in December, he shut down reports of interviewing with the Raiders. Then, not even two months later, he spent nine hours with the Vikings before hiring Kevin O'Connell as their new head coach. Things changed pretty quickly, and imagine what happens if an even bigger team comes calling — for example, the Dallas Cowboys.
A return to the NFL is imminent for the Michigan head coach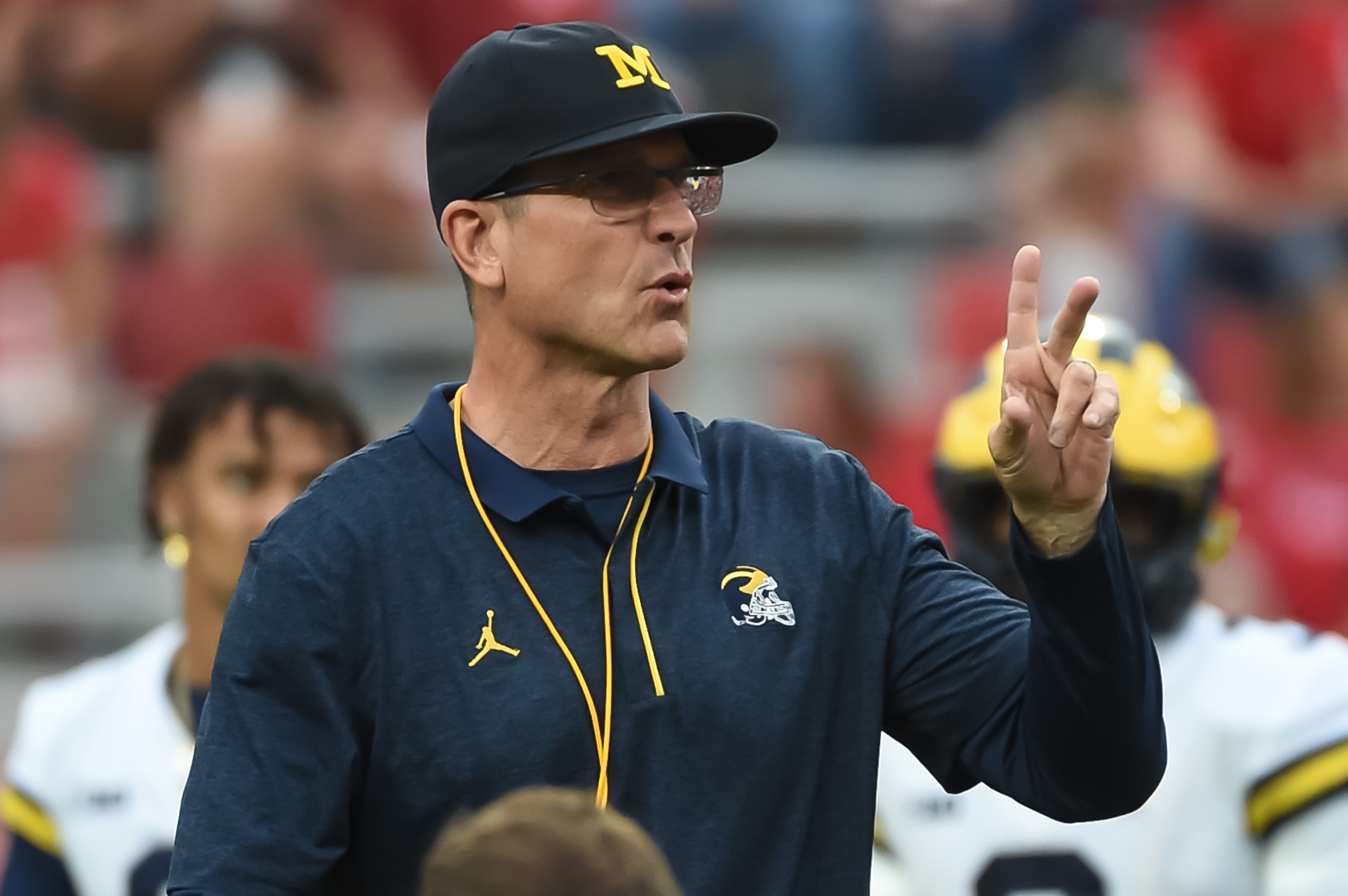 Harbaugh can say all he wants about how this is the last time. We can speculate a ton about what this massive extension means for his future.
But, he made it quite clear: He wants another Super Bowl opportunity. Furthermore, if Michigan makes the College Football Playoff again and wins a National Championship, what else would Harbaugh need to accomplish at the college ranks?
Nothing. Why would Michigan have such a small buyout in his contract if he wanted to stay?
When January of 2023 comes around, more NFL jobs will open up, and the Arizona Cardinals could part ways with Kliff Kingsbury if he doesn't fix those issues. The Cowboys aren't keeping Mike McCarthy if he doesn't get back to the playoffs. Bruce Arians and Pete Carroll might not have more than one season left, albeit for very different reasons.
The list goes on, but with the volatility of the NFL coaching carousel, jobs will open up, and Harbaugh will be interested. There is no way around it.
RELATED: Jim Harbaugh's Latest Comments Should Officially Shut the Door on an NFL Reunion: 'I'd Do This Job for Free'