Jim Harbaugh Shuts the Door on an NFL Return Once and for All After Vikings' Mishap, But Can We Buy It?
The Minnesota Vikings focused on Michigan head coach Jim Harbaugh as the successor to Mike Zimmer. Then, Harbaugh left the Twin Cities without a deal and headed back to Ann Arbor in a stunning turn of events.
The Vikings then named Los Angeles Rams offensive coordinator Kevin O'Connell as the new head coach — although it can't be officially done until after Super Bowl 56. The Vikings passing on Harbaugh was surprising, and now the Wolverines head coach admitted that this is the "last time" he will try for an NFL job.
However, can we believe this from Harbaugh?
Jim Harbaugh admits he won't be chasing the NFL jobs anymore after missing out on the Vikings job
All signs pointed to Harbaugh being the new head coach for the Vikings. His brother, John, even advocated strongly for Jim to land the job.
However, it didn't pan out that way, and one reason, reportedly, is that Harbaugh wasn't prepared for the interview because he thought the job was his. Now, Harbaugh stated that he wouldn't be chasing NFL jobs anymore (h/t Mitch Albom of The Detroit Free Press).
"There was a pull to the NFL because I got that close to the Super Bowl, but this was the time (to try and return.) And this is the last time. Now let's go chase college football's greatest prize."

Jim Harbaugh on potential NFL return
"This was the last time."
Those are strong, powerful words from Harbaugh, who called Michigan and told them he wanted to stay in Ann Arbor.
"I called Warde (Manuel, the Michigan athletic director) and I asked him if he wanted me to be the head coach. And he said, 'Yes, 100 percent.' And I said, OK then. That's what I want to do.' And I told him, 'Warde, this will not be a reoccurring theme every year. This was a one time thing."

Jim Harbaugh
Harbaugh not only told them he wanted back, but he assured them that this won't be a "reoccurring theme."
However, can we really believe Harbaugh?
Can we buy Harbaugh's promise?
Harbaugh reportedly seemed adamant about wanting to remain in Michigan. He even said he wanted to chase college football's biggest prize — the National Championship.
Sure, that all sounds great, but can we believe this?
Harbaugh was successful as a head coach and came up just short of a Super Bowl victory with the San Francisco 49ers.
However, remember when the Wolverines were set to play in the College Football Playoff? Harbaugh insisted he would "do this job for free" but then proceeded to take the interview with the Vikings.
That wasn't even two months later, so we can see how quickly Harbaugh's mind changed.
What's to say it won't change again?
Albert Breer brought up some excellent points in an interview on The Rich Eisen Show on Friday, and Harbaugh wants that Super Bowl victory. Also, he had a pretty good winning percentage in his time in the NFL.
That itch is still there, as Breer reports, and Harbaugh should be tempted again in the 2023 offseason — especially if a playoff contender comes calling for his services.
All he wants is another trip to the Super Bowl, and that alone should have him crawling back for an NFL job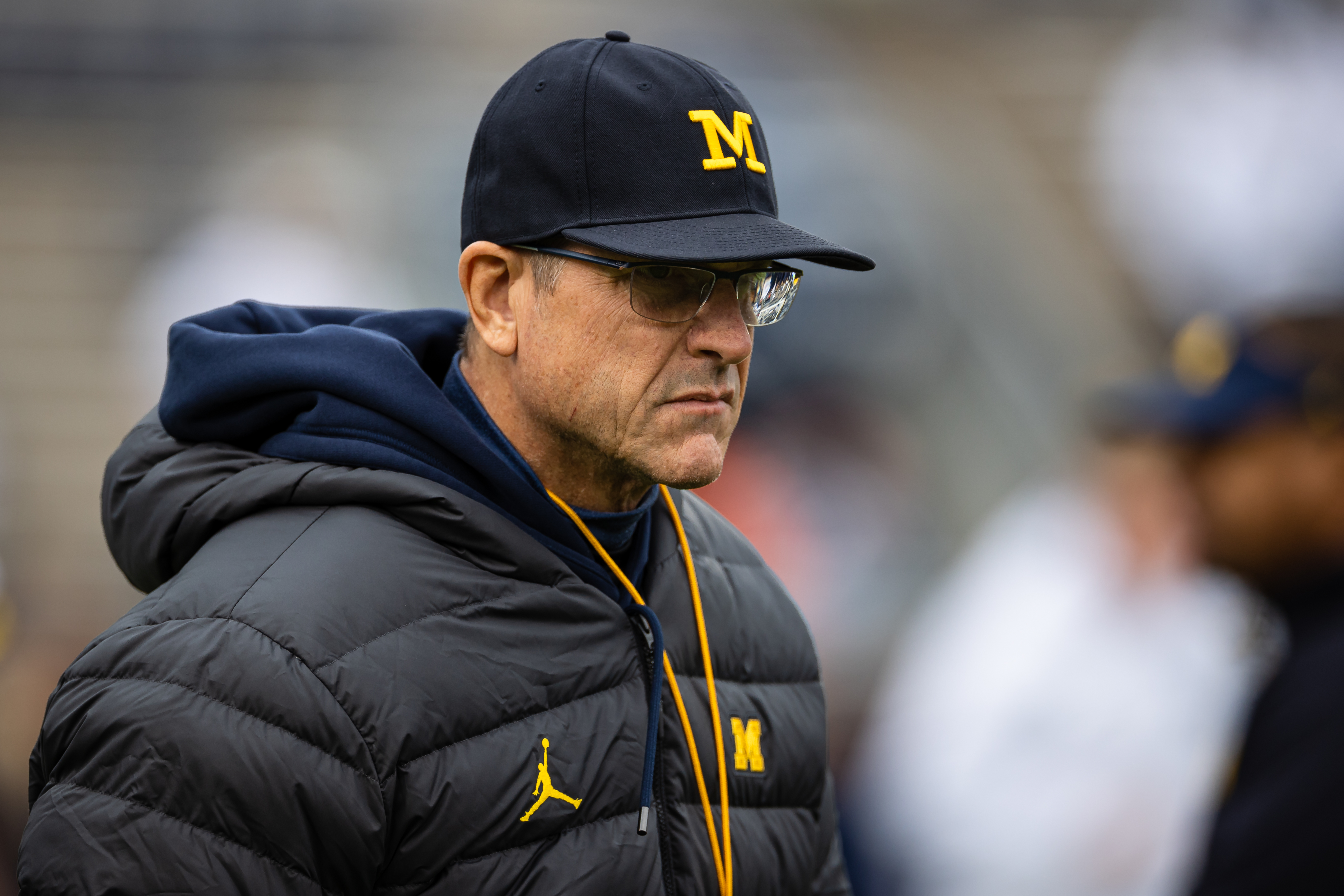 Breer said it, and Harbaugh himself even said it — a Super Bowl is what he wants (h/t Mitch Albom).
"There was a tugging at me that I was once that close to a Super Bowl and I didn't get it. Some NFL jobs came open. I was contacted by the (Minnesota) Vikings. For better or for worse, it was something I wanted to explore."

Jim Harbaugh
The 49ers were close to lifting the Lombardi Trophy with Harbaugh running the show. Unfortunately, they came up short, and Harbaugh has been thinking about that for a long time.
Then, Michigan had a shot at the College Football National Championship before losing to Georgia in the Semifinals. Will the Wolverines be able to get back there next season? Or was this a one-off for Michigan?
Either way, Harbaugh wants another shot at the Super Bowl, hence him taking that interview with the Vikings. That is also why he was interested in the Las Vegas Raiders' job.
He wants to be back in the NFL, although his latest comments suggest that he is committed to Michigan.
How about this hypothetical: Michigan fails to win the Big Ten, and a team like the Dallas Cowboys or Arizona Cardinals opens up the head coaching job. Don't you think Harbaugh would think twice about interviewing for those teams?
Surely he would, there is no doubt about it, no matter what he said recently. It is only a matter of time before Harbaugh returns to the NFL. That itch won't go away anytime soon, especially after getting so close.
RELATED: Jim Harbaugh Tanked His Minnesota Vikings Interview Because He Assumed the Job Was Already His