Jim Harbaugh's Recruiting Tactics: Crazy or Genius?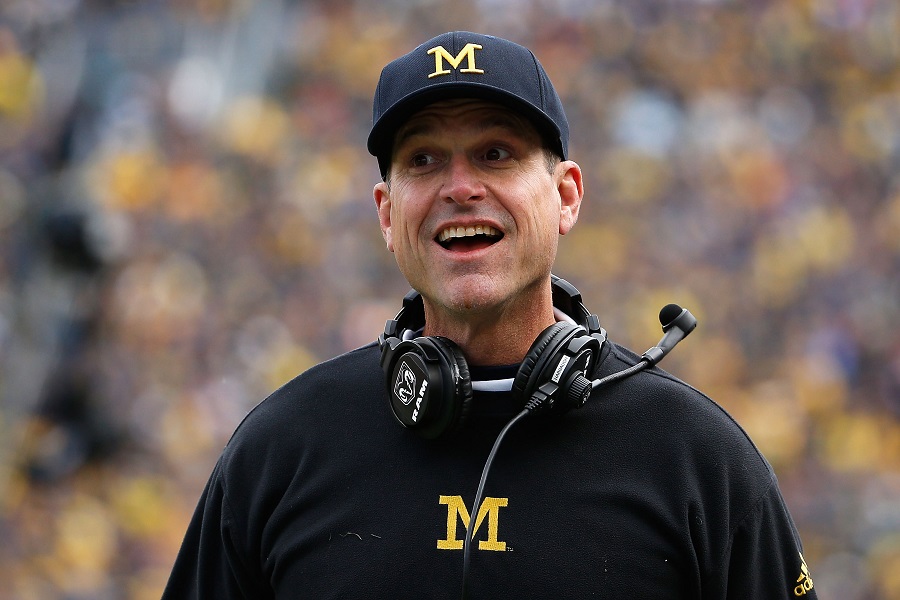 University of Michigan football coach Jim Harbaugh is a lot of things. And while nobody is really sure what all of those things might be, there's a consensus about one thing: He's not normal.
He's had an interesting run as a head coach, no matter where he's been. Whether he was being praised as the savior of the Wolverines' football program a year ago after he was hired, or being given a questioning eye for wiping a player's blood on his face in war-paint fashion to prove his passion to his team at Stanford (yes, that did happen), his antics border on crazy.
But if we're basing one's sanity on results on the football field, Harbaugh is far from crazy. He's a genius. The man has won everywhere he's coached, and he has done a terrific job of developing players — see Andrew Luck, for one example. Does it seem normal for the head coach of a major football program to climb a tree at a recruit's house to retrieve a football lost during a game of catch? Not really. But what was less talked about following the tree incident was that the recruit, cornerback David Long, committed later that week.
Was Long's commitment to Michigan because Harbaugh climbed a tree in his yard to retrieve an overthrown football? Will any of his prospective new recruits be swayed by the not-so-secret reasoning behind taking his team to Florida for Spring Break? Will he ever be in another rap video? Maybe not, but it sure won't hurt.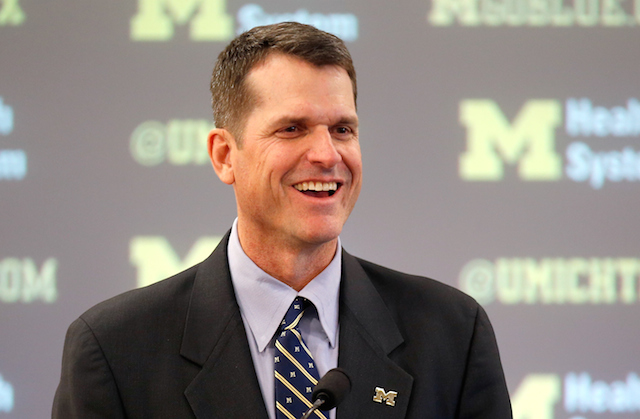 Climbing trees isn't the only strange tactic Harbaugh has used in his recruiting maneuvers. One famous one is the sleepover — literally. Sleeping over at a recruit's house the night before a visit, and then even going to their school for a day of classes, has become one of his go-to moves. It started out with the nation's top kicking recruit, and then a week later he did it again.
Unlike Long, neither player who received a Harbaugh sleepover committed, (Connor Murphy, would go to USC) but they certainly didn't choose not to go to Michigan because of the head coach's antics. It's just something different — something that allows Harbaugh to stand out among his peers. That's the key.
There are so many coaches and teams in college football that it would be easy to fall into the same routine. And even more so, as a highly-recruited player, you can imagine the monotony in hundreds of coaches' visits over a period of months. A high school senior can only hear how great they'll be at (insert any school) and why (insert any school) will make them a better player and turn them into a better person so many times. Something different must be refreshing.
That's the trick to Harbaugh's success on the recruiting trail: his ability, some might even call it desire, to go outside of the box — albeit far, far outside of the box. And success it is, as the Wolverines currently have the sixth-highest ranked recruiting class in the nation according to ESPN.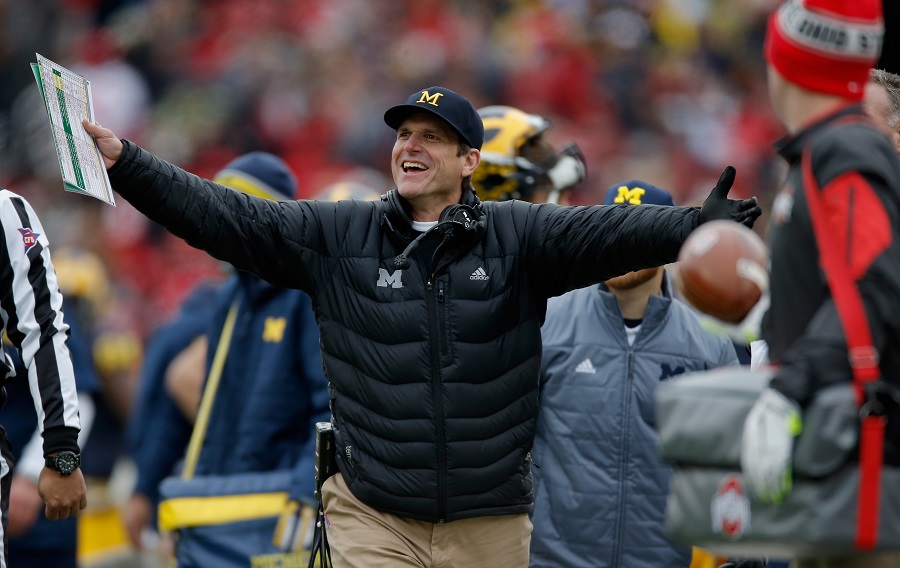 Sometimes Harbaugh's tactics — again going back to climbing the tree — seem too strange, even strange to a point where it almost looks like an act. But then again, based on his history as a coach, he's one of the most honest, sincere, and passionate coaches out there.
Anybody doubting his passionate nature merely needs to watch one of his legendary sideline blowups. This passion and, in turn, brutal honesty directly translate into recruiting success. Recruits might not know exactly what they're getting with this wild-card head coach, but they know what they're not getting: a fake.
Harbaugh's recruiting tactics, despite their appearance, aren't a ploy to draw attention (and, subsequently, recruits). It's him. He's the kind of guy who is so intense that when a football gets stuck in a tree, he's going to get it. He's the kind of guy who will do whatever it takes — even if that entails watching Netflix with a recruit and his family during a sleepover — to get the job done.
Harbaugh's tactics are genius only because they show the kind of coach he really is. Then again, he also wouldn't be the first genius with a tinge of crazy in him either.