Jim McMahon Never Made Peace With Charles Martin Before His Death and Never Wanted To
The Chicago Bears and Green Bay Packers have a longstanding division rivalry, which spans nearly a century. While the Packers have dominated the series lately, Chicago has had its fair share of runs at the top. Former quarterback Jim McMahon played for both franchises but held a 12-1 record against Green Bay in his career. The Bears-Packers rivalry will always remind McMahon of Charles Martin.
Who is Charles Martin?
Charles Martin was born and raised in Canton, Georgia, north of downtown Atlanta. After playing high school ball at Cherokee High School, he committed to play college football at Livingston University, now known as the University of West Alabama.
Martin was a standout performer for the Tigers. He played for the program from 1980-1982, per the West Alabama athletics website. The Georgia native recorded 173 tackles, 12 tackles for loss, and 19 sacks in three seasons with the Tigers. He was a Division II All-American and won Gulf South Conference Player of the Year honors in 1982.
Martin began his professional football career with the Birmingham Stallions of the USFL. His lone season with the team came in 1983 before he joined the Green Bay Packers in 1984.
Martin played three full seasons in Green Bay before closing out his career with brief stints with the Houston Oilers and Atlanta Falcons. He registered 11 sacks across five seasons. His most notable moment involved Jim McMahon.
Charles Martin had a short NFL career. He died in 2005 at the age of 45 due to complications from kidney failure.
Charles Martin 'dunked' Jim McMahon, who never forgave him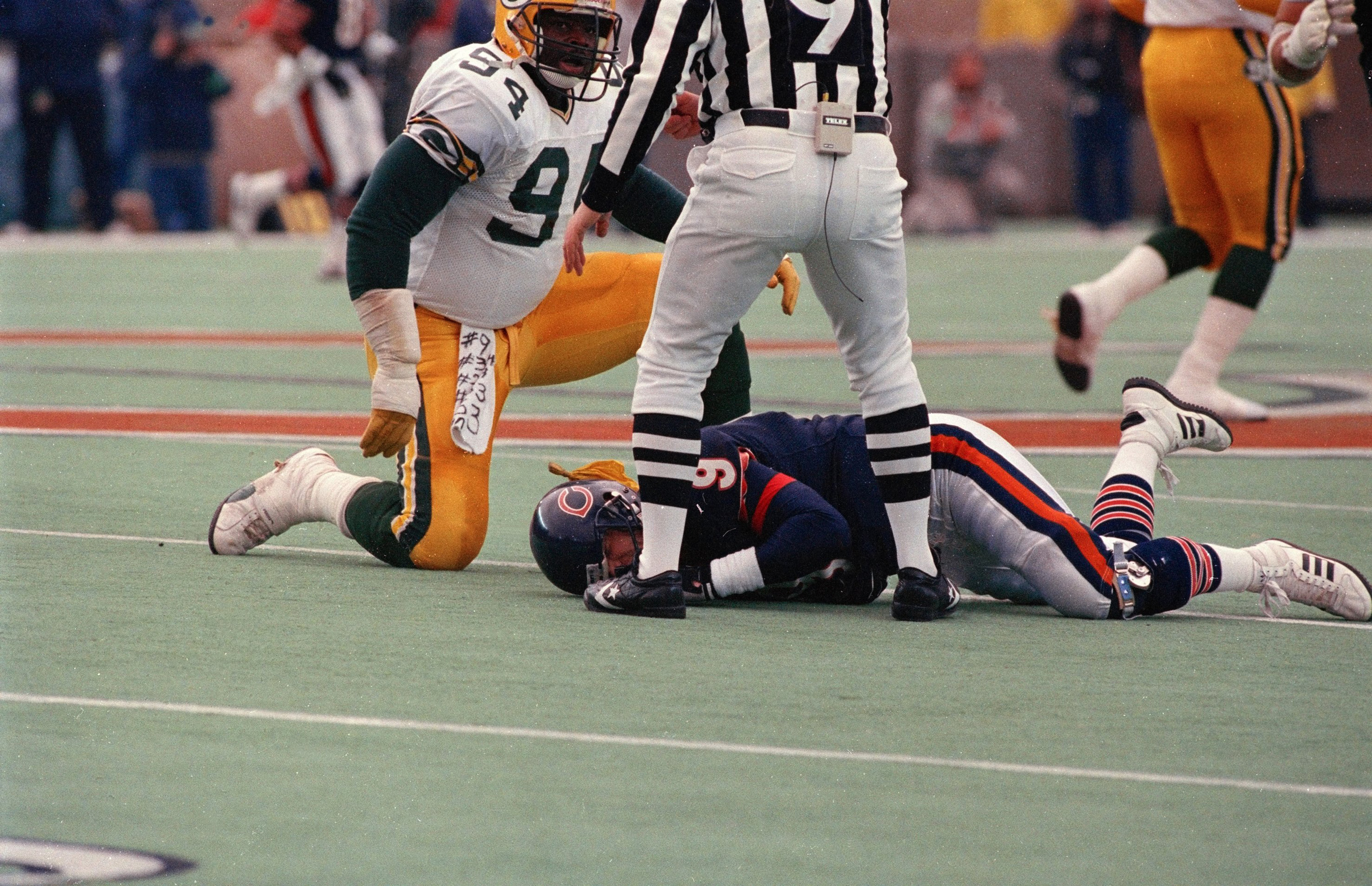 Jim McMahon will never forget what Charles Martin did to him in Week 12 of the 1986 NFL season.
The Chicago Bears were one of the best teams in the league and entered the game with an impressive 10-2 record. The Green Bay Packers brought a mediocre 2-10 record into the matchup.
During the game, the Packers picked off an errant pass from McMahon. After the ball was well out of McMahon's hands, Martin grabbed the Bears signal-caller from behind and slammed him to the ground.
The cheap shot delivered by the Packers' nose tackle will stick with McMahon for the rest of his life. He described it as getting "dunked," according to Yahoo Sports.
Nearly 19 years passed between the infamous play and Martin's death. The former Pro Bowl quarterback never made peace with the man who altered the trajectory of his playing career.
"I never talked to him," McMahon said. "Never wanted to."
Jim McMahon has battled CTE symptoms since his retirement
Jim McMahon, often referred to as "Mad Mac," played 15 seasons in the NFL. The Chicago Bears drafted him with the No. 5 overall pick in the 1982 NFL Draft out of BYU.
Mad Mac's longest stint was with the Bears from 1982 to 1988. He also spent time with the San Diego Chargers, Philadelphia Eagles, Minnesota Vikings, Arizona Cardinals, and Green Bay Packers.
McMahon's best years came in Chicago, though. He earned NFL All-Rookie Team honors in 1982 and a Pro Bowl selection in 1985. Alongside head coach Mike Ditka and great players like Walter Payton, Willie Gault, and Richard Dent, McMahon helped lead the Bears to victory in Super Bowl XX.
Hits like the cheap shot Charles Martin delivered had a profound impact on the rest of McMahon's career, as well as his life after football.
The Jersey City, New Jersey native admitted to suffering from severe headaches and memory loss, per The Chicago Tribune.
Several former NFL players have suffered from chronic traumatic encephalopathy, or CTE, including Ken Stabler, Junior Seau, and Aaron Hernandez. Others are living with symptoms commonly consistent with CTE.
Jim McMahon has battled lasting adverse effects from his football career, including the hit by Charles Martin.
All statistics courtesy of Pro Football Reference.
RELATED: The Packers' Latest Injury Blow Leaves Justin Fields in a Fantastic Position to Ruin Aaron Rodgers' Trip to Chicago