Jimmie Johnson Admits the 'Violent' Belle Isle IndyCar Track Makes Him Nervous
Though Jimmie Johnson bade farewell to NASCAR in 2020, the desire to get behind the wheel of a fast car was far more difficult for the veteran driver to walk away from. This led Johnson to ply his trade on the IndyCar scene this year. The 46-year-old more than qualifies for the job. But Johnson revealed in an interview that one element of IndyCar still makes him nervous.
Jimmie Johnson's NASCAR career started strong
Jimmie Johnson's career in NASCAR will go down as one of the most successful in the sport's history, reports Brittanica. Finishing third in 1999's Rookie of the Year standings for NASCAR's Busch Series, he caught the attention of legendary driver Jeff Gordon, who recommended him for a spot with Hendrick Motorsports.
From there, the rookie earned his first Busch Series win in 2001 and gained the eighth spot in the point standings. In 2002, Johnson won three races in the Winston Cup Series — now known as the Sprint Cup Series — taking home the fifth rank at the end of the season.
At Dover International Speedway in Delaware, Johnson made history. He became the first rookie in series history to lead the point standings and sweep both races at a track with two wins. In 2004, he won a series-best eight times. Then he finished fifth overall in 2005 and won his first Cup Series championship in 2006. This included a victory at the Daytona 500.
Johnson continues to make history
After winning a second title in 2007, Johnson made history again by becoming the first driver to have two seasons with 10 victories since his teammate Gordon. A third championship came to Johnson the next year, reports the Indianapolis Motor Speedway. This put him in the company of Cale Yarborough for drivers with three consecutive championship wins. But Johnson didn't stop there.
He won win championships in both 2009 and 2010, becoming the first driver in NASCAR history to both win four consecutive titles and receive Athlete of the Year by the Associated Press. Johnson continued racing for NASCAR for another decade, eventually tying with Richard Petty and Dale Earnhardt as the driver with the most championship wins in Cup Series history.
Having created an enduring legacy within the sport, Johnson retired from NASCAR in 2020. This allowed him to pursue a path he's dreamed about even as a young boy: a career in IndyCar.
Jimmie Johnson gets candid about which track makes him nervous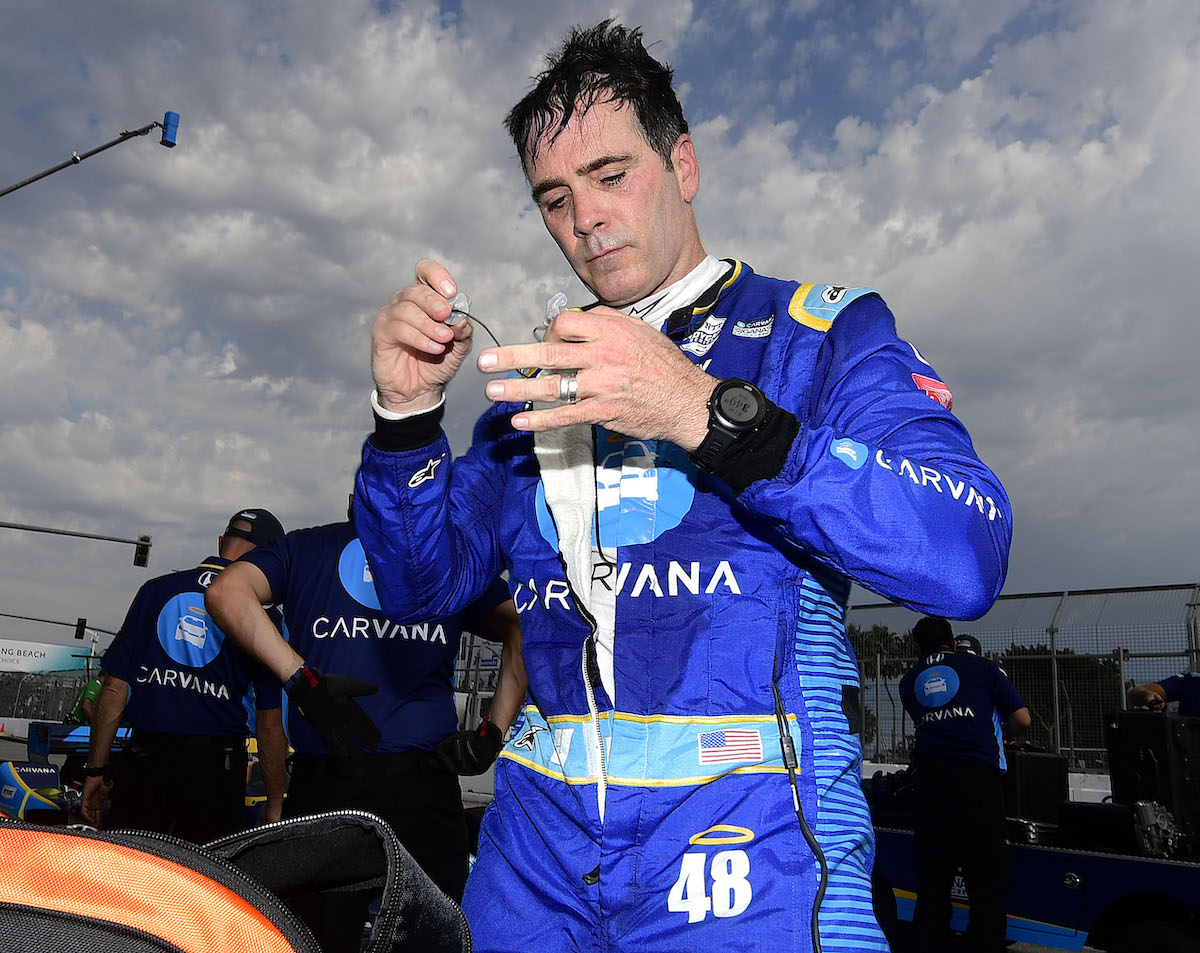 With such an illustrious career, it's easy to think that nothing about racing could possibly rattle Johnson. However, Johnson told USA Today about the one IndyCar track that makes him nervous. The now-46-year-old said, "I have heard the Belle Isle track is so violent and so rough … that's the one I probably have the most concern about right now."
It's understandable for even a veteran driver like Johnson to find something about a new sport that makes him nervous. IndyCar is such a different world from NASCAR that it almost might as well be a new sport altogether. When asked to describe the differences between the cars themselves, Johnson explained:
"Bristol in qualifying is similar. Dover in qualifying is similar. But in IndyCar, that's every lap all the time. The intensity is so high because of the vehicle's downforce performance and the weight of the vehicle and the tire — they're just a far superior vehicle. Then you add in the fact that you don't have any power-steering assist, and the workload goes up 10 times."
Johnson's IndyCar career is off to an intense start, reports ESPN. He hasn't placed higher than 17 in each of the 12 races he's competed in so far.
RELATED: Former Indycar Driver Randy Lanier Served 27 Years Behind Bars After Running a $68 Million Marijuana Drug Ring