Jimmie Johnson Almost Didn't Make It To the Cup Series Alive After This Horrifying 2000 Accident
Jimmie Johnson will go down in history as one of the greatest drivers, if not the greatest drivers of NASCAR's modern era. In his 19-year career, Johnson won 83 races and a record-tying seven Cup Series championships. If he weren't lucky enough to survive a harrowing crash during a Busch Series race in 2000, none of it would have happened.
A young Jimmie Johnson has a brush with death
Before Johnson became a seven-time champion, he was an up-and-coming driver in what was then the Busch Series. In 2000, he drove the No. 92 for Herzog Motorsports in his first full-time season. By his own admission, it wasn't much of a success — in 31 races, he picked up only six top-ten finishes.
"My 2000 year wasn't all that stellar," he told USA Today in 2014.
The only real highlight came at the Lysol 200 in June at Watkins Glen. On lap 45, his Alltel Chevrolet suffered a mechanical failure and veered to the right at full speed before the first turn. The car cut across the track and caught some air before heading into the gravel trap, launching uncontrollably toward the inside wall.
"One of the very few times in a race car I thought it was over," Johnson said in an interview for NASCAR's YouTube channel. "I thought that was it."
Johnson's car struck the wall head-on, sending pieces of the wall flying in all directions. Fortunately, that wall was lined with foam, which absorbed the impact. Johnson emerged from the car unscathed, and even stood atop the car with his arms raised in "triumph".
2000 was NASCAR's deadliest year
The early 2000s may have been stock car racing's darkest period in terms of driver safety. The 2000 season saw the deaths of two promising young drivers in NASCAR — Adam Petty and Kenny Irwin Jr. — at the same track, New Hampshire Motor Speedway, within two months. Meanwhile, ARCA driver Scott Baker and Truck Series driver Tony Roper also lost their lives in racing accidents that season.
The following year was no better. Aside from the tragic loss of Dale Earnhardt on the final lap of the Daytona 500, the season also saw the death of ARCA driver Blaise Alexander in a devastating crash at Charlotte. It took Alexander's death for NASCAR to mandate the use of the Head and Neck Safety (HANS) device across all three of its national series.
Had the wall not been lined with protective foam that day, Johnson may have ended up as just another name on the list of tragic losses of the early 2000s. Without Johnson, the history of NASCAR would have been forever altered.
Since 2002, there has not been a single driver fatality in any of NASCAR's top three series. However, there have been numerous close calls, including Ryan Newman's brush with death at the end of last year's Daytona 500.
Johnson carries reminders from that day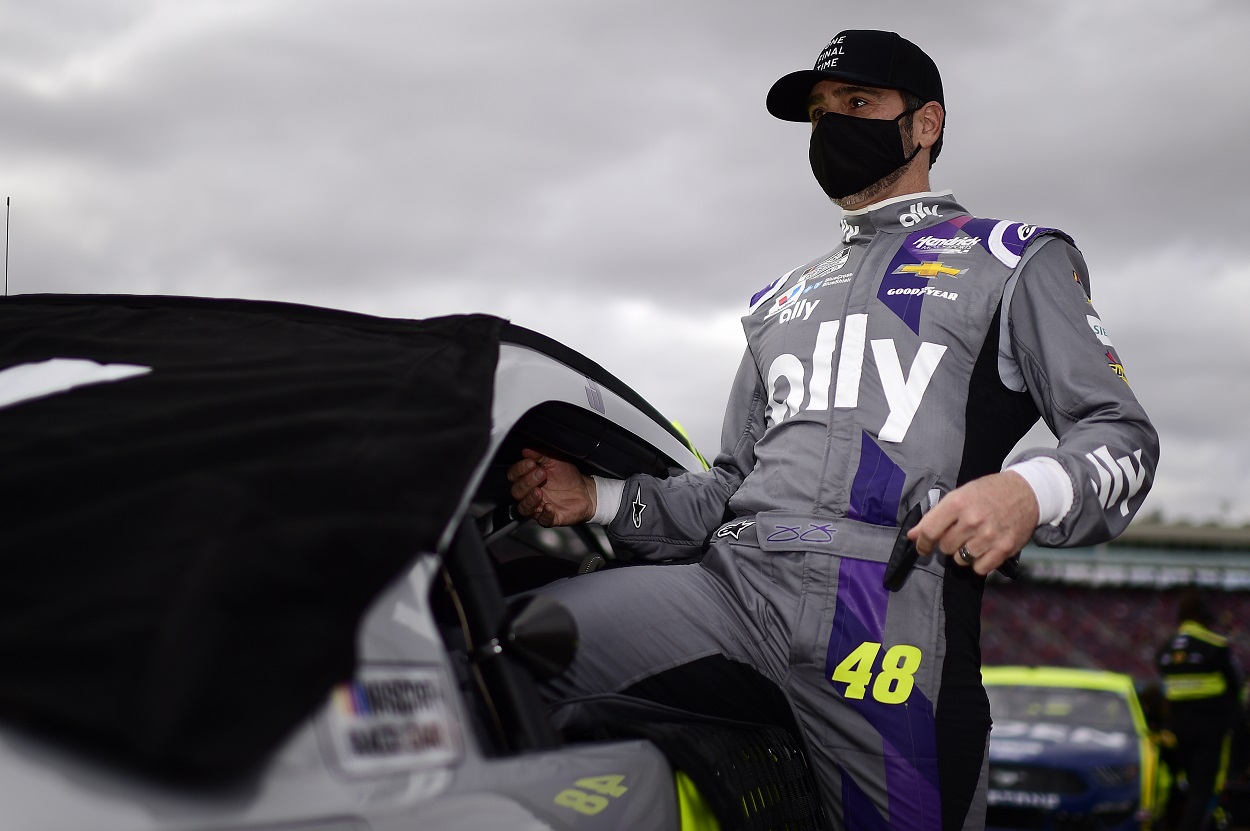 According to USA Today, Johnson still has some mementos from that frightening day.
The year after the crash, Johnson found himself roaming Watkins Glen when he came across a vendor purportedly selling foam from the accident. Without identifying himself as the driver, Johnson purchased two chunks of Styrofoam for $10.
While he doesn't have many other reminders of his early days in the Busch Series, he did keep the steering wheel from the Watkins Glen crash, as well as the oil pan from the car's engine. Johnson also managed to rescue the car just before Herzog Motorsports were to have it destroyed for scrap.
"It looks brand new and great in my warehouse," said Johnson.
Statistics courtesy of Racing-Reference.