Jimmie Johnson 'Confident' and 'Comfortable' in IndyCar, Despite 23rd-Place Finish at St. Pete
Scott McLaughlin eventually claimed the popular St. Petersburg Grand Prix, but first, the IndyCar driver had to tangle with the growing confidence of a seven-time NASCAR premier series champion. 
Striving to stay on the lead lap, Jimmie Johnson struggled to stave off McLaughlin's charge. But as he defended his position, Johnson's teammate, Alex Palou, cut nearly 2 seconds off the pace and challenged for the lead over the final 12 laps, placing P2.  
Despite failing to stay on the lead lap, Johnson did his job. 
In an IndyCar, it was his best ride.
Jimmie Johnson: 'By far the most confident and comfortable I've felt in the car'
Considering Johnson is a future first-ballot NASCAR Hall of Famer, some may find it surprising he would celebrate beating just three of 26 competitors.
Well, Johnson was stoked over the performance.
"By far the most confident and comfortable I've felt in the car and closest on pace," Johnson said, reported by NBC Sports. "Super excited about this race and looking forward to my next street course."
Entering his first full IndyCar campaign, Johnson established a preseason goal of finishing each race on the lead lap.
So, he's 0-for-1.
 Last year, he finished five laps down at this event and instigated two caution periods at the 14-turn, 1.8-mile track. This year, he remained on the lead lap for over 100 laps. 
No wonder the driver with 84 career NASCAR premier series wins was so pumped with his effort. He was almost competitive, considering he started last on Feb. 27 for the first time in 13 IndyCar events. 
Johnson on 23rd-place finish: Team was 'as competitive as we've ever been'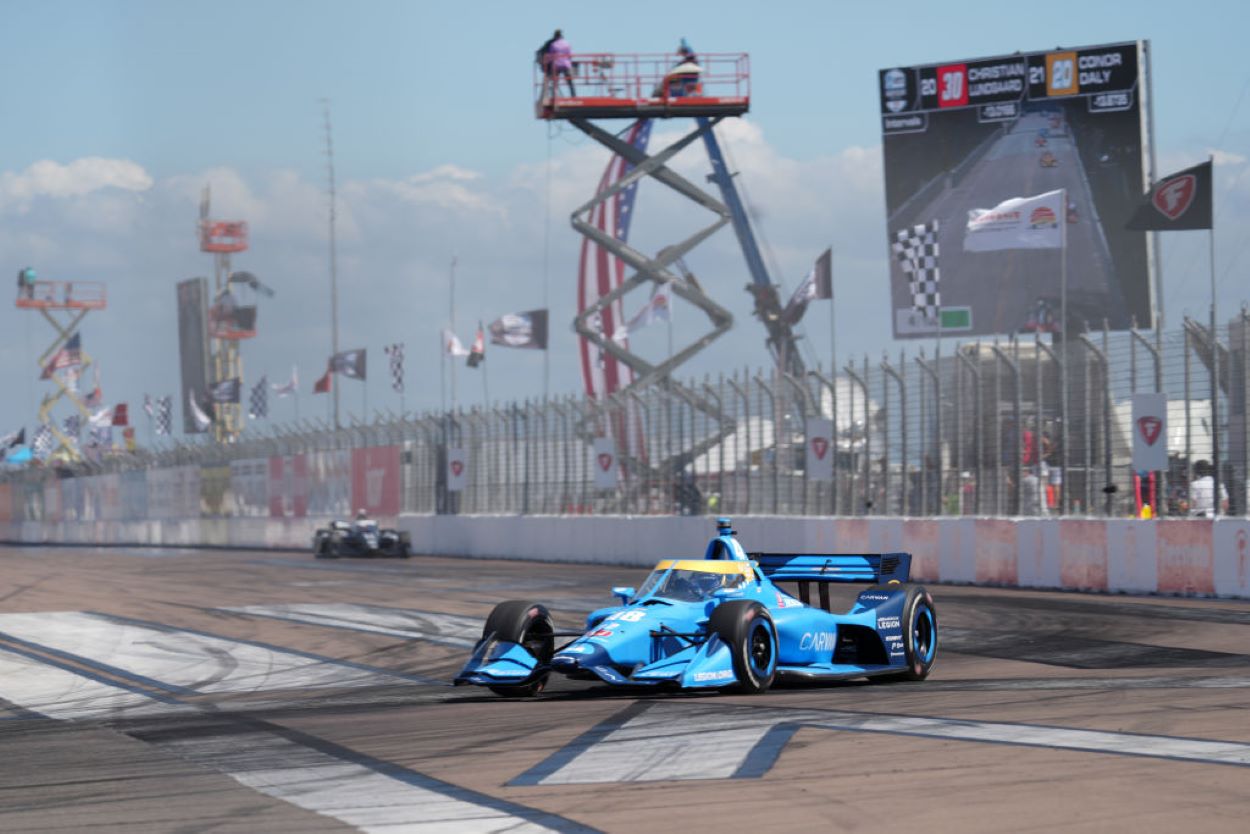 Or, as Johnson tweeted, his team was "as competitive as we've ever been."   
Johnson didn't enjoy a stellar start to the race weekend. During three practice sessions, Johnson ended up spinning out four times while not causing any significant damage. His qualifying effort was meandering at best. The driver blasted himself for not generating and sustaining enough speed.
His qualifying time was nearly two seconds slower than pole-sitter McLaughlin.
"For myself, I know the result doesn't show it, but I think that's a reflection of the poor qualifying effort I had," Johnson said. "Race pace was in the mid to high teens. I ran there in one part of the race, and unfortunately, the strategy just didn't work out in our favor."
Perhaps returning to an oval at Texas Motor Speedway on March 20 will play into Johnson's NASCAR roots. In his 13 IndyCar starts, Johnson's average finish is 21.2.
"My goal is to start the season with consistent finishes in the top 15 and then look at the top 10," he said.
Perhaps aided by Johnson's presence in a Southern market, but IndyCar's television ratings proved to be a bonanza.
Measured across NBC and Peacock networks, the St. Pete GP averaged 1.429 million viewers, its highest season-opening event in 11 years. Compared to the 2021 opener, viewership was up 53%.
NBC and Peacock will next broadcast an IndyCar event from Texas Motor Speedway.
Like Sportscasting on Facebook. Follow us on Twitter @sportscasting19.
RELATED: ROC Racers Jimmie Johnson, Colton Herta, 2 Cali Bombs, Heat Up Arctic Circle