Jimmie Johnson Won 3 Races in 2002 but Still Couldn't Win NASCAR Rookie of the Year Thanks to Ryan Newman
This season, Jimmie Johnson will embark on the next phase of his motorsports career, as he takes part in his first IndyCar season. He can only hope that his rookie year in open-wheelers is as fruitful for him as his rookie season in what was then the NASCAR Winston Cup Series. In 2002, Johnson had perhaps the greatest rookie season in NASCAR history. Incredibly, it still wasn't enough for him to win Rookie of the Year.
Johnson before the Cup Series
Before his first full-time Cup Series season in 2002, Jimmie Johnson drove regularly in the now-defunct American Speed Association from 1998 to 1999. He picked up two wins in the series before making the jump to the NASCAR Busch Series, now known as the Xfinity Series.
Johnson's most famous Busch Series moment was not a triumphant one. At Watkins Glen, he survived a frightening accident when his no. 92 car careened off the road and went straight into a styrofoam barrier. One season later, he picked up his only Busch Series win and finished 10th in the standings. His team, Herzog Motorsports, would go out of business by the end of the season.
Johnson did take part in three Winston Cup races in 2001, driving the very same Hendrick Motorsports no. 48 Lowe's car that would later go down in legend. However, these were hardly a preview of things to come. Out of all three races, his best finish was 25th.
Johnson's incredible rookie campaign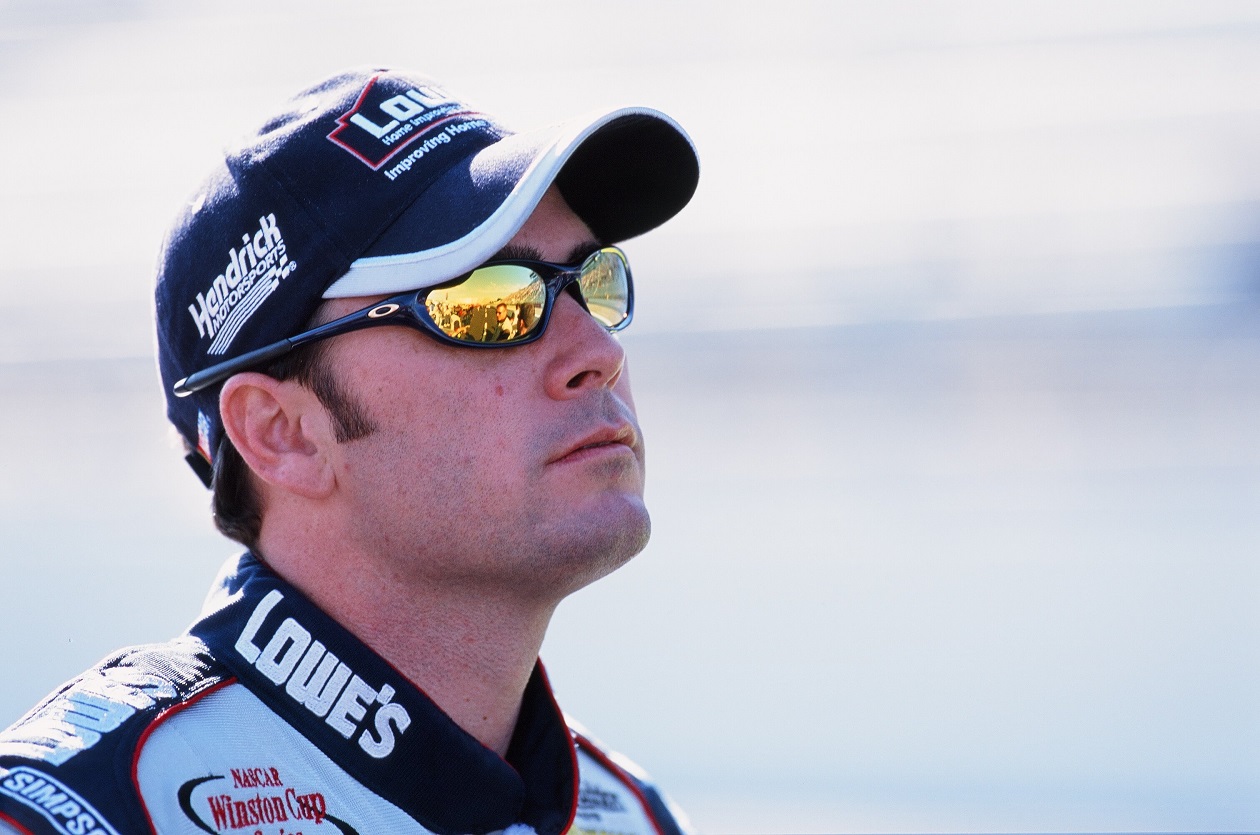 For the start of his official rookie season, Jimmie Johnson turned heads immediately by earning the pole position for the Daytona 500. He would finish 15th in that race, setting the stage for a legendary career. He earned his first career top-ten at the third race at Las Vegas, starting a string of five in a row.
A win seemed inevitable, and it finally came at the tenth race at California Speedway. Later, he made history by becoming the first driver to sweep both races at a track in one season by winning both the June and September races at Dover. In so doing, he tied Tony Stewart's rookie record of three wins in a rookie season.
After the Kansas race in October, Jimmie Johnson assumed an 11-point lead in the points standings, an astonishing feat for a rookie driver. With only seven races remaining, there was a realistic chance that a first-year driver could take the championship.
It wasn't to be. A blown engine at Talladega the following week knocked him out of the points lead for good. Still, Johnson would finish the year in fifth place after one of the most impressive rookie seasons in NASCAR history.
2002's other great rookie driver
Jimmie Johnson was unlucky enough to be a rookie during the 2002 season. The late 1990s and early 2000s were jam-packed with young and talented NASCAR drivers who made an instant impact on the sport, and Jimmie Johnson was just one of them. Some of the drivers from this generation are still around to this day, including Kevin Harvick, Kurt Busch, and Ryan Newman.
Despite winning three races and finishing fifth in the points standings, Johnson lost out on the coveted Rookie of the Year title at season's end. The title instead went to Ryan Newman, who finished one spot behind Johnson in the standings and won "only" once. However, Newman did outdo Johnson with 22 top-five finishes to Johnson's 14, and more importantly, a series-leading six pole positions.
Johnson would get the last laugh over Newman, however. He would go on to win a record-tying seven Cup Series titles. Newman has yet to win his first.
Statistics courtesy of Racing-Reference.