Jimmie Johnson's Legendary NASCAR Career Was Recently Recognized in a Prestigious Way
NASCAR legend Jimmie Johnson has been one of the best drivers of all-time. In fact, he has been one of the most dominant athletes in all of sports throughout his entire career. He is finally calling it quits after this season, though, as he plans to retire following the 2020 campaign. Prior to his retirement from NASCAR, Johnson's career recently got recognized in a pretty cool way. It was by a race track where he has had a ton of success at, too — Texas Motor Speedway.
Jimmie Johnson has had a legendary NASCAR career
RELATED: NASCAR's Jimmie Johnson Conceived Idea for Drivers Video Confronting Racism in America
Throughout his NASCAR career, Johnson has been one of the best drivers to ever compete in the sport.
According to Bleacher Report, he joined the NASCAR Cup Series in 2001 and quickly became one of the top drivers. From 2006 through 2010, he won five straight titles. He also won the championship in 2013 and 2016. His stellar career has helped him tie Richard Petty and Dale Earnhardt for the most titles ever.
Whenever he didn't win, Johnson was still a top contender. He finished no worse than sixth in the final standings through his first 12 seasons. Johnson also finished inside the top 11 in 16 straight years.
When looking at the totality of his career, Johnson has certainly cemented himself as one of the best drivers of all-time.
He is retiring after the 2020 NASCAR season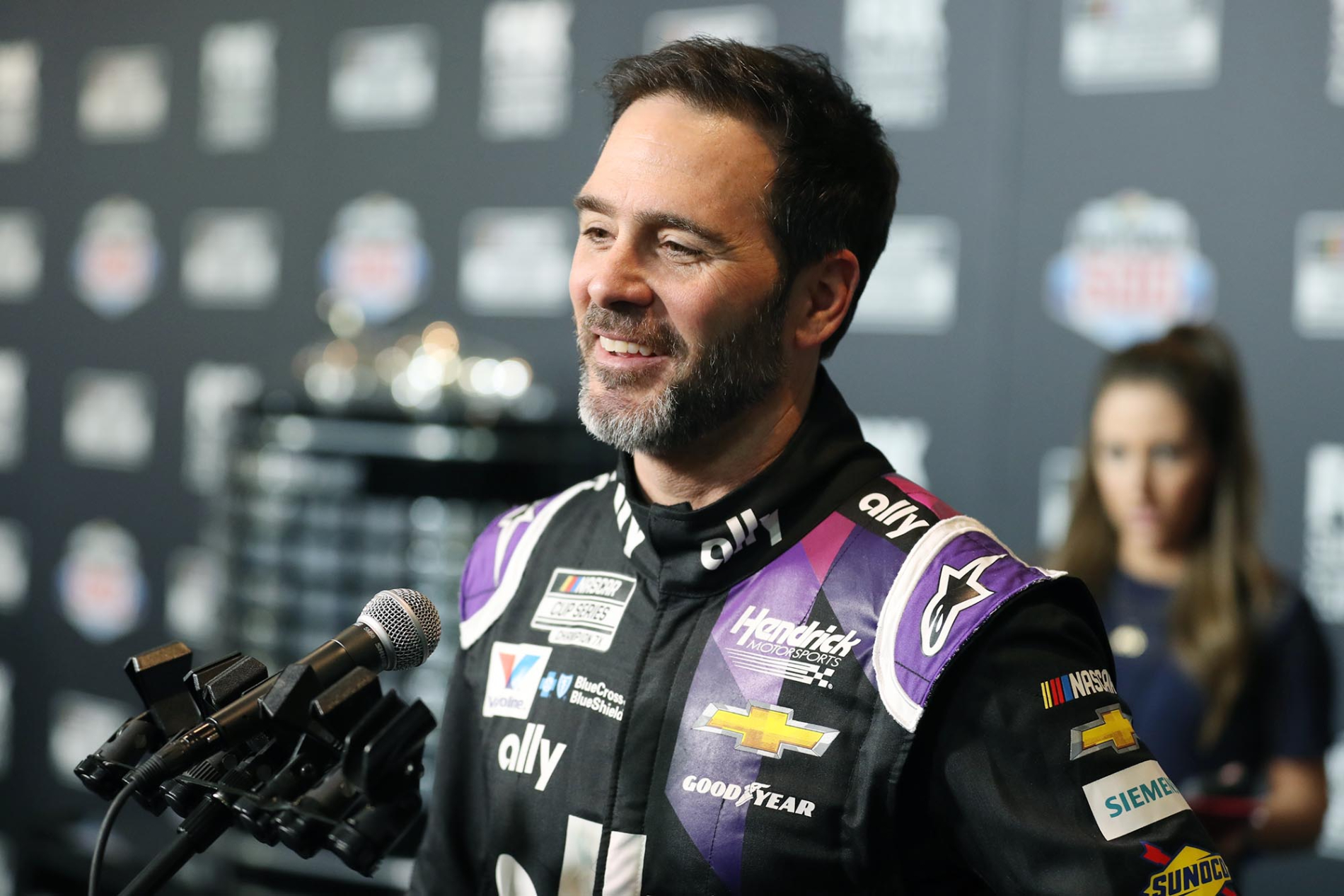 RELATED: What Is Jimmie Johnson's Net Worth and How Many Races Has He Won?
In November 2019, Johnson announced that the 2020 season would be his final season as a full-time driver in the NASCAR Cup Series.
During the 2018 and 2019 seasons, Johnson did not perform up to his incredible standards, as Johnson finished 14th in 2018 and 18th in 2019, missing the NASCAR Cup Series Championship Playoffs for the first time, per Bleacher Report.
He also parted ways with his longtime crew chief Chad Knaus after the 2018 season.
"It's time for us to move on and have a new project and have new people to work with, but he's my brother — there's just no way around it," Johnson said of parting ways with Knaus in 2018, according to USA Today.
So far in 2020, Johnson is 18th in the standings, according to NASCAR. He has four top-five finishes and nine top-10 finishes.
Now, as Johnson finishes his career, he is getting recognized in a pretty cool way.
Texas Motor Speedway honors Jimmie Johnson for his historic career
RELATED: Kyle Larson Racked up a $12 Million Net Worth Before Being Fired
Before Johnson's final race at Texas Motor Speedway as a full-time Cup Series driver, the track honored him in a pretty cool way.
Texas Motor Speedway recently unveiled the "Jimmie Johnson's Winner's Circle" sign. This is in addition to Clint Bowyer also receiving a tribute recently, as he is also retiring from full-time racing after this season.
"Jimmie and Clint are tremendous ambassadors of our sport, both on and off the track, so we wanted to do something special for their final time here behind the wheel of a NASCAR Cup Series car," said Texas Motor Speedway president and general manager Eddie Gossage, according to Hendrick Motorsports. "Jimmie knows his way to SpeedyCash.com Victory Lane better than anyone so it was appropriate to do something special for him there."
Johnson holds multiple records at Texas Motor Speedway. According to Hendrick Motorsports, he has the most wins at the track with seven and the most runner-up finishes with five. He has also led the most laps there with 1,152.
Texas Motor Speedway is also honoring Johnson by having his father, Gary Johnson, as the grand marshal for the Autotrader EchoPark Automotive 500.
"I'm excited for my dad to be the grand marshal at Texas to give the command to start the engines," Johnson said, according to Texas Motor Speedway's site. "We have family in Texas so I feel like there's going to be some extra sentimental value for my dad, knowing his sister lived there and was from that area. He's been such a supporter of me in my career and I know how special and meaningful it will be for him to be there in my final start at Texas Motor Speedway."
Jimmie Johnson has had a legendary NASCAR career. Now, he is getting recognized for everything that he has done.