Jimmy Butler Has Created a Potentially Alarming $181 Million Decision for the Miami Heat
The Miami Heat are about to have a very expensive and significant problem involving superstar forward Jimmy Butler.
The five-time All-Star has more than lived up to expectations with the Heat, even after a disappointing playoff loss to Khris Middleton and the Milwaukee Bucks. However, the good times between Butler and the Heat may be nearing an end.
The Miami Heat can extend Jimmy Butler this coming offseason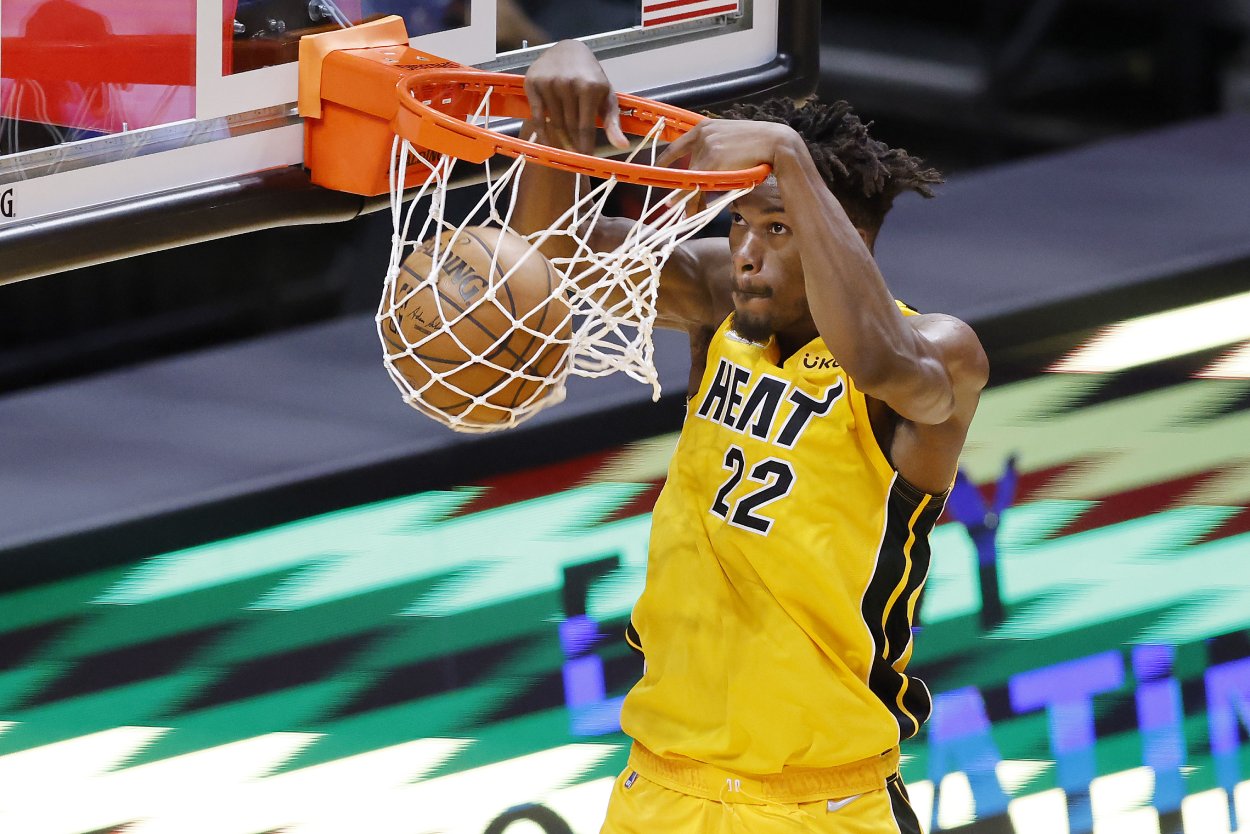 Time moves quickly in the sports world, and Jimmy Butler has already ended his second season with the Miami Heat.
The coming months are when things can get very interesting. The five-time All-Star is a year away from unrestricted free agency — and, potentially, his final massive contract.
However, Butler and the Heat can go another route this offseason. As of now, he is scheduled to earn a guaranteed $36 million next season. He also has a player option, one which would pay him $37.7 million, for the 2022-2023 season.
That will change if the two agree on a new contract. According to ESPN's Bobby Marks, Butler can sign a four-year extension worth $181 million. That contract would kick in ahead of the 2022-2023 campaign.
The Heat should use great caution when deciding on Butler's future
With how well he has played when healthy, it seems like a given that the Heat would want to re-sign Butler for the long term.
The reality may not be so simple. Butler has missed 35 of a possible 145 games over the last two years, and he's not getting any younger. He'll be 36 at the end of the 2025-26 season, the time period when his proposed extension would expire.
It'd be understandable if the Heat want to take that risk. Miami hasn't won a championship since 2013, their second title in the Big 3 era, and they've already committed significant resources into Bam Adebayo. And speaking of Adebayo…
The Heat should always try to pair a second star with Bam Adebayo
When the Heat acquired Butler in the summer of 2019, he immediately became their superstar and alpha. That move came on the eve of Adebayo, a first-round pick in 2017, finally breaking through and becoming a star in his own right.
The 2022 free-agent class has no shortage of potential big names. Kawhi Leonard and Stephen Curry are unrestricted free agents, while James Harden, Kevin Durant, and Russell Westbrook are among those with player options.
At this point, the Heat know they have to pair a second star with Adebayo, and history shows it'll likely be an established star. There is always the possibility that Tyler Herro can make the jump next season that Adebayo made during the 2019-2020 campaign, but he could also serve as a trade piece.
Or, the Heat could keep everything simple and re-sign Butler to a max deal this offseason. Anything and everything should be on the table if Miami intends to win a title in the coming years.
Like Sportscasting on Facebook. Follow us on Twitter @sportscasting19.