Jimmy Butler Has LeBron James-Like Influence With the Heat
In many ways, the 2020 NBA Finals offered a perfect window into the Miami Heat's transition from LeBron James and the Big 3 to a new era headlined by Jimmy Butler.
Although the Heat came up short against James and the Los Angeles Lakers in those Finals, Butler had led the franchise back to the Finals in his first season in South Beach. In so doing, he made it clear that Miami would be part of the title picture for years to come.
Fast forward to 2022, and Butler has helped steer the Heat to the No. 1 seed in the Eastern Conference. He's also wasted little time building up his influence, with head coach Erik Spoelstra allowing him LBJ-like freedoms and authority on the court.
Jimmy Butler and LeBron James: Case studies in defensive excellence
In his Heat days, LeBron James was one of the best defenders in the NBA.
James led the league in defensive box plus-minus (DBPM) and ranked second in defensive win shares during the 2011-12 season. He ranked fifth and 10th in those categories, respectively, the following season. The King controlled the game on both ends of the floor.
Butler has had a similar impact for the Heat. As of Thursday, the six-time All-Star ranked sixth in DBPM and led the NBA in steals per game (2.1) during the 2020-21 campaign. This season, Jimmy Buckets ranks 10th in DBPM despite missing 19 games due to injury. He's also averaging 1.8 pilfers.
Interestingly, James (in his heyday) and Butler do a lot of the same things on defense.
Both men use their physicality and athleticism to pester ball-handlers. But they're even better as rovers who can make plays as help defenders and disrupt things in the passing lanes. Their instincts and anticipation allow them to operate outside of team defensive schemes.
Butler passed James as the Heat's all-time leader in triple-doubles earlier this season. Now, he's enjoying the kind of influence that LeBron had in South Beach.
Erik Spoelstra lets Butler play freely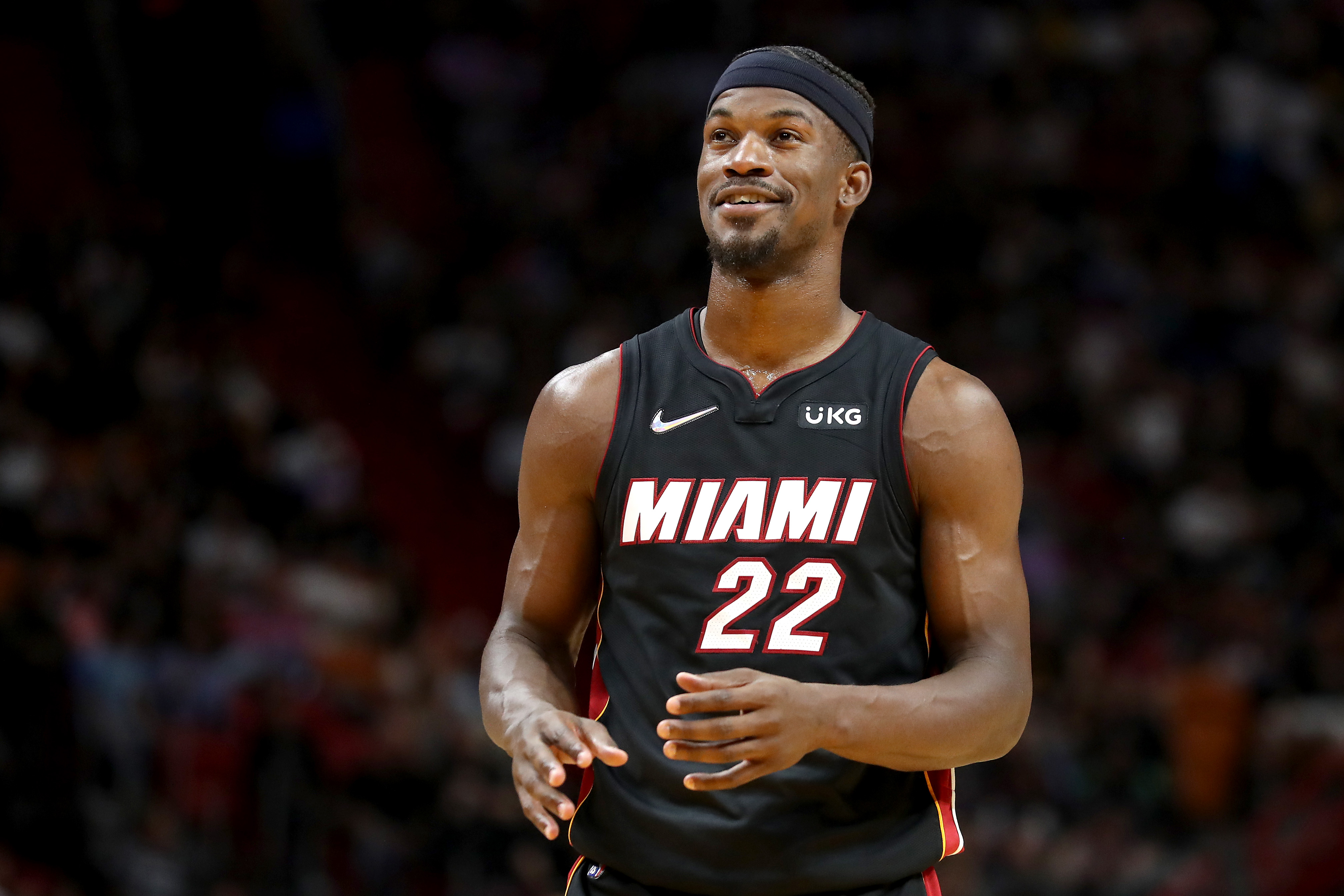 Nothing binds Jimmy Butler to any set of rules or Xs and Os. His head coach said as much.
Spoelstra explained recently that, while the Heat do have defensive credos, Butler's brilliance affords him certain liberties. Spoelstra said (h/t South Florida Sun-Sentinel) that's a result of the five-time All-Defensive member making the seemingly impossible happen.
"We have our team rules, and then there's the Jimmy Butler Rules. He can do whatever he wants, because he can do some things that I've never seen before."

–Erik Spoelstra
The Heat's roster is conducive to letting Butler fill the rover role.
Nearly all of the backcourt players can hold their own, save for Tyler Herro. Duncan Robinson has made noticeable gains as a defender. Depth guys like Gabe Vincent and Caleb Martin are solid at the point of attack, with Martin — who had a strange road to Miami — offering plenty of scrappiness underneath the basket. When healthy, Kyle Lowry is one of the better defensive guards in the NBA.
It also helps to have Bam Adebayo anchoring the middle. Adebayo's tremendous athleticism and switchability make him a lynchpin in Miami's defensive scheme.
When putting all the pieces together, the Heat have the personnel necessary for Butler to take risks and hunt the ball. Opponents always have to be wary of his presence on the floor because he willingly leaves his assignment to send early doubles, cut off straight-line drives, and help on the weak side.
Miami's defensive versatility and the "Jimmy Butler Rules" contribute greatly to its success. However, the Heat need more from Butler offensively to make a title push.
The offensive efficiency could use some improvements
It's unlikely that Jimmy Butler can make the same strides in his outside shooting as LeBron James during his four-year run with the Heat. Still, he must be more efficient.
Butler's three-point percentages have fallen off a cliff in recent seasons, from a respectable 34.7% in 2018-19 to just 19% during the current campaign. According to NBA.com, he's made only 36.3% of his mid-range attempts after converting at a 42.4% clip last season.
Miami ranks first in the NBA in three-point percentage, and it has the kind of floor-spacers that should allow Butler to thrive as a slashing scorer and playmaker. But he had a rough go of it in the last two games before the Heat's March 3 showdown with the Brooklyn Nets, scoring a combined 21 points on a woeful 6-of-27 from the field.
Butler's singular defensive excellence has given him a unique set of rules on defense. That freedom means nothing if he cannot score more efficiently and help lead the Heat to a championship.
Stats are accurate as of March 3 and are courtesy of Basketball Reference unless otherwise noted.
RELATED: The Memphis Grizzlies and 4 Other Legitimate NBA Championship Contenders No One Is Talking About