Jimmy Butler Never Misses an Opportunity to Troll This Player
Jimmy Butler somehow found a way to get involved in the drama between two teams that he no longer plays for thanks to his former teammate, Joel Embiid. Embiid got into a fight with Minnesota Timberwolves center Karl-Anthony Towns that sent shockwaves through the NBA, and when the two players took to social media after the game, Embiid inserted Butler's name into the mix.
It was an event that, even if Butler isn't with those teams anymore, perfectly sums of his tenures with both teams.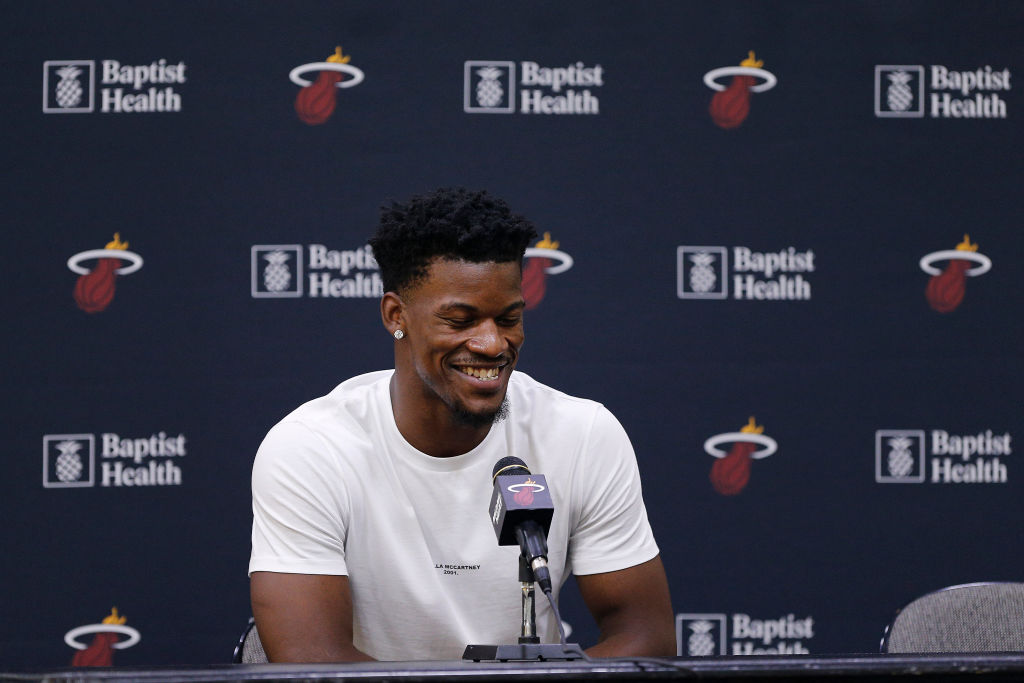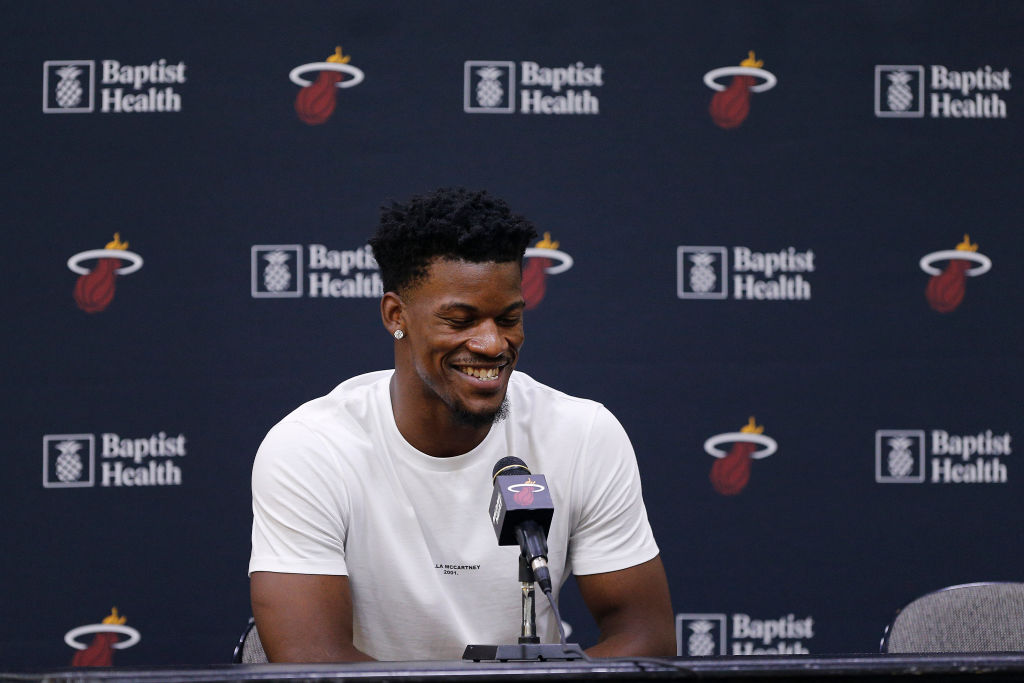 Jimmy Butler on the Timberwolves 
Butler's trade to Minnesota marked the end of an era in Chicago. Butler had become a fan-favorite for the Bulls thanks to his feisty spirit and ability to do things on both ends of the court.
In Minnesota, he provided a veteran presence to go perfectly alongside Towns and fellow up-and-comer Andrew Wiggins. For a year, this appeared to be a match made in heaven. 
The Timberwolves 2017-18 campaign provided nearly everything the team could have hoped for. Thanks to the addition of Butler, the team had a talented roster who could compete with some of the best teams in the West, and the team was able to end their playoff drought under his leadership. Entering the following season, however, something changed.
Butler couldn't secure an extension, and rather than quietly playing out his deal, he began to publicly spar with his team and request a trade. This all culminated in a notorious practice where Butler reportedly took on the starters with the third-string, won, and talked a whole lot of trash before giving an interview with ESPN's Rachel Nichols to discuss the matter.
On top of this, there were rumors that Butler had been the reason behind Towns' breakup with his girlfriend who allegedly cheated on him with Butler. The team eventually grew tired of the antics and traded Butler to the 76ers.
Jimmy Butler on the 76ers 
Butler's career in Philadelphia was only 55 games, and it did not have nearly as much drama as his career in Minnesota had. The team was loaded, and many believed that they would have to choose between Tobias Harris and him. Many believe that Butler turned down an offer from the team. So Harris got the extension, and Butler moved on to a new home in Miami.
Butler had a good stint with the 76ers and struck up a friendship with Joel Embiid that he appeared not to have with Towns in Minnesota. That friendship lingers on to today, and when Embiid and Towns got into their heated scuffle, Butler said he knew right away that his name would somehow end up in the situation.
The fight
Jimmy Butler laughed when he spoke about his former teammates going at it.
"As soon as I saw it I was like, 'Here we go, my name is getting thrown into it,'" Butler said in an interview.
People can speculate about why Butler was thrown into it, but many wondered if the rumored relationship and Towns' ex could have played a role in what Embiid was saying. If the rumors were true, Embiid would likely know about everything between Butler and his ex-girlfriend.
Embiid and Butler are a perfect friendship for one another. Both have a knack for saying what is on their mind, and their antics can occasionally elevate situations and cause undue stress on those around them.
The fact that both coexisted for those months on the same team could have gone in the wrong direction, but it seems as though the two were a perfect fit. 
In the future, it would not be at all surprising if Embiid and Butler continue poking at each other. They are similar personalities who love to get a rise out of other people, and that can only mean they pull double duty when their paths cross.
Whatever the reason behind Butler's name being dragged into the situation, one thing is for certain. It will not be the last situation like that for either, and Butler will take any chance he can to take a poke at Karl-Anthony Towns.