Jimmy Butler: The Bulls' Best Player, But Still Not Their Leader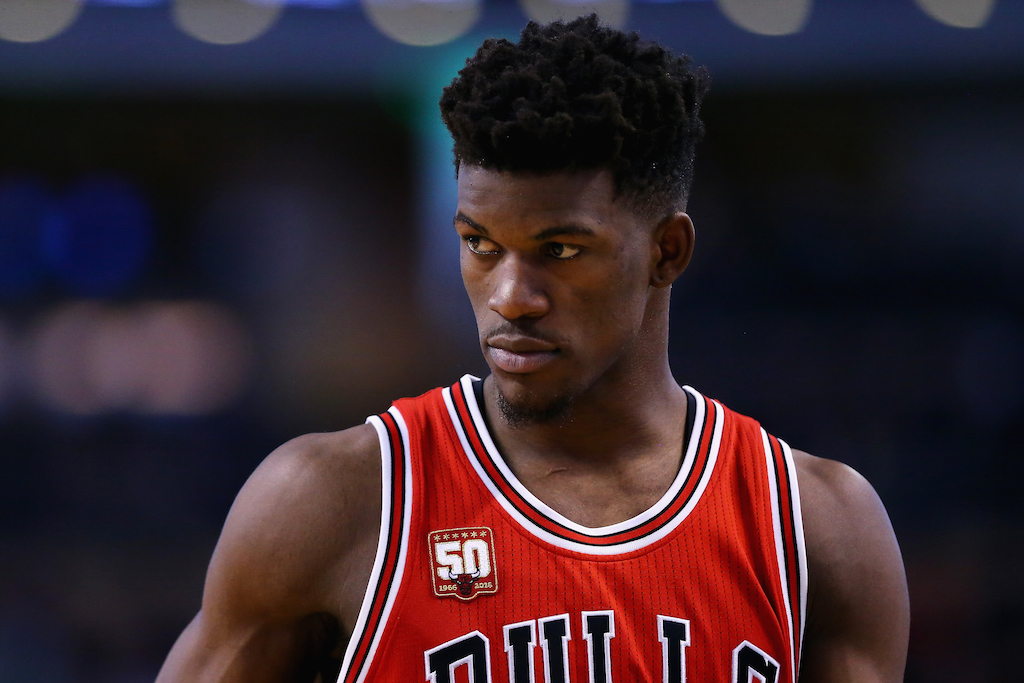 Jimmy Butler has played really well lately, leading the Bulls with some tremendous performances on the court. The Bulls star guard has truly become one of the best players in the league, raising his game even above his massive improvements last season. In his last 15 games, Butler is averaging 24.1 points, 4.3 rebounds, and 5.3 assists per game. But while he shines as a great player on the court, he sometimes lacks what it takes to be a true leader. When things have gotten tough for the Bulls, Butler has made questionable decisions.
Things have been tough, lately. The Bulls lost four out of five games, then won six straight, and now have lost three in a row. It's been hard to get a read on just how good this team actually is, as they just aren't consistent enough to judge. Several weeks ago, after a bad loss to the New York Knicks, Butler let his frustration get the best of him concerning his inconsistent play.
According to Chris Kuc of the Chicago Tribune, Butler talked to the media about his head coach, Fred Hoiberg, and what he thinks the root of the problem with the Bulls may be. "I believe in the guys in this locker room but I also believe we probably have to be coached a lot harder at times," he said. "I'm sorry, I know Fred is a laid-back guy and I really respect him for that but when guys aren't doing what they're supposed to do, you have to get on guys — myself included."
For the Bulls star guard to come out and actually say those things, you know the relationship between Butler and Hoiberg must be less than ideal. If that's what he's willing to tell reporters, what is he holding back? Does he think Hoiberg is in over his head? You can debate whether Butler speaking his mind is good or bad, but what's clear from his actions is that he hasn't done much to help the lack of cohesion the Bulls have experienced this season.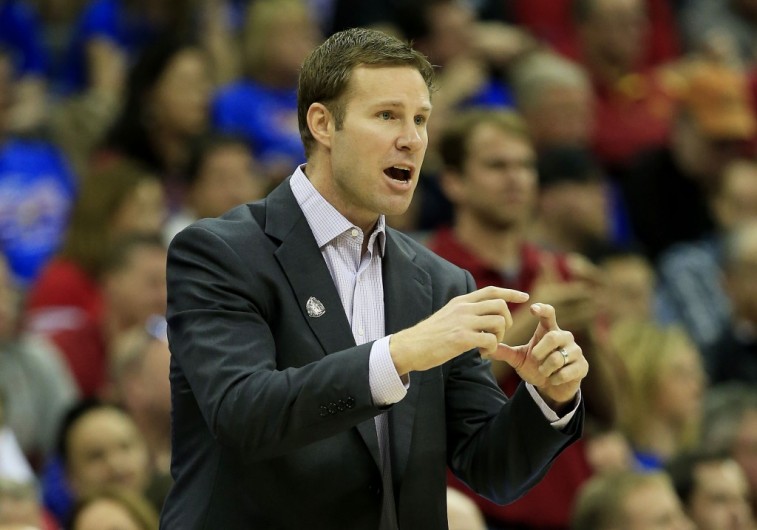 These comments by Butler — and the intent he had when he said them — may also be a symptom of a bigger issue, not the problem itself. The Bulls signed Butler to a five-year deal when he hit restricted free agency last summer, making it known around the league that they value him as a franchise player and hope to build around him for the foreseeable future. At the same time, they fired former head coach Tom Thibodeau and brought in Hoiberg, also on a five-year contract.
For better or worse, Butler and Hoiberg are tied together. Hoiberg has a specific style of offense that he likes to operate, one that emphasizes running the floor and shooting from outside. The good news is that Butler should fit in this offense, in theory. But things haven't been smooth thus far, with issues regarding not only the makeup of the roster and how it fits into the offensive schemes, but also the relationship between Butler and his teammates.
According to Zach Lowe of ESPN, Hoiberg has incorporated old sets from the Thibodeau days to help ease the transition a bit. This is actually pretty smart on his part, recognizing the fact that the roster didn't change at all in the offseason and is not exactly equipped to run a pass-happy offense like he would like to do. Lowe also points out that, despite raising his level of play to stardom over the last year, Butler hasn't fully endeared himself to his teammates.
"There is a sense that Butler relishes the trappings of stardom a bit too much, and that he doesn't do enough to support his teammates, as a playmaker or a cheerleader," Lowe says. "The Bulls have been unusually vulnerable to infighting when things go bad during a game. They are not a team that socializes together off the floor."
Butler has definitely become more vocal as he's become a better player, which can often rub teammates and coaches the wrong way. He's worked extremely hard to get to the level of play that he has achieved, after a slow rise out of nowhere; Butler started as a junior college transfer, was drafted at the end of the first-round as a defensive stopper, and ended up as a top-five player at his position.
That relentless hard work, combined with his rumored superstar attitude, led to rumors that he didn't care for the work ethic of Derrick Rose, via Joe Cowley at the Chicago Suntimes: "In Butler's mind, Rose was considered the face of the franchise, and if the face of the franchise wasn't busting his butt in practice every day, especially last season, what was the message to the rest of the team?"
The good news is that Rose has started to play much better lately, scoring 19.7 points and shooting 48.7% from the floor over his last seven games. Rose will be around at least until his contract ends after next season. Several of the younger players, such as Tony Snell and Doug McDermott, will be around for a while too, barring a trade. Butler will need to learn how to deal with his teammates and coaches in a more professional manner in order to take that next step toward becoming a true leader, not just the team's best player.
Because as much as Butler may think he's the leader of the Bulls, right now he's merely the best player on the court. Some may argue that there is no true leader on the team, which may be indicative of why they've struggled to find their identity and focus this season. Others say the leader is Joakim Noah, who plays limited minutes and provides minimal offense — not to mention the fact that he doesn't really fit in the Hoiberg offense.
If the Bulls are going to put together a serious streak of solid play and not just an up-and-down season like they've had so far, it needs to start with Butler working with his coaches and teammates to figure out what each of them is doing wrong and how to fix it.
Statistics courtesy of Basketball-Reference.com.