Jimmy Butler Unearthed a $184 Million Concern for the Title-Contending Miami Heat
It's all smiles for Jimmy Butler and the first-place Miami Heat.
Butler is the face of the East's top team, as Miami enters Thursday with a 41-22 record. Despite injuries and COVID-19 issues with countless players, the Heat have overcome every obstacle in their path.
But Wednesday night gave the Heat a real reason to sweat.
Miami's four-game win streak was snapped in a 120-119 loss to the defending champion Milwaukee Bucks. A one-point loss on the road to Giannis Antetokounmpo and company is nothing to be ashamed about. But Butler should be ashamed, as he just reminded the Heat of a major concern that will hurt them on the court and in their wallet.
Jimmy Butler went ice cold and sunk the red-hot Heat
After a convincing victory over the Chicago Bulls, the Heat had a golden opportunity to keep the good times rolling by defeating the Bucks. They would have done it, too, if it wasn't for that meddling Jimmy Butler.
The 11th-year veteran scored six points in the first quarter, including Miami's final points of the frame with just 19 seconds to go. After that, Butler went 0-of-8 for the remainder of the game. That meant in a matchup the Heat lost by a single point, Butler finished with six points on 2-of-14 shooting and was held scoreless for the final 36:19 of game time.
This was a season-worst night for Butler, who also finished with a plus-minus of -21 in over 35 minutes. But this is just another recent example of Butler failing to deliver on offense.
Monday against Chicago, Jimmy Buckets was only 4-of-13 from the field. In the final game ahead of the All-Star break, he went 5-of-24 against the Charlotte Hornets. On Jan. 15 against the Philadelphia 76ers, the six-time All-Star hit one of his 11 field-goal attempts.
Butler is still averaging a respectable 21.4 points on 47.0% shooting for the season. But his field-goal percentage has considerably dropped since the beginning of the year. From opening night through the end of November, the 6-foot-7 forward shot 51.9% from the field. From Jan. 1 through Wednesday, he made just 43.4% of his shot attempts.
Not to mention, he's also down to 19.0% total from beyond the arc. For context, he was hitting 34.7% of his treys just three seasons ago.
The Heat are going to have a massive $184 million problem over the next few years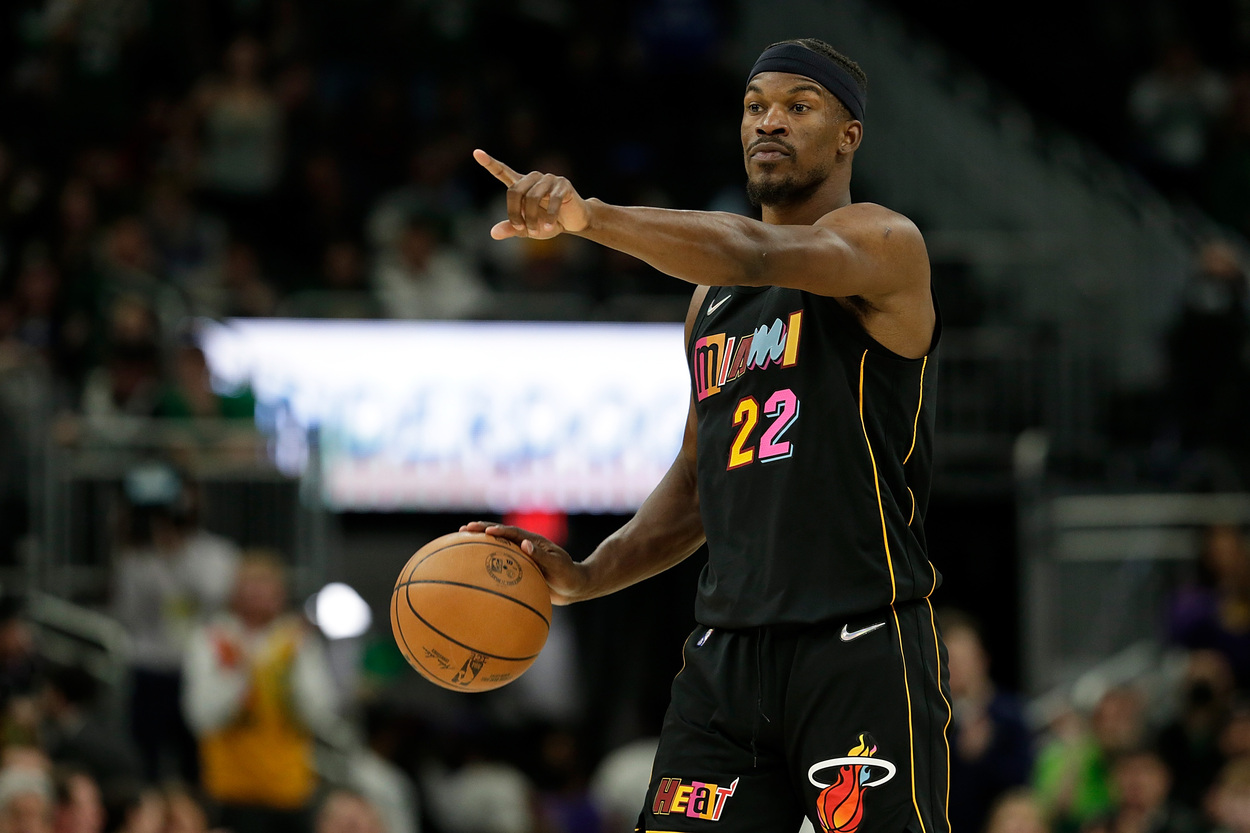 Ask any Heat fan and they'll tell you they'd win it all this year if it means a few bad seasons down the road. At least that's what they should tell you. After all, you play the win the game (shout out Herm Edwards).
Even with Butler's poor shooting, Miami is firmly in the mix to win a title. But the next few years could get uncomfortable for both Jimmy Buckets and a Heat team that will pay him very handsomely.
In 2019, Butler inked a four-year, $140.8 contract with the Heat. Last summer, he signed a three-year extension worth $136.4 million. That means after this season, Butler will be on the hook for approximately $184 million over four seasons.
While he's never been a shooter, the 32-year-old is showing major declines on that side of the game. As he gets older and his athleticism wanes, he'll need to improve in that area in order to keep the Heat relevant. Otherwise, Miami will be stuck with a player who four years from now will make $52.4 million and have no jump shot.
Butler's rising contract will make it increasingly more difficult to pay certain players like Tyler Herro. The Sixth Man of the Year frontrunner is due for his rookie extension this summer, one that should earn him a considerable chunk of change. But Miami will have to move things around to pay him, given its $125.6 million commitment to Butler, Bam Adebayo, Kyle Lowry, and Duncan Robinson alone in 2023-24, the first year Herro's extension would kick in.
In a nutshell, the only way Butler's extension won't be viewed as a failure is if the Heat can add another championship banner. Otherwise, his dollar amount and anticipated shooting struggles will hold Miami back for several years.
Butler's contract will hurt, but the Heat have a secret weapon
Paying a 36-year-old Butler over $50 million is not the mark of a smart organization. But Pat Riley and the Miami Heat are a smart organization, especially when it comes to finding diamonds in the rough.
As important as stars like Butler and Adebayo are, Miami has dominated its competition this season with the likes of Max Strus, Gabe Vincent, Caleb Martin, and Omer Yurtseven. That's because no team is better at player development than the 41-22 Heat. Quite frankly, it isn't close.
So let's say Butler ages poorly as his contract increases. Suppose Miami has to say goodbye to one of their vets, perhaps Robinson or Lowry, just to stay around the salary cap. And let's assume players like Strus and Vincent wind up pricing themselves out of South Beach. Do you think the Heat will be able to find a new group of unknown, unheralded players to fill the roster and contribute in big spots?
For our money, the answer is yes. That should make Butler feel a little less guilty about getting his bag and the Heat feel better about giving it to him.
All statistics courtesy of Basketball Reference and contract figures courtesy of Spotrac.
RELATED: Jimmy Butler Bashes the NBA For Being Soft, Perfectly Explaining Why He Is the Ultimate Leader for the Heat