Jimmy Fallon Used Rob Gronkowski and Other NFL Players to Sabotage NFL Interviews
Interviews are an everyday part of the NFL, whose media policy actually requires players to talk to the press on a regular basis. Mostly, these interviews tend to be a bit dull. NFL players often discuss the same things, good or bad. Once in a while, though, they say something unexpected. This happened recently thanks to Jimmy Fallon, host of NBC's The Tonight Show.
Fallon asked Rob Gronkowski and other NFL players to drop funny phrases into their interviews — and the results were hilarious. Let's look at the NFL's media access policy, Fallon's subversive prank, and other football-related segments he's used on his show.
The NFL's media access policy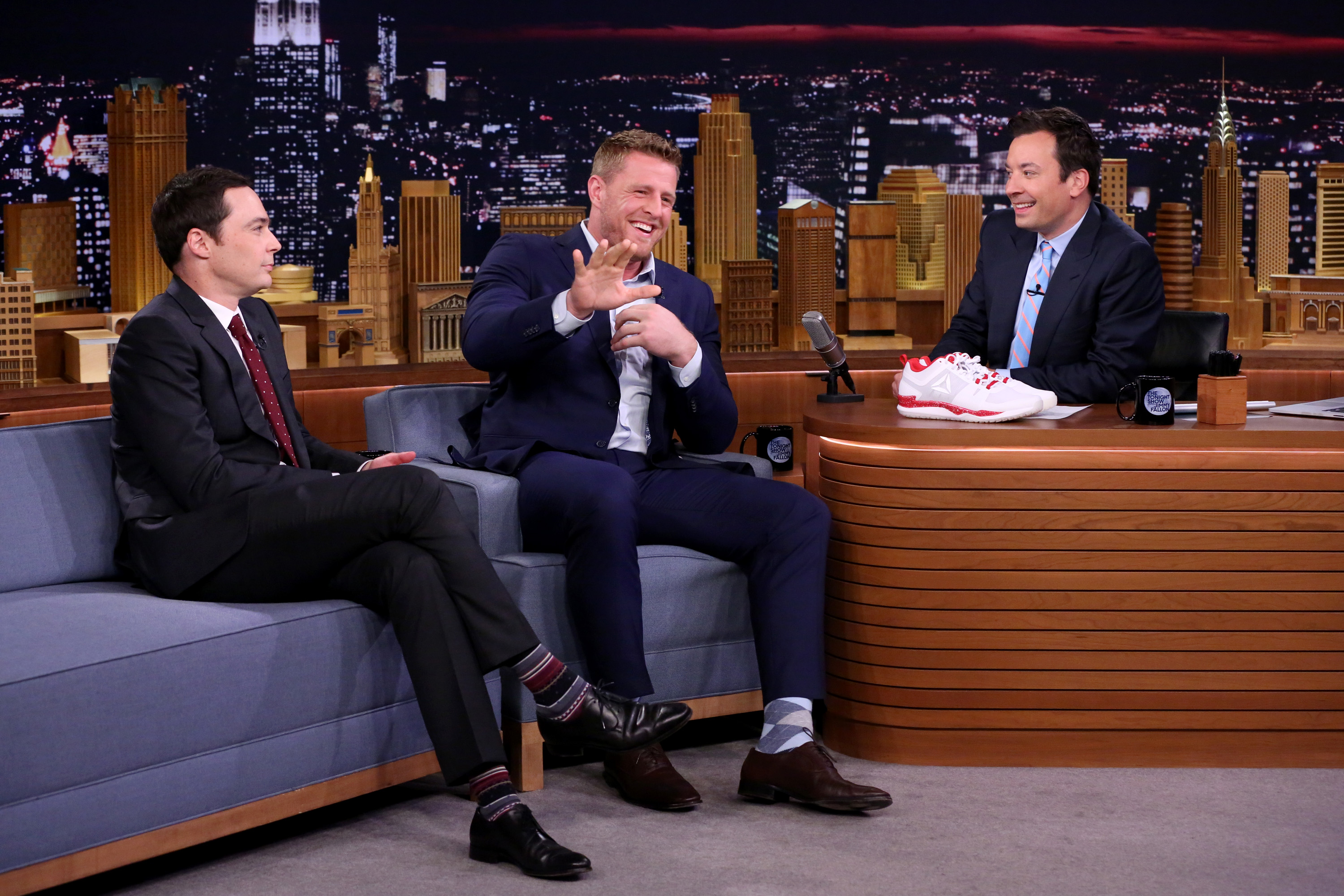 The NFL is similar to the NBA in that players and coaches must be available to sports media. The NFL specifically lays out their rules in a detail-laden policy. That document not only outlines the information available to the press, but it also stipulates media availability requirements.
Among other things, players must make themselves available for interviews following every game they play. As the document states: "After a reasonable waiting period, defined as 10-12 minutes maximum after the completion of the game and the players have entered the locker room, post-game interviews will begin."
While the ongoing coronavirus pandemic has upended the way those interviews take place, they remain a vital part of the weekly media cycle. Most players make no simply offer up a string of clichés in order to get the interview over with as quickly as possible.
How Jimmy Fallon sabotaged the NFL player interviews
RELATED: NFL Commissioner Roger Goodell Finally Apologizes to Colin Kaepernick in New Interview
Fallon, recognizing how lackluster most player interviews are, devised a clever way of sneaking some fun into the process. He gave several players funny non sequitur phrases to work into their interviews. Minnesota Vikings running back Dalvin Cook answered a reporter using the phrase, "I run yards like Swiss chard."
Rams cornerback Jalen Ramsey added the line, "Sometimes you gotta throw the sauce at your boss." But the funniest line of all belonged to Buccaneers tight end Rob Gronkowski. He managed to work in the phrase "Must be maple syrup, because butter don't drizzle like that."
Gronkowski impressively delivered his line without cracking a smile. He even attributed the quote to something his mother used to say. His reporter pointed out that she had never heard the phrase before, and asked him to elaborate on its meaning. Gronkowski smoothly ad-libbed a reply:
"Syrup drizzles—you gotta make that play. And a stick of butter, it's a block. You gotta put it in the microwave to melt it. That just takes too long. You gotta make that play right away, baby."
Other NFL bits on 'The Tonight Show'
RELATED: What Do NFL Teams Ask Players at the Scouting Combine?
This wasn't the first time that Fallon has worked the NFL into humorous segments of his show. For several years, he's done a "Superlatives" bit. Fallon assigns fake yearbook designations to NFL players based on their team photos. In some cases, he's even gotten players to make video appearances to read their own superlatives.
Unsurprisingly, Gronkowski was a part of a superlatives segment in 2015, while still a member of the New England Patriots. Gronkowski's superlative was "human minion," a reference to the animated comedy film that had premiered earlier that year. Peyton Manning also made an appearance that year, during his final season in the NFL. His superlative riffed on his advancing age: "Most likely to have to explain to a rookie what a VCR was."