NFL: The Jimmy Garoppolo Comment that Should Scare the 49ers Opponents
Jimmy Garoppolo didn't see much playing time during his first three seasons in the NFL, which wasn't surprising. That is to be expected considering he was drafted by the Patriots and was the backup to future Hall of Famer Tom Brady. He showed some promising signs when he began getting a significant number of starts for the San Francisco 49ers in 2017, but an injury ended his 2018 season early. He's looking to come back from the injury and return to form in 2019, and the defenses he faces this season should be scared after hearing comments he recently made.

Garoppolo's beginning in the NFL
The Patriots selected Garoppolo with the 62nd overall pick in the 2014 draft, but he threw only 31 passes his first two seasons. He got his first two career starts in Weeks 1 and 2 of the 2016 season when Tom Brady served his Deflategate suspension. He threw four touchdowns without an interception in those games.

The uneventful start to Garoppolo's career continued until Oct. 31, 2017, when the Patriots traded him to the 49ers for a second-round pick. Garoppolo became San Francisco's starter in Week 13. He averaged more than 300 yards per game in five starts, and he threw six touchdowns and five interceptions,

An injury-shortened 2018 season
After a rough season opener in 2018 — Garoppolo threw three interceptions in a loss — he threw two touchdowns and no interceptions in each of the next two games. But he didn't complete the Week 3 contest because he injured his left knee, which ended up being diagnosed as a torn ACL. It knocked him out for the season and proved to be one of the worst injuries of the 2018 season.

By the time the 2019 regular season starts in September, Garoppolo will have had nearly a full year to recover from the injury. In April, he said that it gets easier for him every day that he takes to the field in his recovery effort.

Jimmy Garoppolo: reacting, not thinking
In his limited number of starts in 2017 and 2018, Jimmy Garoppolo flashed his potential. While preparing for the 2019 season, Garoppolo said there's a limit to how much he'll know about his game-readiness based on practices because "you can only replicate the game so much." He went on to tell the San Jose Mercury News that in rehab, "everything is 'do this movement, do this.'"

In news that should scare San Francisco opponents, Garoppolo said he's getting more comfortable playing at game speed:

"You're more reacting than thinking. Getting used to those kinds of movements. We've been doing some of them … it's coming along well."

If Garoppolo is getting more used to reacting rather than thinking, that may be trouble for opposing defenses in the upcoming season.

Advice from a future Hall of Famer
Defenses should also be worried because Jimmy Garoppolo received advice about coming back from his injury from Tom Brady when the former teammates both attended the Kentucky Derby. Brady knows a thing or two about recovering from a torn ACL because he suffered the same injury in Week 1 of the 2008 season. He missed the rest of that year but has come back strong and led the Patriots to four more Super Bowl titles since then.

What does 2019 hold for Garoppolo?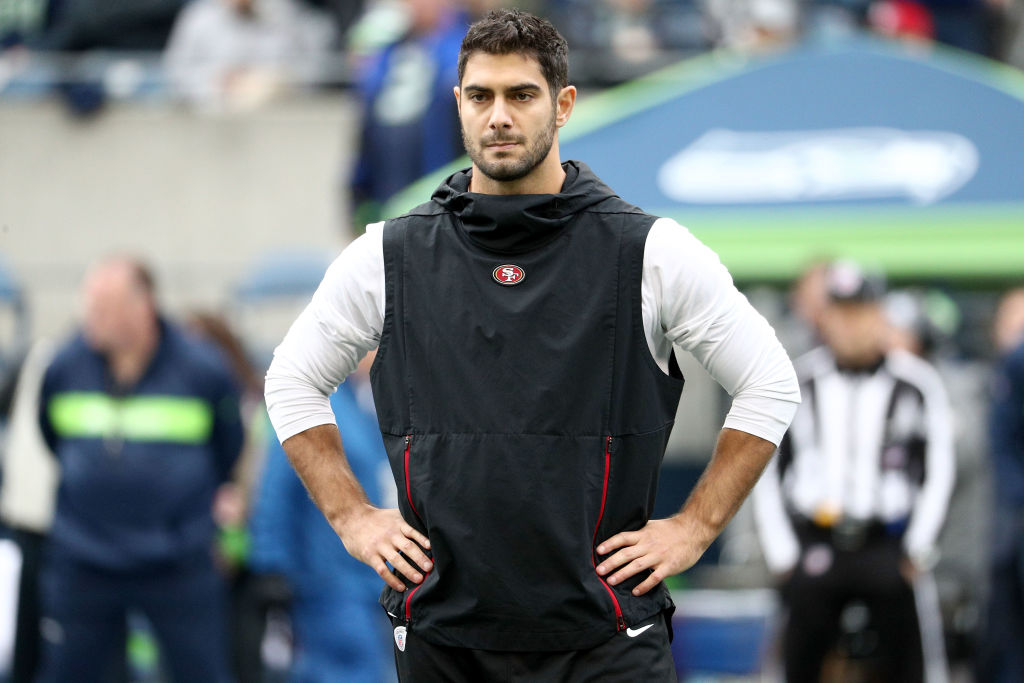 There is still uncertainty over whether Garoppolo will be ready to start in Week 1, when the 49ers visit the Buccaneers. After playing the Bengals and the home opener with the Steelers, the 49ers have a Week 4 bye. So if the 49ers feel Garoppolo isn't ready for the first games of the season, they may keep him out until after the bye to give him a few extra weeks to heal and get up to full strength.

After the bye, the 49ers host the Browns and Baker Mayfield, another good young quarterback. If Garoppolo can't go early in the season, the 49ers will be relying on a combination of backups C.J. Beathard and Nick Mullens at quarterback.