Jimmy Garoppolo Is Keeping Trey Lance in His Rearview Mirror Despite Kyle Shanahan Refusing to Name Him 49ers Starting Quarterback
San Francisco 49ers quarterback Jimmy Garoppolo exhibits quiet confidence and keeps Niners rookie signal-caller Trey Lance in the back seat as head coach Kyle Shanahan continues to mull his options.
Garoppolo and Lance are engaged in a quarterback competition, but there hasn't been any indication of which of the two might have a leg up at present. Shanahan said immediately after Lance was drafted that Garoppolo was still the starting quarterback, but he has sounded less enthusiastic about Jimmy G since the start of camp.
However, Garoppolo understands how Shanahan operates. He is also undaunted by the team's No. 1 draft pick nipping at his heels.
Kyle Shanahan is playing things close to the vest
Time is ticking for Kyle Shanahan and the 49ers. But Shanahan won't be pressed into making a premature decision.
Shanahan said Sunday he will not name a starting quarterback until Week 1, although he suggested Trey Lance was not yet ready for the starting quarterback job. That would seem to indicate the job belongs to Jimmy Garoppolo, barring something monumental on Lance's part.
However, Shanahan and the 49ers are pretty good about keeping things tight-lipped and proceeding on their own time. The trade up to the No. 3 overall pick came as a surprise. Similarly, it was mostly unknown who the 49ers would ultimately draft before Roger Goodell called Lance's name this past April.
Garoppolo could very well be in the driver's seat in the competition. Alternatively, Lance might be gaining ground after an impressive camp. Either way, Shanahan is not budging as to who his starter will be. That's just fine with Jimmy G.
Jimmy Garoppolo takes the QB compeition in stride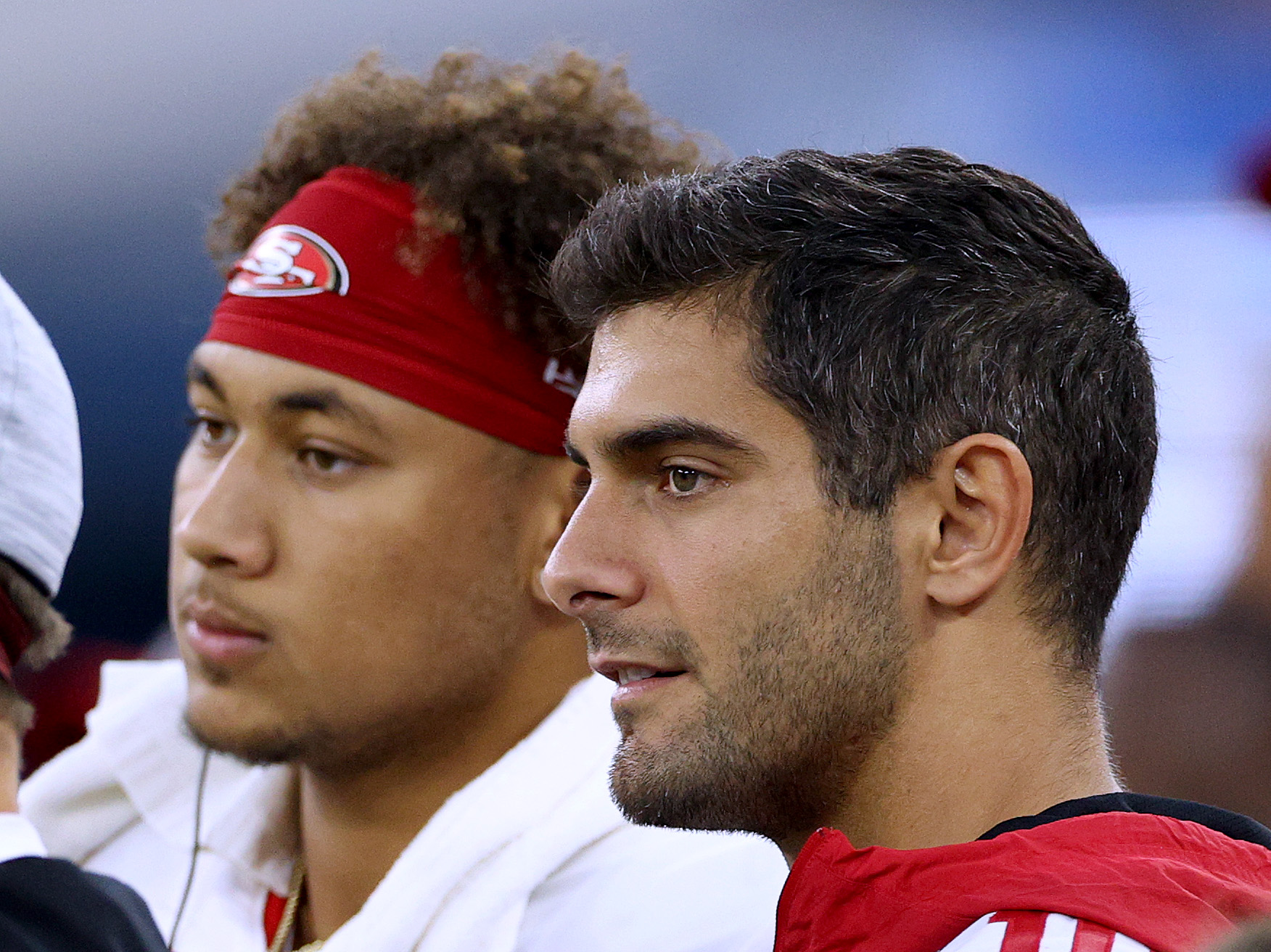 Pardon Jimmy Garoppolo for sounding as cool and stoic as ever. He just understands how his head coach operates better than most.
Garoppolo spoke about the quarterback competition and the fact he has yet to officially be declared the starter following Sunday's game against the Los Angeles Chargers. The 29-year-old explained his belief that Shanahan wants one of his quarterbacks to go out and win the job. In other words, Garoppolo feels he has to stay hungry and focused.
"I think Kyle is always challenging us," Garoppolo said, via Pro Football Talk. "He kind of knows us and knows how to push guys in certain ways. I'm not too worried about that. . . . There's just so many other things to worry about. I'll let the chips fall as they may."
Shanahan has often been quick to point out that the 49ers win quite a bit when Garoppolo is healthy. He has a 22-8 record as the starting quarterback in four seasons with the 49ers. The problem is, Jimmy G has rarely been on the field. Ankle issues cost him 10 games last season.
Uncertainty about Garoppolo's health and upside (plus severely declining dead-cap hits on his deal) prompted San Francisco to trade up for a potential franchise quarterback. Will Lance do enough to really make Garoppolo sweat in the next two-plus weeks?
Trey Lance is asserting himself during preseason
It always seemed like a bit of a long shot for Trey Lance to earn the starting job right out of camp. The 21-year-old has tremendous athleticism and strong arm talent, but he also spent his NCAA days at North Dakota State and played just 19 collegiate games.
Yet, Lance has been quite impressive both in practice and his first two preseason games.
Lance completed 8 of 14 passes for 105 yards and two touchdowns against the Chargers on Sunday. He fired lasers into the seams and looked off coverage on one such touchdown pass. That performance followed a preseason debut highlighted by an 80-yard touchdown pass.
The No. 3 overall pick is assuredly the quarterback of the future in San Francisco. Whether Lance is also the here and now in the Bay Area remains to be seen, but Jimmy Garoppolo is staying grounded and keeping everything in front of him.
Stats courtesy of Pro Football Reference and NFL.com.