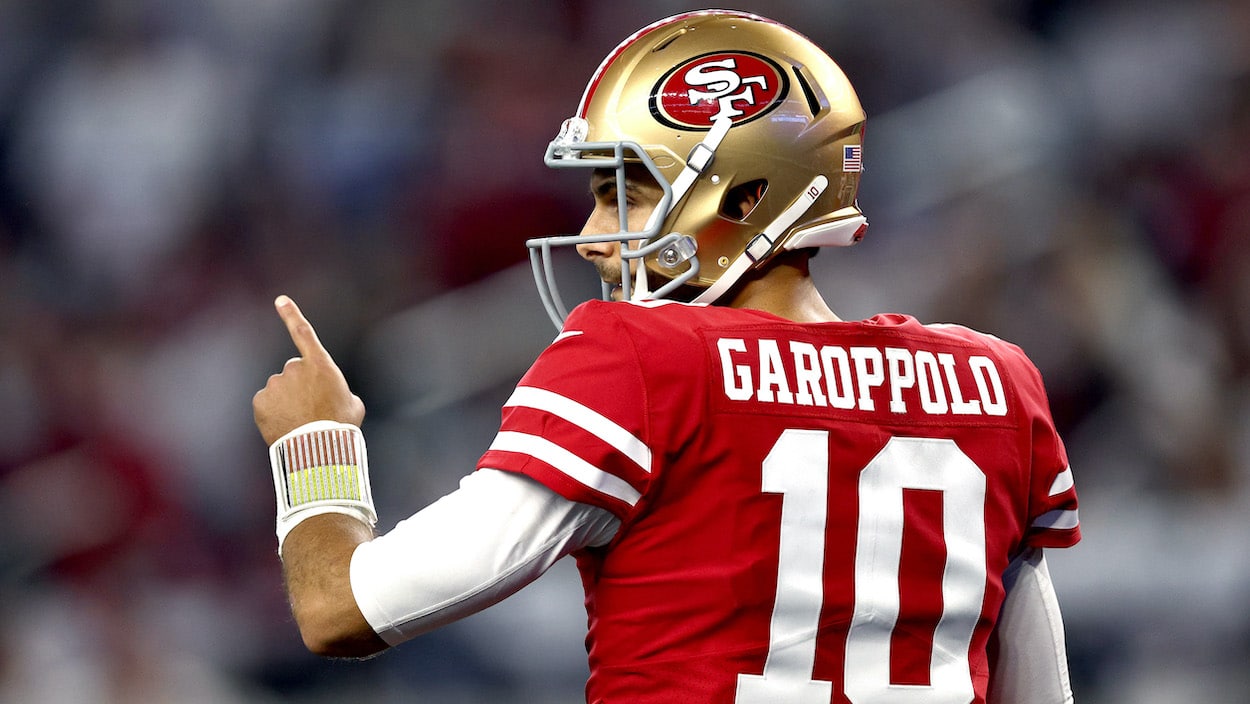 Mike Florio Explains 3 'Endgame' Scenarios for 49ers' Jimmy Garoppolo Saga, Including 1 'Crazy' Plan
As the regular season gets closer, the San Francisco 49ers' options for dealing with the Jimmy Garoppolo saga are getting slimmer.
Time is running out for the San Francisco 49ers to figure out what to do with quarterback Jimmy Garoppolo. The team is going to start second-year signal-caller Trey Lance this year, and if they keep Jimmy G as a backup, they will have to pay him $25.6 million.
There are still several different options for Kyle Shanahan, John Lynch, and the 49ers, each with its own plusses and minuses. On a recent appearance on the Rich Eisen Show, NFL insider Mike Florio from Pro Football Talk laid out all the different scenarios of Garoppolo's future with the 49ers and the potential consequences of each decision.
Option 1: Cutting Jimmy Garoppolo before August 30, 2022
The first option the 49ers have is to cut Jimmy G flat out. The cut would be on or before 4 pm ET on August 30. That's when NFL teams have to take their current roster of 80(ish) players down to the final 53-man roster.
If the team does cut Garoppolo, he will hit waivers, a team will claim him, and he will no longer be a member of the San Francisco 49ers. The upside of this move is that it will save the franchise just under $25 million against the cap. 
However, they will get nothing in return for a valuable, starting-caliber QB.
Option 2: Hope for a major QB injury
On September 10, 2022, at 4 pm ET, if Jimmy Garoppolo is on the 49ers roster, his entire salary becomes guaranteed for the season.
If this happens, the next option is "waiting for lightning to strike," as Mike Florio says.
This scenario involves the starting quarterback of another team going down with an injury and that team becoming desperate enough to pay a high price for Jimmy Garoppolo.
The example Florio used is when unhappy Cincinnati Bengals QB Carson Palmer retired in 2011 rather than play for the Bengals. The franchise didn't want to trade him for 75 cents on the dollar. Then, in Week 11, Oakland Raiders QB Jason Campbell broke his collarbone, and the Raiders coughed up a 2012 first-round pick and a 2013 second.
The 49ers have until November 1, at 4 pm ET — which is following Week 8 — to make a deal in this scenario.
Option 3: Keep Jimmy G and buy him out after the trade deadline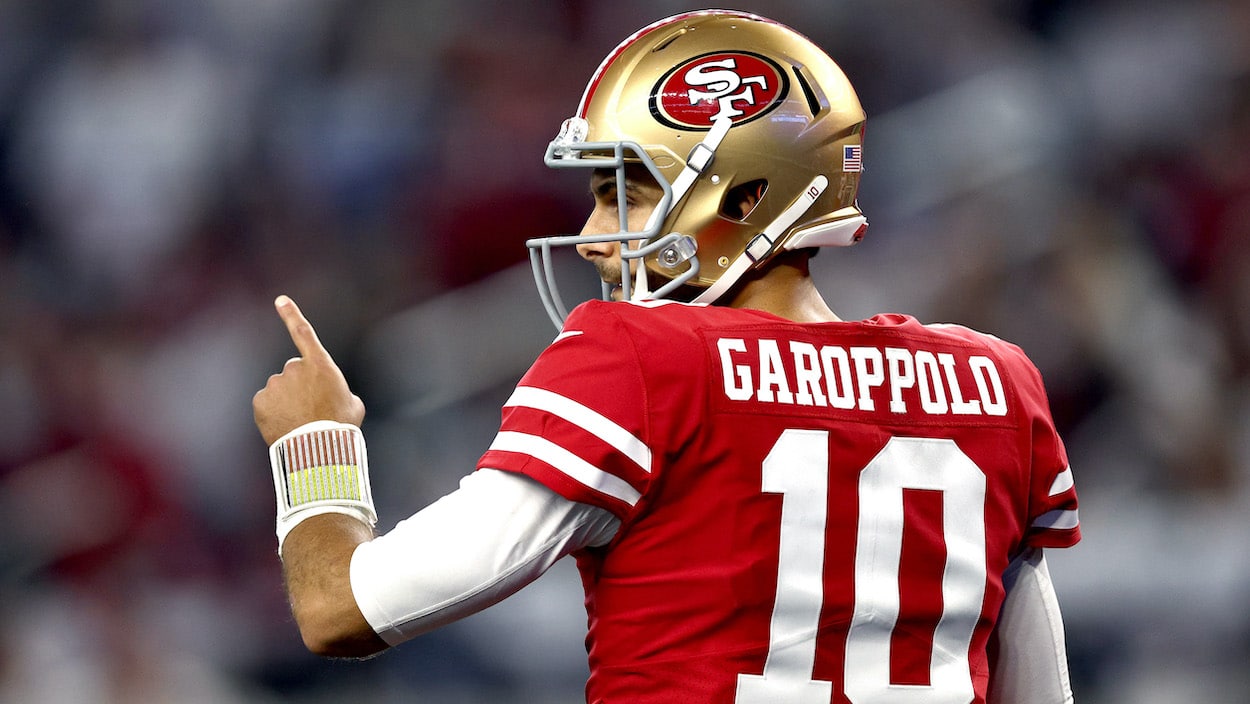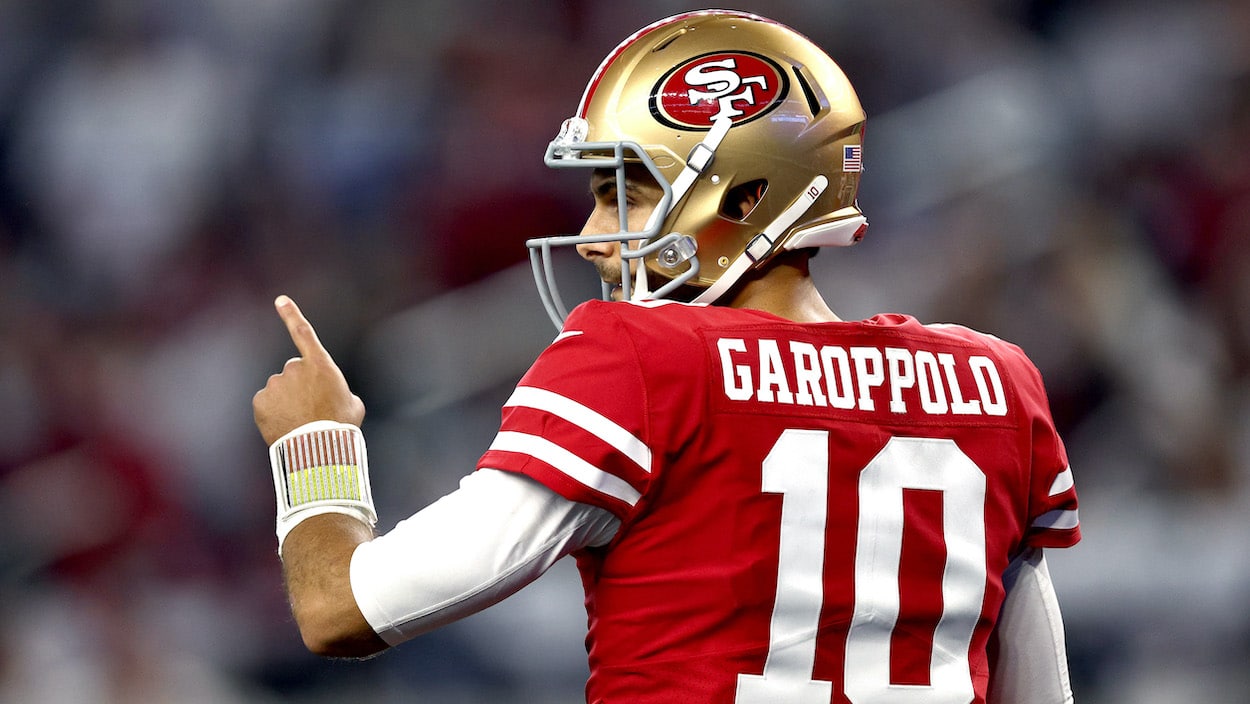 Mike Florio told Rich Eisen, "I'm starting to think they're crazy enough to keep him." The insider really thinks that Kyle Shanahan and John Lynch are willing to roll the dice in the hopes that scenario No. 2 here plays out.
However, if that doesn't happen, the team and Jimmy G move on to scenario No. 3. This is where the Week 8 NFL trade deadline passes, an acceptable deal for the QB doesn't come, and the team is on the hook for the rest of his 2022 salary.
At this point, Florio believes that the team will try to negotiate a buyout where they don't have to pay the full amount left on his deal in return for cutting Garoppolo outright so he can pick his next team in 2022.
This would be a pretty massive mess for all involved, but as Florio says, the 49ers might just be "crazy enough" to try and make a Jimmy G trade, knowing that this could be the ultimate outcome.
Contract figures courtesy of Spotrac