Jimmy Garoppolo's Recent Play Could Further Distort 49ers' Trey Lance Blueprint
The San Francisco 49ers keep insisting they have a plan for the future regarding rookie quarterback Trey Lance. His time is coming. It is.
But for now, it's Jimmy Garoppolo's time to shine in the Bay Area — and he has done precisely that. The 49ers are on the brink of a playoff spot thanks to Garoppolo's solid play, and while the franchise has a long-term plan for Lance, there could be some hiccups if the veteran signal-caller continues to play well down the stretch.
The 49ers plan on trading Jimmy Garoppolo this offseason and rolling with Trey Lance as the quarterback of the future
At the end of November, Ian Rapoport of NFL Network reported that the 49ers plan on trading Garoppolo in the offseason — barring a Super Bowl run.
Now, the chances of San Francisco making a run to Los Angeles is unlikely, but it could happen. On the other hand, Garoppolo's recent play might make San Francisco think twice.
Before the season began, it felt as if Lance would take over the job at some point. But, through 14 games, Lance has played sparingly and hasn't even seen the field since November 21 — when he had three carries in garbage time — and that might not change anytime soon.
The usage of Lance is one thing, but Garoppolo's impressive play is another thing for San Francisco to consider this offseason.
The recent play of Jimmy Garoppolo might make the 49ers re-evaluate their options
To Garoppolo's point, there are a lot of stats to back up the veteran quarterback.
Over the past seven games, Garoppolo has thrown a pair of scores in five of those. His season numbers aren't eye-popping or Pro Bowl-worthy, but they are good enough. Garoppolo has thrown for 3,172 yards with 18 touchdowns and eight interceptions, which doesn't jump off the page, but they are winning football games.
Isn't that the most important part? San Francisco has won five of the past six games to climb right back into the NFC playoff picture, and Garoppolo knows winning games is what matters most.
At this point, the 49ers are winning games with Garoppolo under center and without emerging rookie Elijah Mitchell. Is he going to take San Francisco to a Super Bowl this season? Probably not.
But, it might be hard for the 49ers to trade Garoppolo after playing impressive football down the stretch, which ultimately could mean bad news for Lance in the 2022 season — and, who knows, maybe a trade.
There are more stats that suggest San Francisco might not be ready to give up on Jimmy Garoppolo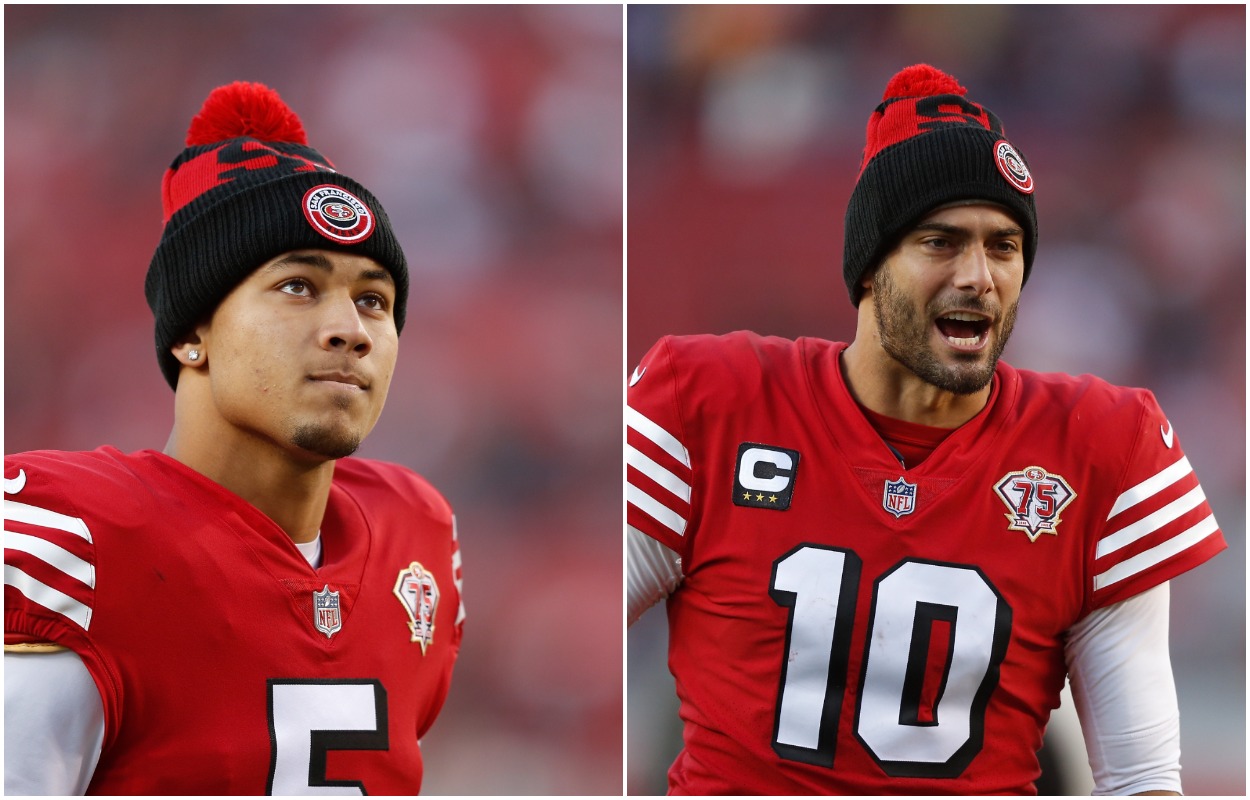 This offseason might be a difficult one for San Francisco. After all, let's not forget that Garoppolo led this team to a Super Bowl just a couple of seasons ago.
More than that, their record with him under center is pretty impressive, and the past few weeks have helped solidify the fact that he can still play quality football.
Furthermore, John Lynch's latest comments scream that Garoppolo is exactly the guy they want running the show in San Francisco (h/t Cam Inman of San Jose Mercury News).
"He's running our system exactly the way we want."

John Lynch on Jimmy Garoppolo
Now Garoppolo gets a ringing endorsement from Lynch, the 49ers general manager. But wait, there are more stats over the past few months that bode well for Garoppolo.
It just never ends, and at this rate, Garoppolo might stick around for another season in San Francisco — which could be detrimental to the development of Lance.
If they trade him remains to be seen, but the anticipated quarterback market could include Deshaun Watson, Russell Wilson, and Aaron Rodgers, to name a few. Throw in Garoppolo's name, and he would undoubtedly be the cheapest option, which hurts the 49ers' case to trade him.
There are a lot of factors to look into this offseason for the 49ers, but they can't dismiss how good Garoppolo has been down the stretch.
Stats Courtesy of Pro Football Reference