Jimmy Garoppolo Says George Kittle Has 1 Crazy Habit That Fuels the 49ers Offense: 'He's Different'
The Jimmy Garoppolo era in San Francisco is still going strong. He's fended off rookie quarterback Trey Lance for at least the beginning of the season. Jimmy G has played well through the first two weeks of the 2020 season. He gave some insight into what fuels the 49ers offense. George Kittle's energy is one of the driving forces.
Garoppolo dished on a particular habit his tight end has that gets everybody going.
George Kittle talks to himself in the huddle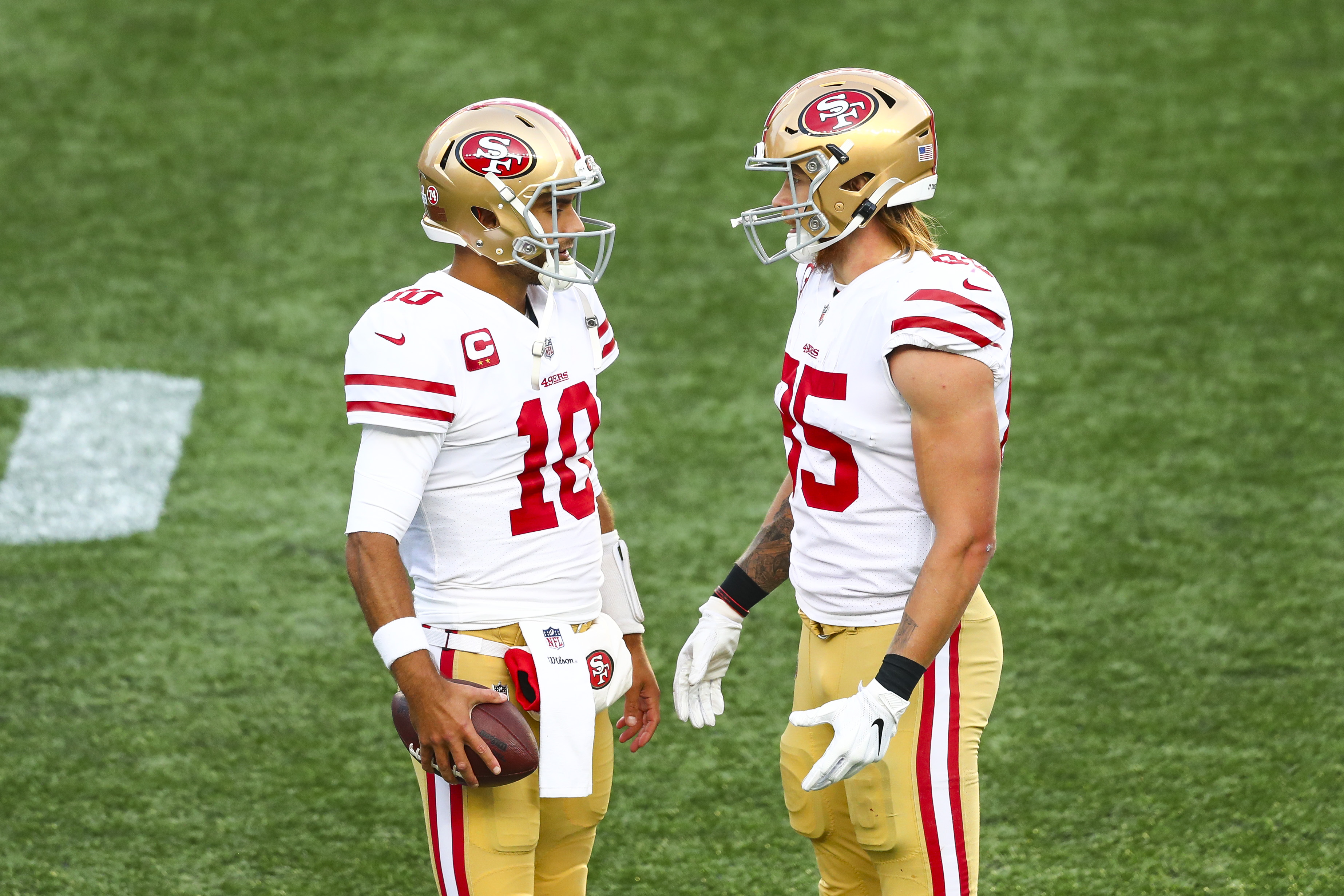 George Kittle is the emotional leader of the San Francisco 49ers. His energy is infectious, and it makes him one of the more likable players in the NFL.
Jimmy Garoppolo joined The Rich Eisen Show to discuss the outlook for the rest of the season, among other topics. Rich Eisen asked the signal-caller what Kittle is like in the huddle. "There's a million different Kittle's," Garoppolo responded.
Jimmy G and Kittle have played together in San Francisco for the past four seasons, so he's spent plenty of time with the Madison, Wisconsin native.
"The energy he brings, I just love it from him. He's non-stop with it," said Garoppolo. He added that no matter what the situation is, Kittle is fired up and ready to go.
Jimmy G said the 49ers offense feeds off of its star tight end's juice. "He's in his own zone a little bit," he said of Kittle. "Sometimes he's talking to himself…the guy's a handful at times, but I love it in every way."
Kyle Shanahan probably wants the All-Pro tight end to keep doing what he's doing because it works.
Kittle blossomed into one of the NFL's elite tight ends
The 49ers drafted George Kittle in the fifth round of the 2017 NFL Draft out of Iowa. He was not the most productive college tight end, so his draft position isn't that surprising. He caught just 48 passes for 737 yards and 10 touchdowns in 10 seasons with the Hawkeyes.
The Niners' front office found a late-round gem in Kittle. Eight tight ends were taken ahead of him in the 2017 draft, but he has outperformed all of them.
The Iowa product wasn't elite right out of the gates, but he enjoyed a breakout season in 2018. He recorded 88 receptions for 1,377 yards and five touchdowns. Kittle earned his first Pro Bowl nod in just his second season in the league.
He followed it up with another 1,000-yard and five-touchdown season in 2019, earning him another Pro Bowl selection.
Kittle missed half of the 2020 season due to injury but, when healthy, he's one of the NFL's best tight ends.
While he's an elite pass-catcher, his greatest strength may be as a blocker. He's a relentless run-blocker, which makes him arguably the most complete player at the position.
Jimmy Garoppolo says 49ers offense can be confusing at times
Having an elite receiving threat like George Kittle was a blessing for a developing quarterback like Jimmy Garoppolo. After the New England Patriots traded him to San Francisco, there were unreasonably high expectations for the Eastern Illinois product.
Jimmy G has never lived up to the hype built up heading into the 2014 NFL Draft and during his time in New England. However, he's been able to hold onto the 49ers starting quarterback job for the time being.
Garoppolo spoke about his experience in Kyle Shanahan's intricate 49ers offense on The Rich Eisen Show. "Sometimes, it's clean, one call, and we're rolling. Other times, there are multiple calls," he said.
The eighth-year signal-caller added that Shanahan occasionally talks to other coaches while giving him the play, which can present a challenge.
Shanahan is one of the game's brightest offensive minds, and his offense is not always the easiest to learn. "There's an element of he's setting up other plays with plays," said Jimmy G. "It makes for a fun day as a quarterback."
Garoppolo also admitted the 49ers offense is "confusing at times." He'd better hope he doesn't get confused too often because Trey Lance is waiting in the wings.
All stats courtesy of Pro Football Reference
RELATED: Aaron Rodgers Has a Powerful Message for 49ers Fans Which May Have Them Second-Guessing Trey Lance's NFL Future