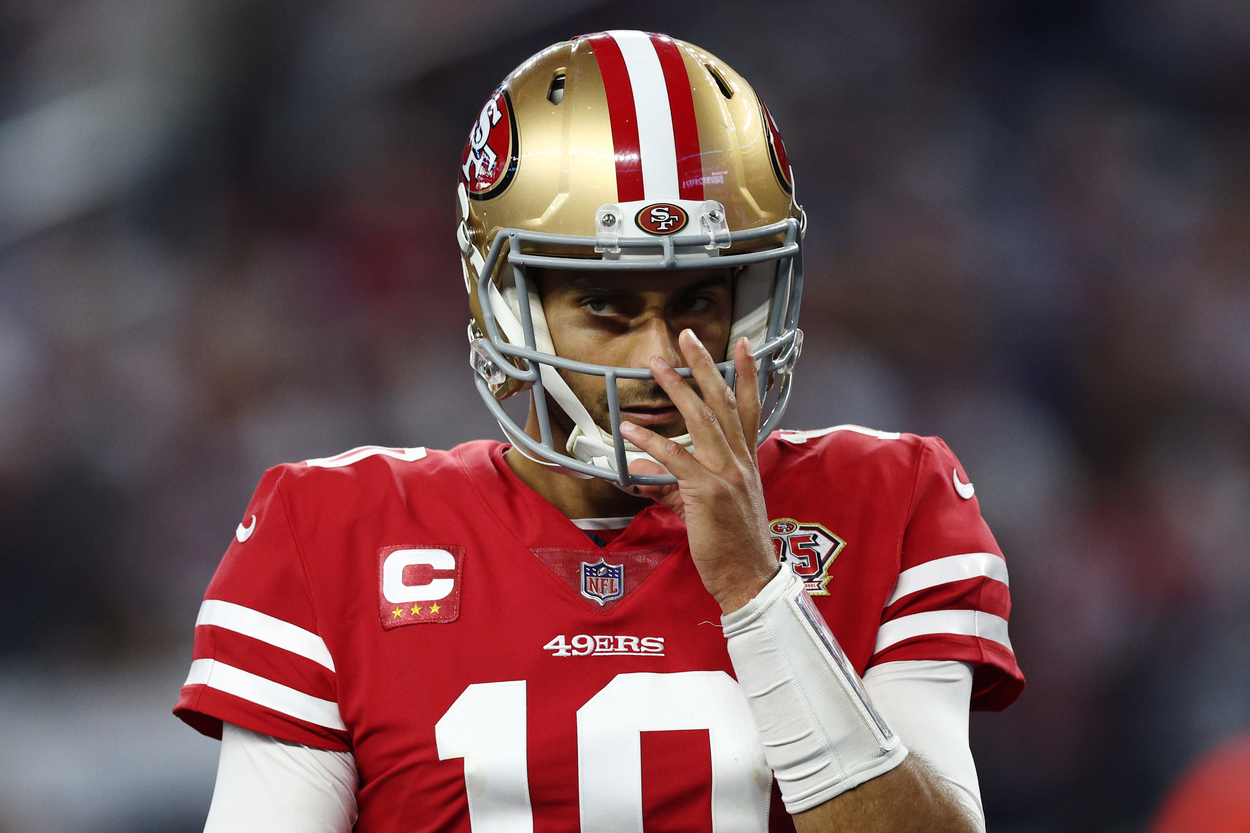 Jimmy Garoppolo Still Isn't Paying Attention to Lingering Questions Regarding His 49ers Future: 'It's a Good Thing When People Are Talking About You'
Jimmy Garoppolo has tried tuning questions out about his future with the San Francisco 49ers, and he doesn't intend to stop now.
Article Highlights:
Jimmy Garoppolo is tuning out questions about his future with the San Francisco 49ers 
The veteran quarterback believes it's a 'good thing' when people are speculating about what his role will be next season
Garoppolo has arguably improved his 2022 stock with how he's handled Trey Lance's lingering presence
When the San Francisco 49ers selected North Dakota State quarterback Trey Lance third overall in the 2021 NFL Draft, the piano hanging above Jimmy Garoppolo's head rapidly began bracing for impact.
Nearly a year later, the keyboard is resting comfortably next to Lance on the 49ers' bench. Although Garoppolo has had his low points at points in the 2021 season, he is nonetheless the starting quarterback on a team that is only three wins away from a Super Bowl title.
For now, Garoppolo is the 49ers' starting quarterback. As for what will happen next season, the Eastern Illinois product is doing his best not to worry right now.
Jimmy Garoppolo says he's tried tuning out the noise about his future in San Francisco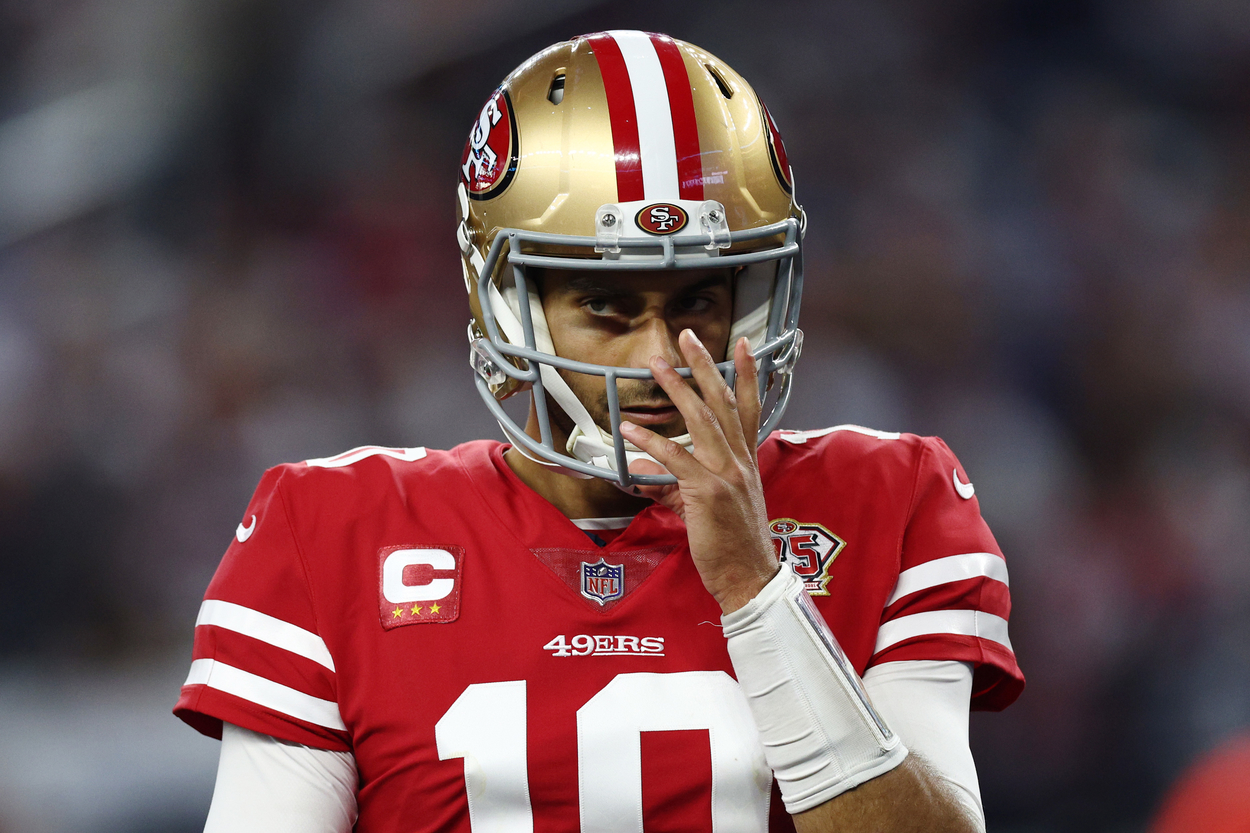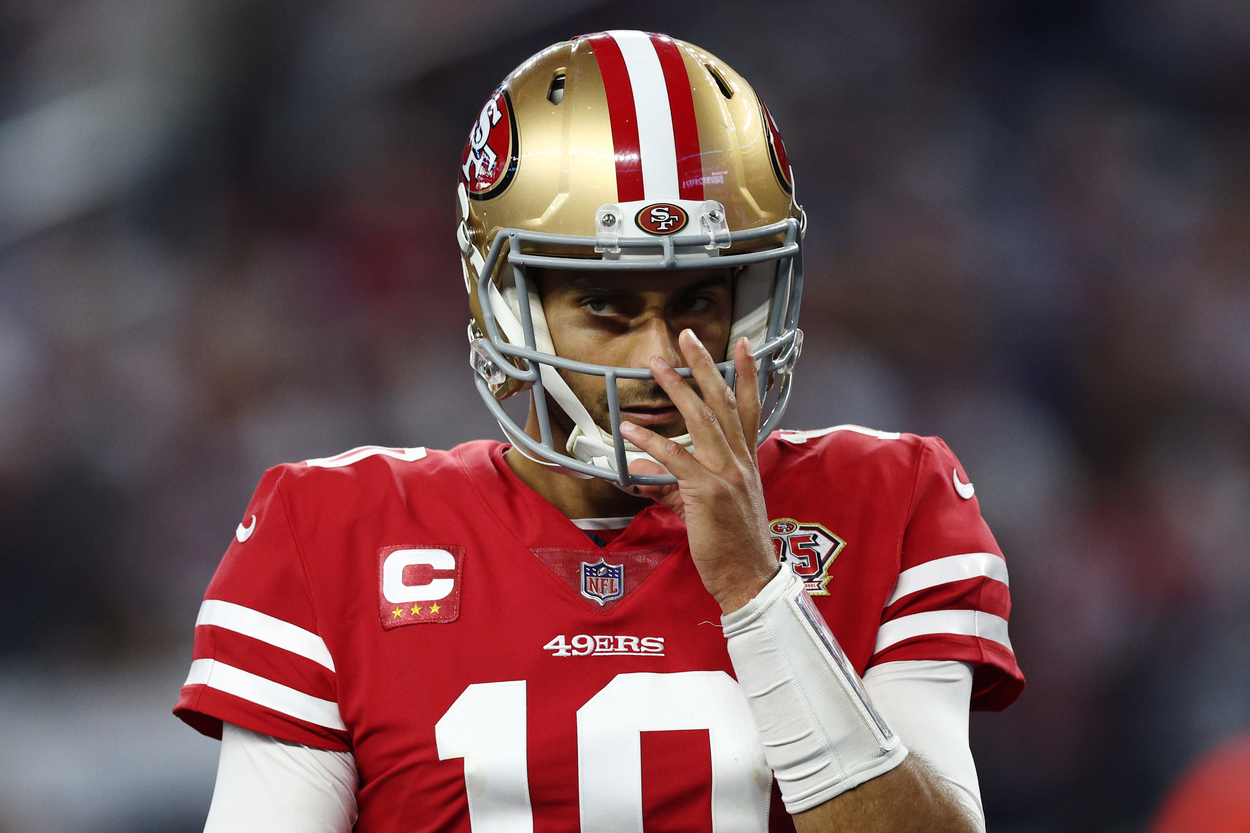 All in all, Garoppolo had a fine 2021 season. He completed 68.3% of his passes for 3,810 yards, 20 touchdowns, and 12 interceptions in 15 starts. The veteran quarterback also rushed for a career-high three touchdowns and helped San Francisco reach the playoffs for the second time in three years.
However, it felt like Lance's name trended on Twitter whenever Garoppolo threw an interception or suffered an injury. The older quarterback missed one game with a calf strain and sat out a Week 17 victory over the lowly Houston Texans with a thumb injury. 
The 49ers are living in the present with Garoppolo, and he's not complaining about such a reality. In the Jan. 17 edition of Football Morning in America, Garoppolo told NBC Sports' Peter King that although he is obviously aware of the social media speculation regarding his future, he's not trying to exert his energy on wondering what his role will be next season.
"I know what type of quarterback I am. I know what type of player I am in this league and where I stand. All the noise out there and everything, keep it coming. It fuels me, and it keeps me going. It's a good thing when people are talking about you."

Jimmy Garoppolo
Garoppolo, who earned a management degree at EIU, clearly subscribes to the idea that any publicity is good publicity. 
Garoppolo has arguably only improved his quarterback stock with how he's handled Lance's lingering presence
Although it feels like Garoppolo has been in the NFL forever, he's still only 30 and, technically, in his prime. He could have reacted any number of ways when the 49ers traded up to select Lance last April.
Publicly, Garoppolo said all of the right things and didn't throw any fuel on the fire. If Lance's own words in a Jan. 2 press conference are anything to go off, then it sounds like the veteran quarterback did his part privately, too.
"Jimmy is one of the best teammates and leaders I've ever been around," Lance told reporters, according to NBC Sports. "So for me to have him, I know he's got my back on the sideline, whether good play or bad. He's the first one that is talking to me and making sure that we're seeing things the same way."
Lance even said Garoppolo's presence and feedback is a "huge confidence booster." The rookie quarterback has no reason to lie, and the tone of his voice sounded genuine. He almost certainly isn't providing coach-speak for the sake of avoiding controversy. 
Obviously, any team hoping to acquire Garoppolo would do so, hoping he'll lead them to the playoffs next season. Still, it should help to know he apparently took it upon himself to mentor a young quarterback — and his likely successor — where he could.
Should the 49ers stick with Garoppolo as the starter in 2022?
When the 49ers drafted Lance, they did so knowing Garoppolo had two years left on his current contract. San Francisco will incur a $26.9 million cap hit if the 49ers cut him, and he still has a no-trade clause. 
Lance's lingering presence could mean the 49ers finally trade Garoppolo in the coming months. The veteran quarterback makes sense for some teams, including the Carolina Panthers and Denver Broncos, as a one-year rental; those organizations could keep him for 2022 and decide at a later point if they want to re-sign him.
Conversely, the 49ers could obviously keep Garoppolo for another year and begin 2022 with him as the starter. However, just because things are going well between Garoppolo and Lance now does not mean things will be the same next year, especially if the latter develops cabin fever on the bench. It is also extremely rare in the modern NFL for a team to use a first-round pick on a quarterback and not have him enter his second season as the full-time starter.
Few can blame Garoppolo for wanting to live in the present right now. Soon enough, though, he and the 49ers must decide the next step, especially if San Francisco's season ends in the NFC Divisional Round.
Well, at least we're making Garoppolo happy by talking about him. Any article about his future is a good thing, we suppose.
Like Sportscasting on Facebook. Follow us on Twitter @sportscasting19.