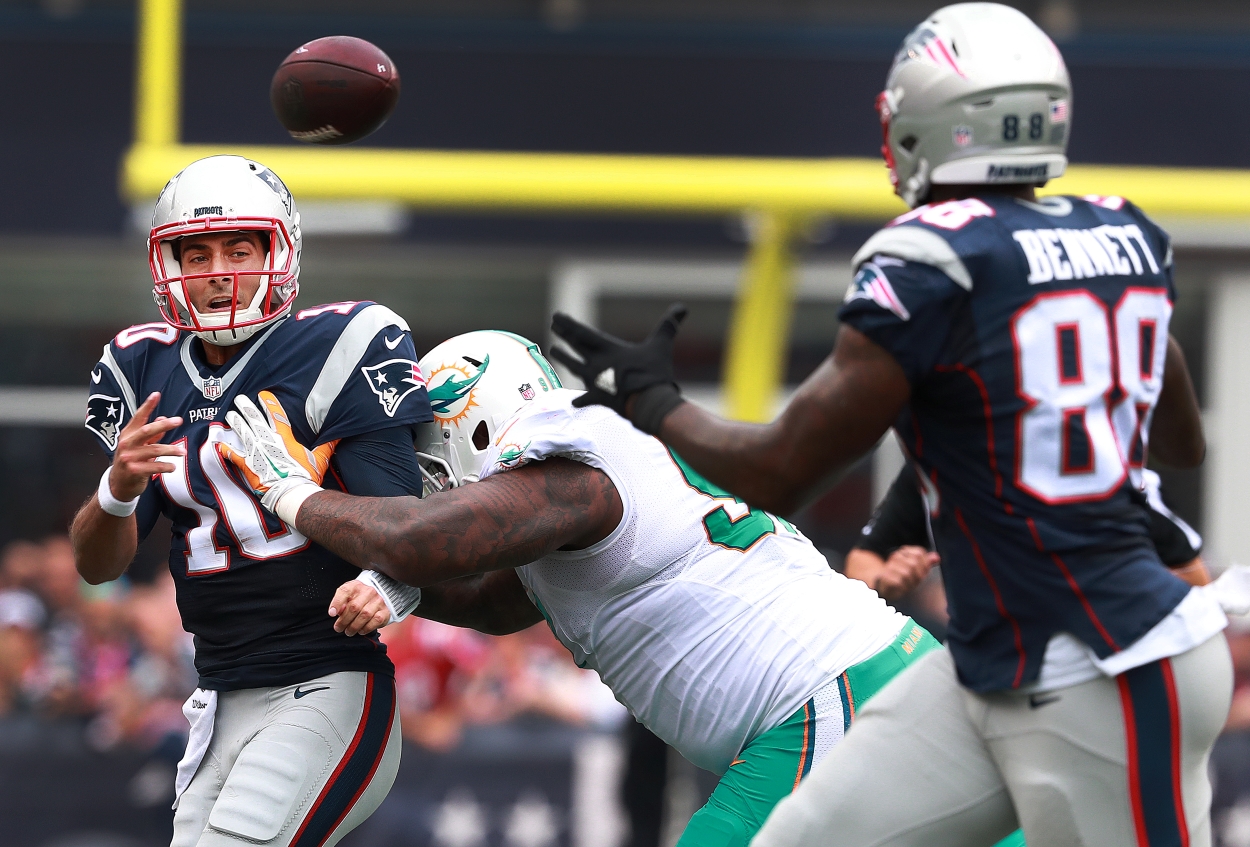 Former Patriots TE Martellus Bennett Throws Ex-Teammate Jimmy Garoppolo Under the Bus in Brutal Fashion: 'You Can't Win With a B**** at Quarterback'
Jimmy Garoppolo hasn't exactly lived up to the hype in recent years. Martellus Bennett, his former Patriots teammate, recently put the oft-injured QB on blast with some harsh words.
Even Jimmy Garoppolo would have to admit his NFL career has not gone exactly as planned. After all, injuries have kept the soon-to-be 30-year-old from taking the field far too often. So, even though he's made more than $100 million and led the San Francisco 49ers to a Super Bowl appearance, there's no doubt his resume looks thin compared to some of his more accomplished peers.
Of course, not long ago, the future looked bright for Garoppolo. With Tom Brady approaching age 40, Bill Belichick seemed ready to shake things up at the most important position in sports. Obviously, though, the New England Patriots kept the TB12 era going by shipping his potential successor to go play for Kyle Shanahan.
Although Garoppolo hasn't called Foxborough home for quite some time, it's obvious he left a lasting impression on one former teammate.
Unfortunately for the oft-criticized quarterback, Martellus Bennett made it abundantly clear he doesn't think highly of him at all.
Staying healthy continues to be a major challenge for Jimmy Garoppolo
Has Garoppolo had some bad luck during his NFL career?
Perhaps.
At the same time, though, it's impossible to deny he comes with significant durability concerns. In fact, an argument could be made he's the least dependable quarterback in league from a health standpoint.
Garoppolo's injury history dates back to his second-to-last season with the Patriots. Starting in place of a suspended Brady, he sprained the AC joint in his throwing shoulder during a Week 2 win over the Miami Dolphins, which sidelined him for two games.
Since he arrived in San Francisco in 2017, Garoppolo has struggled to stay healthy. Fresh off signing a five-year, $137.5 million contract extension, he tore his ACL in Week 3 of the 2018 season. While he did well to play all 16 games in 2019, he only appeared in six a year ago.
To make matters worse, Garoppolo experienced yet another setback earlier this month when he sustained a calf injury in a Week 4 loss to the Seattle Seahawks that has kept him out of action ever since.
As an eighth-year pro with only 36 regular-season starts and three playoff starts on his resume, it's entirely fair to call Garoppolo an injury-prone and disappointing player.
Martellus Bennett throws his former Patriots teammate under the bus in brutal fashion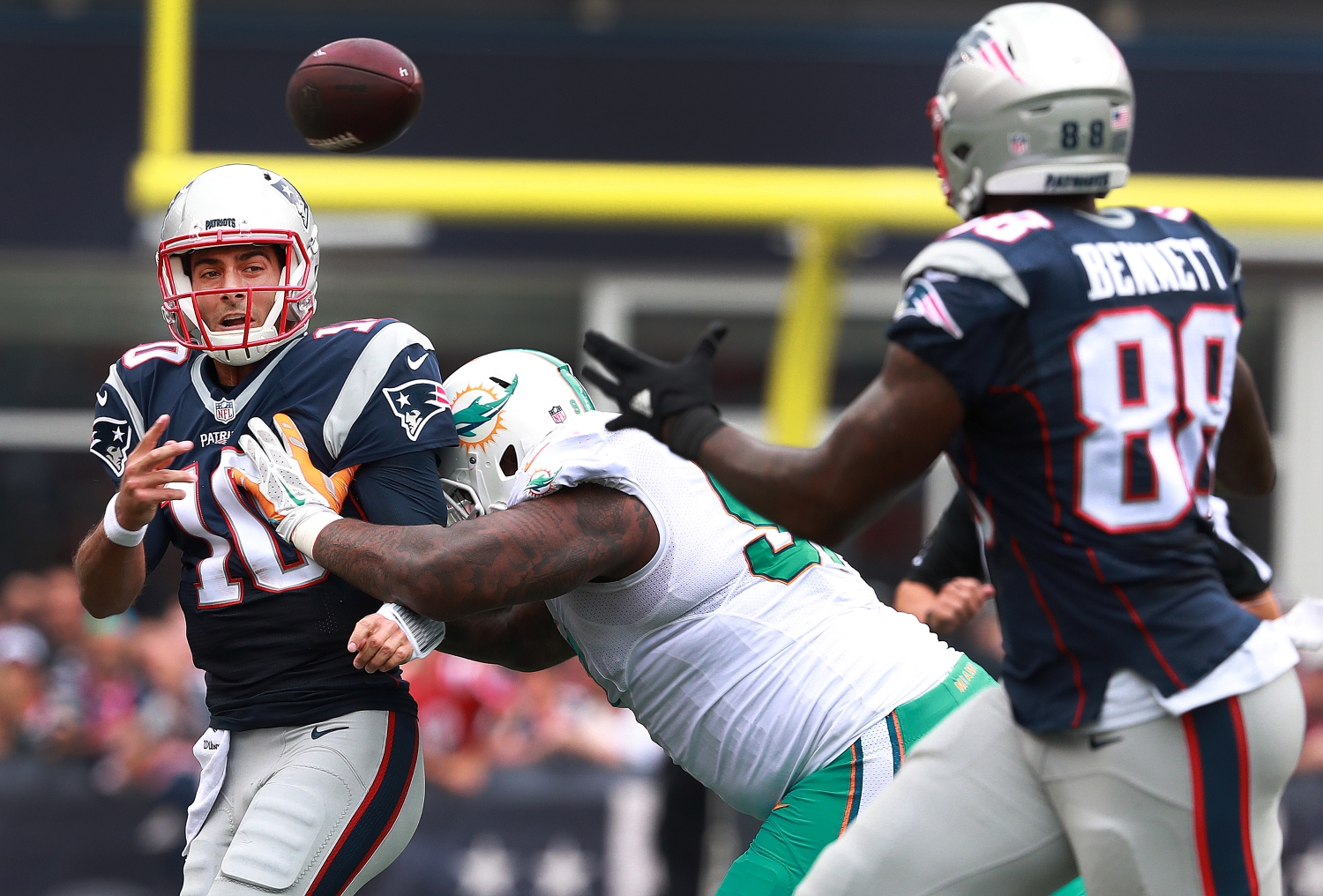 Think the Patriots feel some sense of relief about not going all-in on a quarterback who's proven to be the complete opposite of Brady from a durability and toughness standpoint?
While it would be interesting to know Belichick's unfiltered thoughts about Garoppolo, the odds of him divulging the truth don't seem strong. However, one of his former players showed no hesitation about speaking up about an ex-teammate.
Martellus Bennett, who spent the entire 2016 season as Garoppolo's teammate, made an appearance on the "Double Coverage" podcast hosted by Devin McCourty and his twin brother, Jason. And during his discussion with the two veteran defensive backs, the retired tight end put the oft-injured QB on blast in brutal fashion using some explicit and potentially offensive language.
"Bro, we lost two games," Bennett said. "One of them was because Jimmy Garoppolo was being a b—-. He decided not to play right before the game. Jacoby [Brissett] came out and played with a f—– up thumb and played his heart out, but Jimmy was just being a b—- about it all."
The outspoken 34-year-old didn't stop there.
"You can't win with a b—- for a quarterback, first of all," Bennett said. "That was the whole thing with him. He didn't want to come out and do anything because his agent was trying to protect his body or some s— like that. Which, I can't fault him for that. But like, you should have made that decision on Thursday."
Garoppolo faces tremendous pressure to turn around a 49ers team that has playoff aspirations
Let's just say Garoppolo probably won't seek out Bennett if the Patriots host a reunion party for their 2016 championship team. The comments made by the ex-NFL tight end certainly didn't paint a flattering picture of a quarterback who will soon get replaced.
But even though Garoppolo's stock seems lower than ever, that doesn't mean it can't rise over the coming weeks.
Set to start for the first time since Oct. 3, he has a chance to prove his critics wrong by helping the 49ers turn their season around. With the team in the midst of a three-game skid that's included tough-luck losses to the Green Bay Packers and Arizona Cardinals, Garoppolo's return could lead to better results. As much upside as Trey Lance brings to the table, the rookie needs time to develop, so having an experienced player under center makes more sense at the moment for Shanahan.
Ultimately, though, the 49ers will move on from their incumbent starter sooner than later.
And unless Jimmy Garoppolo transforms into Tom Brady for a few months, he will leave San Francisco as the guy who failed to put the franchise over the top.
Luckily for him, he already has two Super Bowl rings thanks to the GOAT.
All statistics courtesy of Pro Football Reference.