Jimmy Graham Wishes He And Drew Brees Could've Stayed Together and Dominated the NFL Like Rob Gronkowski and Tom Brady
Chicago Bears tight end Jimmy Graham is one of the most talented NFL tight ends to play over the past decade. He's no longer in his prime but wonders what his career would look like if he stayed with the New Orleans Saints and played with Drew Brees longer. Tom Brady and Rob Gronkowski are the modern-day blueprints for an elite quarterback-tight end connection.
Graham wishes he and Brees could've achieved that same level of sustainable dominance.
Jimmy Graham caught passes from Drew Brees for 5 seasons
The New Orleans Saints drafted Graham in the third round of the 2010 NFL Draft out of Miami (FL). Graham spent most of his collegiate career as a basketball player. He played for the Hurricanes football team for just one season as a graduate student.
Graham's basketball background and elite combination of size and athleticism eased his transition to the football field.
The Goldsboro, North Carolina native made an immediate impact on the field, catching five touchdown passes as a rookie.
Graham played five seasons for the Saints and quickly established himself as one of the most complete tight ends in the NFL. He recorded 386 receptions for 4,752 yards and 51 touchdowns during that span. He put together two 1,000-yard seasons.
Graham also recorded a league-leading 16 touchdowns in the 2013 season. Despite his three Pro Bowl selections, the All-Pro's time in New Orleans ended after the team traded him to the Seattle Seahawks.
Graham and Rob Gronkowski are forever tied to a historic season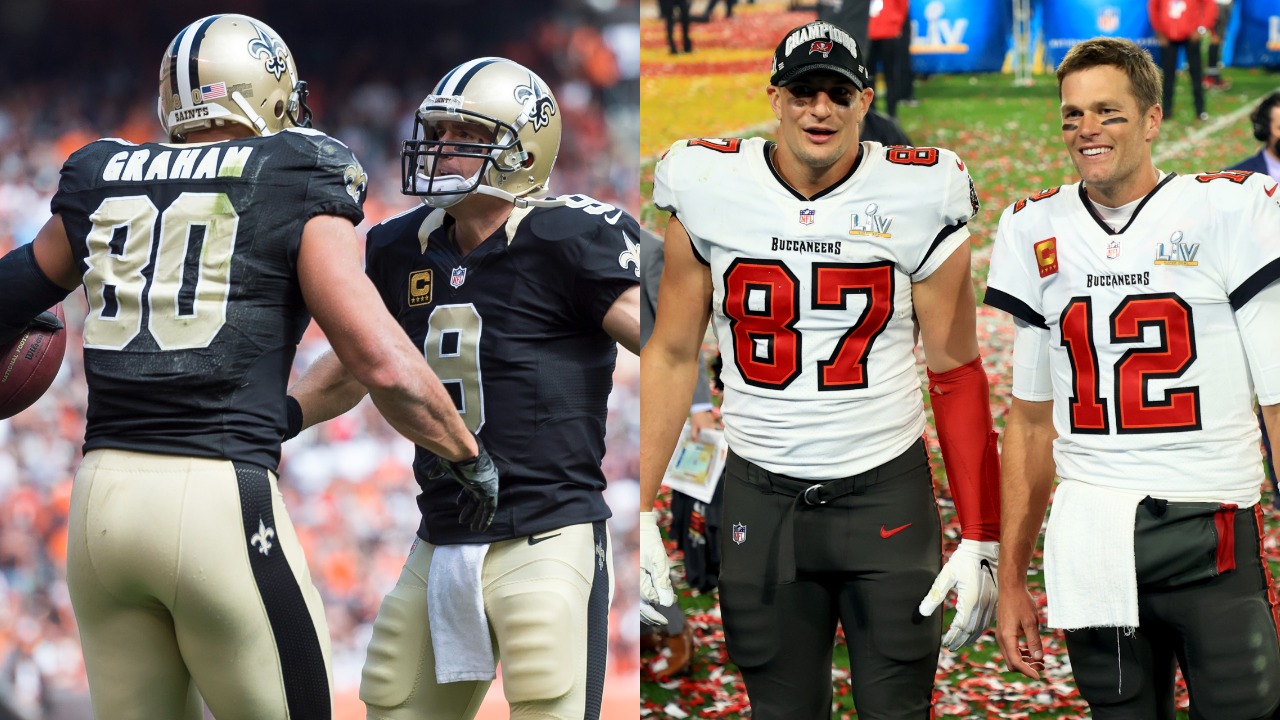 The 2011 season was memorable for both Jimmy Graham and Rob Gronkowski. Graham broke the single-season receiving record for a tight end in the Saints' Week 17 victory over the Carolina Panthers.
The second-year tight end finished the season with 1,310 yards. Gronkowski narrowly passed Graham not too long after as the Patriots beat the Buffalo Bills. Gronk finished with 1,327 yards.
For a least a moment, Graham felt what it was like to be on top. As a young player, he wanted the record so bad. "Was I campaigning? Are you kidding me? Of course, I was," he told ESPN. " I did remember that the Patriots game started later than ours. Then I hear they put Gronk in, and it just breaks my heart."
Graham and Gronkowski were part of the same 2010 draft class. The Patriots tight end was taken 53 picks ahead of him, which motivated Graham. He revealed something in the interview that he never told anyone before.
"My first four years in the league, I actually had Gronk's jersey hanging in my bedroom," he said. "Literally, it was the only item I had hanging in my house. So every morning, I had to wake up and, I knew that I needed to get to work."
The internal rivalry with Gronkowski has helped Graham channel the best of his abilities. "I would say anybody and everybody needs some kind of a rivalry at some point, at least mentally, to push yourself even more. And you know Gronk has always been that for me," he said.
Jimmy Graham wishes he and Brees could've become Gronk and Tom Brady
Jimmy Graham can't help but wonder how things may have been different if the Saints never traded him to Seattle.
"I don't think anybody really benefitted from the trade," he said. He wishes that his tenure never ended the way it did.
You got a guy like Gronk who's been with his quarterback his entire career in the same offense, the same scheme. So for me it's always one of those things where thinking about what could've been or what should've been with Drew is kind of the most disappointing

Jimmy Graham
The Saints haven't had a tight end of Jimmy Graham's caliber on their roster since they traded him. The offense was still prolific with Drew Brees under center, but the tight end feels they could've been even more potent.
"Maybe some of (the Saints' playoff losses from 2017-2020) go the other way."
As for Graham, he never duplicated the production from his best years in New Orleans. His best statistical season came in 2016 when he caught 65 passes for 923 yards and six touchdowns for the Seahawks.
After three seasons in Seattle, he joined the Green Bay Packers, where he played for two seasons. Russell Wilson and Aaron Rodgers are also great quarterbacks, but Graham's role was smaller than with the Saints.
Jimmy Graham and Rob Gronkowski helped change the game for the modern tight end. They also made the jobs of Drew Brees and Tom Brady easier.
Gronk's resurgence in Tampa Bay has Graham still wondering what could've been.