JJ Redick Admitted He Is One of the Most Hated Players in Duke History: 'I Think Me and Laettner Would Probably Be 1-2'
Duke has had some serious college basketball villains over the last 30 years. When Mike Krzyzewski took over as head coach and the program began to have legitimate success, haters started to show up. Christian Laettner was enemy No. 1 when the Blue Devils won back-to-back NCAA titles in 1991 and '92. But JJ Redick is undoubtedly No. 2.
If Laettner began the reign of detested Dukies, Redick took over the mantle the next decade.
JJ Redick was one of the easiest Blue Devils to hate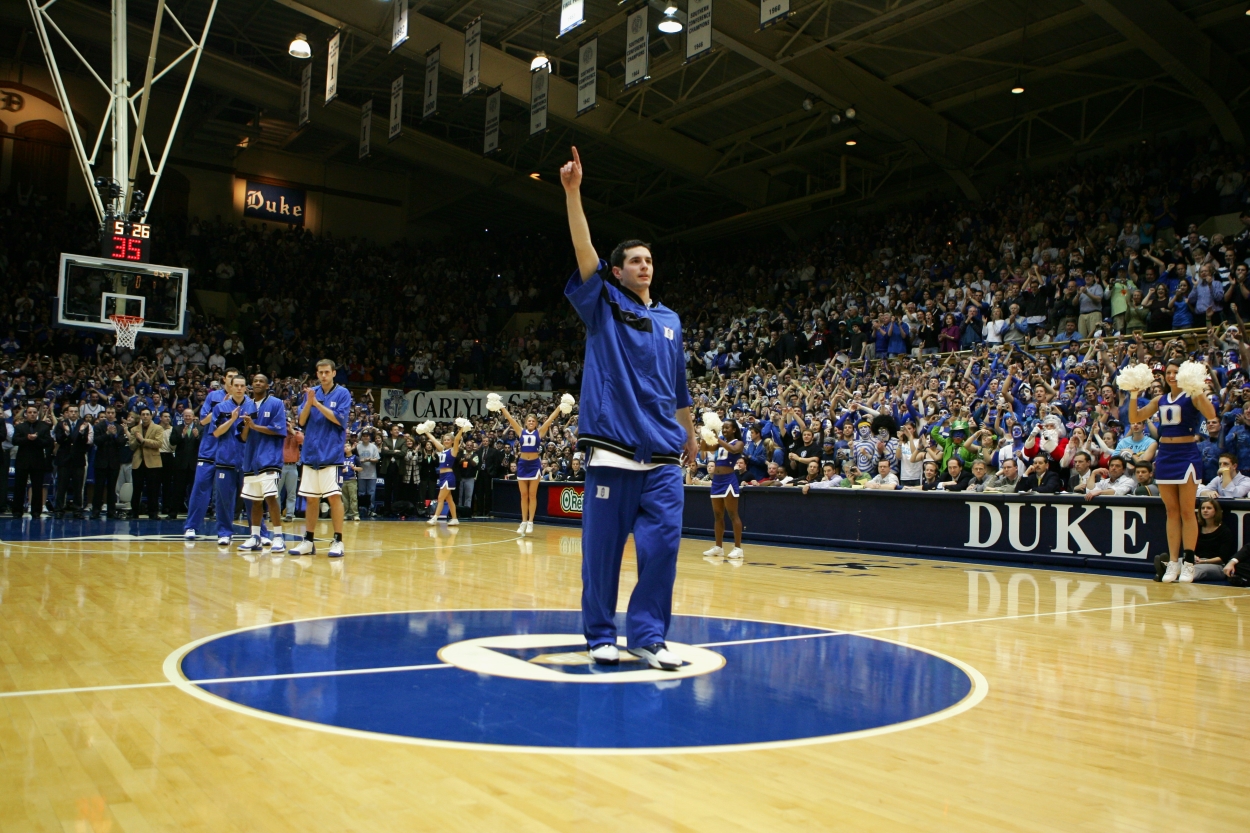 It seems like Duke players of the last three decades love to be hated. Laettner knew he was disliked and had no problem making the feeling mutual in opposing arenas. Redick acted the same way.
The 2006 Orlando Magic lottery pick seemed to be a magnet for opposing fans' attention as soon as he stepped foot on campus in Durham. Like Laettner, Redick was a four-year player who led Duke to significant success. And like Laettner, Redick seemed to revel in being the antagonist.
As his career as a Blue Devil continued and as he began to rack up personal accolades along with his leadership of yet another winning Duke team, Redick was showered with boos and unseemly comments everywhere he went. But he also described himself as arrogant and he was certainly an instigator, following in Laettner's footsteps as he reciprocated fans' attitudes.
But Redick wasn't the only Duke basketball player to draw hatred from opposing fan bases
It started with Laettner. Redick admitted he and the two-time national champion were the first- and second-most hated Blue Devils of all time, in some order. It's hard to argue with what the 15-year NBA veteran said on the Pardon My Take podcast:
"Christian Laettner, me, Grayson (Allen).

I think me and Laettner would probably be 1-2, in any order really, depending on how you viewed it, and then Grayson."

JJ Redick on the list of most hated Duke players
It's obvious who comes next on the most-hated list, as Redick said. The Utah Jazz took Allen No. 21 overall in the 2018 NBA Draft. As Laettner and Redick eventually did, Allen has matured as his professional career has gone on. But it certainly didn't start that way.
The first offense came when Allen blatantly tripped a Louisville player during his sophomore campaign. He did it again just weeks later. And then again the following season. He even got ejected from an NBA Summer League game and (somewhat less blatantly) tripped Trae Young.
Steve Wojciechowski came after Laettner. The three Plumlee brothers — Miles, Mason, and Marshall — definitely make the list. So do Greg Paulus and Kyle Singler. Shavlik Randolph was the top choice at one time. Then it moved onto Jon Scheyer. After that, Austin Rivers.
College basketball fans just love to hate a Blue Devil.
As long as Duke continues to win, college basketball fans will find a favorite player to despise
It started with Laettner and Wojo. It continued with Redick. The list grows longer with nearly every recruiting class. Zion Williamson found a way to buck the trend because of his exciting style of play and because he made it easy on himself. The others certainly didn't.
Maybe it's just jealousy. Perhaps it's the frustration of seeing the program win for 30 years. But while fans don't love to hate Duke stars the way they used to, more fan unfavorites are surely on their way.
RELATED: Aaron Gordon's New Deal Is Further Proof the Orlando Magic Are Finally Making All the Right Moves