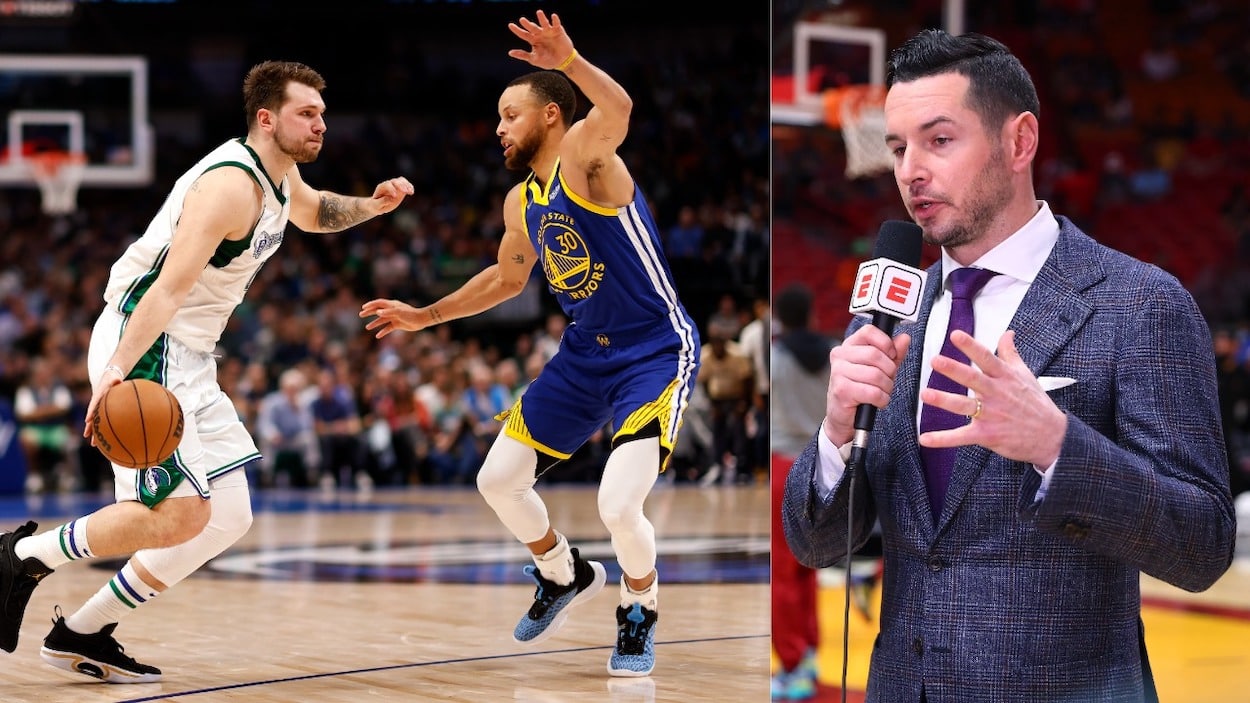 JJ Redick Backtracks on 'Ridiculous' Stephen Curry vs. Luka Dončić Question
NBA analyst JJ Redick gave a great answer on 'First Take' as to why he'd rather have Luka Dončić take the last shot over Steph Curry then completely undermined himself.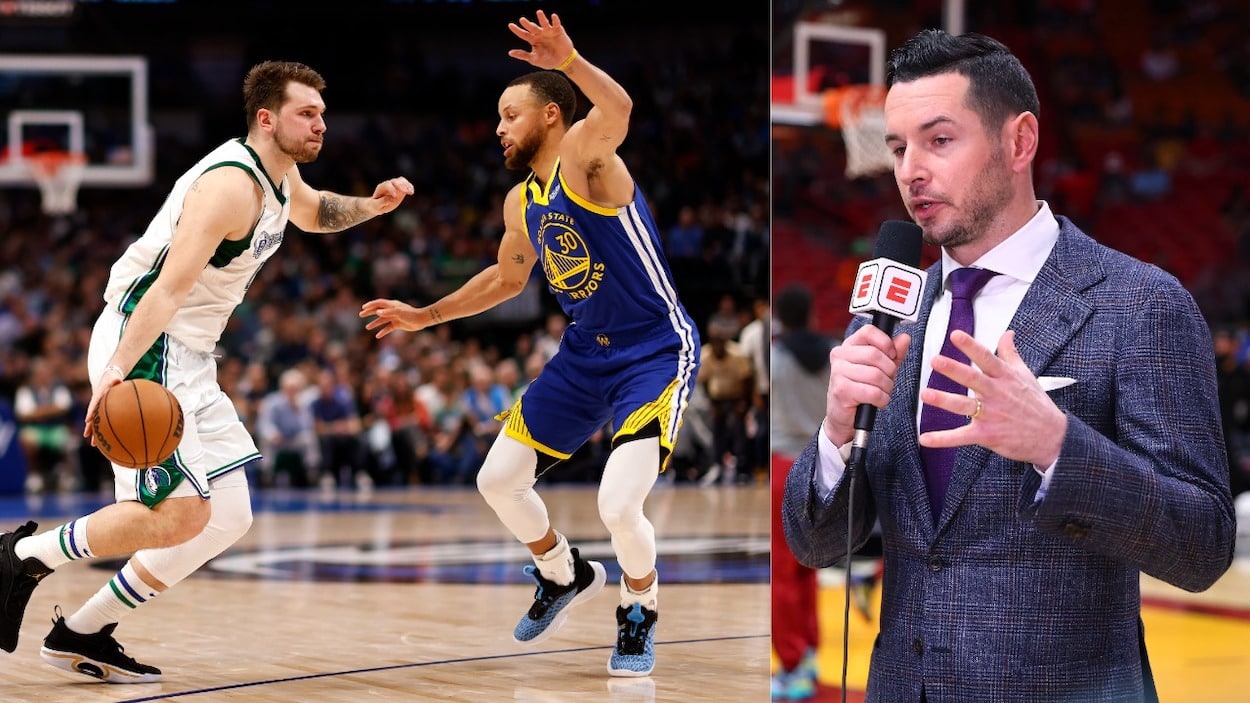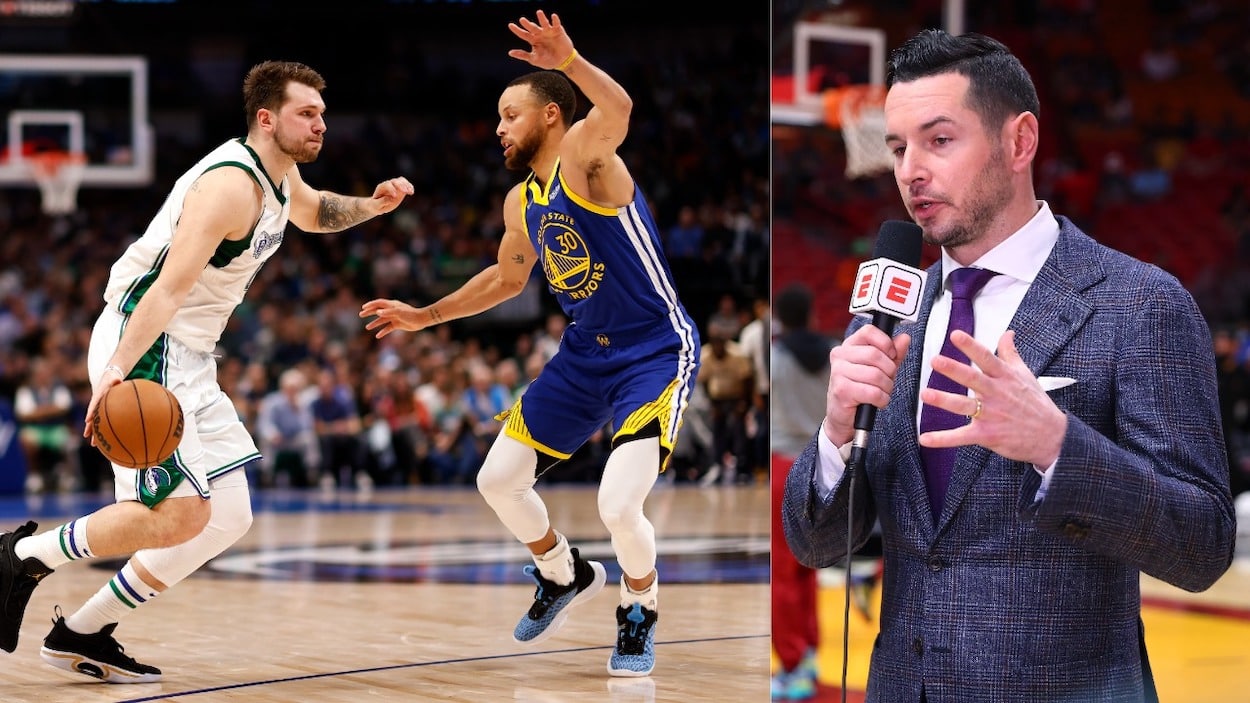 Stephen Curry vs. Luka Dončić is the prime-time matchup of the NBA Western Conference Finals between the Dallas Mavericks and Golden State Warriors. If the series comes down to one shot with the clock winding down, chances are it will be one of these two superstars taking it. 
Former NBA player JJ Redick said on ESPN's First Take if, given the choice, he'd rather have Dončić vs. Curry with the ball in his hand. However, shortly after giving his answer and a passionate defense of it, Redick turned around, backed off his response, and called the whole line of questioning "ridiculous."
JJ Redick says he'd take Dallas Mavericks superstar Luka Dončić vs. Steph Curry with the game on the line
Former NBA sharpshooter JJ Redick has made headlines recently with his passionate words on ESPN's First Take. He did it again this week while answering a question about Stephen Curry vs. Luka Dončić. 
With the Dallas Mavericks taking on the Golden State Warriors in the Western Conference Finals, Redick debated with host Stephen A. Smith and current NBA player Patrick Beverly about whether he'd rather have Curry or Dončić taking a game-winning shot. 
Both Smith and Beverly said that there is no doubt in their minds that Curry is the better choice. Redick, though, came out strongly and said he'd pick his (brief) former teammate, Luka Dončić, over the Warriors sniper: 
We're talking about right now, in 2022. Who would you rather have with the ball with the game on the line? It's clearly Luka Dončić. It's clearly Luka. Guys, think about all the stuff — this is not a knock on Steph — think about all the stuff that you have to do. All the people that you have to involve to get Steph Curry a shot at the end of the game. Think about all the action you have to run. You know what you have to do with Luka? You give him the ball. 

JJ redick on Luka Dončić vs. Steph Curry
Agree or disagree, Redick made a strong point about Dončić's ability to create a shot for himself vs. Curry having to run off screens to get open. He debated Smith and Beverly honestly and honorably and, to many, won the argument. 
Then Redick went and undermined himself on social media. 
Reddick walked his answer back on social media after the show
The reason JJ Redick made such a quick and seamless transition from NBA player to NBA analyst is that he is thoughtful and smart, and opinionated. Whether he is on his podcast, The Old Man and the Three, on First Take, or as a guest on a host of other basketball shows, these characteristics stick out. 
That is why it was so surprising when Redick responded to a random Twitter user and undermined his entire Stephen Curry vs. Luka Dončić argument from earlier in the day. 
An unverified Twitter user posted a clip of Redick giving his Curry vs. Dončić on First Take, tagging the analyst and calling him a clown (with an emoji). 
Shockingly, Redick responded, pulling back the curtain on sports talk TV and belittling the format and the question itself, tweeting: 
Hey Chip. Don't know if you know this or not…but on these shows they give you a ridiculous question- which this was- and then ask u to give an answer. Can't pick both in an "or" question. Then you have to give reasons why to support your stance. That's TV.

JJ Redick on his 'First Take' answers
Responding like that so publically was not only overly sensitive for the former Duke star, it also undermined his own credibility as an analyst. 
Now, it will be hard for fans to believe that any of Redick's answers in the future are authentic. Redick admitted that he just picks a side for TV and may not believe what he is saying on the shows he appears on. That is a huge black mark on his career as an analyst. 
So, in the question of Dončić vs. Curry for the last shot, let's pick a side for real, unlike Redick. 
Steph Curry vs. Luka Dončić with the game on the line
Outside of wrecking his credibility as an NBA analyst, the worst part of JJ Redick reneging on his answer in the Luka Dončić vs. Steph Curry debate is that he was right! 
Would I take either Curry or Dončić over almost any other player with the game on the line? Absolutely, yes. 
However, if I had to choose just one, give me Luke Legend. 
Curry is undoubtedly one of (if not the) best shooters in league history and can hit a dagger from anywhere on the court at any moment of the game. However, he hasn't been the greatest in the game's dying seconds. 
Curry made his first NBA buzzer-beater on January 22, 2022, in a 105-103 Golden State Warriors win over the Houston Rockets. The former Davidson guard does have five game-winning shots with less than five seconds left, per ESPN, but he didn't hit his first true buzzer-beater until four months ago. 
Conversely, in just four NBA seasons, Dončić has made game-winning shots a seemingly regular occurrence. The Serbian star has three buzzer-beaters (vs. Los Angeles Clippers 8/23/20, vs. Memphis Grizzlies 4/14/21, vs. Boston Celtics 11/6/21). 
Numbers aside, Redick made the best point before backing off his answer. Dončić is 6-foot-7, 230-pounds with incredible handle and change-of-pace ability. He can create any type of shot for himself at any time. 
Curry, as great as he is, is 6-foot-2, 185-pounds. He is quick and has handle, but with an athletic defender on him, it will take a team effort to free him up for a clean look at the basket. 
So, in the Dončić vs. Curry debate, I'll take Luke, no matter what "Chip" says. 
All stats courtesy of Basketball Reference
Like Sportscasting on Facebook. Follow us on Twitter @sportscasting19 and subscribe to our YouTube channel.