JJ Redick Disrespects Older Players Who Whine About the Current State of the NBA, but He's Also Absolutely Right When He Says the Game Is Always Evolving
The debate never ends. NBA players from past generations look at today's game and declare it inferior to when they starred. Meanwhile, the guys from the current iteration of the league look back at the grainy video that exists from bygone days and wonder how anyone from that era could make a roster in 2021. Recently retired guard JJ Redick, now transitioning to a role in sports media, dove headfirst into that discussion with a hot take that appears disrespectful to his elders. That is, until you look a little more closely.
Redick spent 15 seasons in the NBA with six teams, retiring as a top-20 3-point shooter in terms of both volume (1,950 makes) and accuracy (41.5%). After a slow start with the Orlando Magic, Redick evolved into one of the top deep threats of his era, helping turn the laughable Los Angeles Clippers into legitimate contenders before helping the Philadelphia 76ers transition from the Process to the playoffs. He resolved not to be one of those players hyper-critical of the NBA as he ages.
JJ Redick sounds off on the criticism from the old heads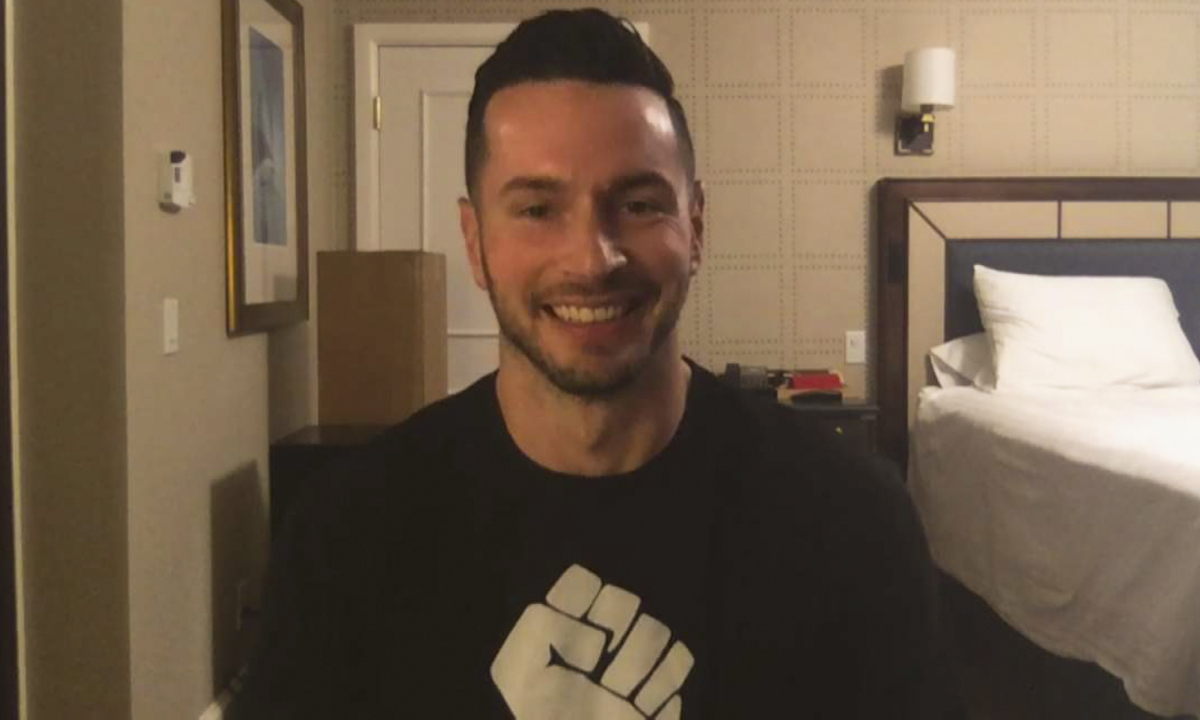 JJ Redick is joining ESPN as an NBA analyst. But he promises he doesn't want to be one of those former players on TV 20 years from now pining away for how the game used to be played. During a recent episode of his podcast, The Old Man and the Three, Redick explained why.
"I don't want to be that guy in 10 or 20 years from now is sh***ing on players in 2044," Redick said. "I recognize the game always evolves. I watch these highlight tapes of kids that are like 12 and their handles are Kyrie (Irving)'s handles and they are hitting step-back 3s and I'm like the game in 10-20 years will look completely different, the skill sets will look completely different.
"And guess what? They will be better than we were. That's just reality. That's how the game works. It evolves. It gets better."
He's not wrong. In 1960, a guard named Oscar Robertson changed the definition of a point guard. He was the size of many contemporary forwards, but could shoot, pass, and handle the ball like a little man. Twenty years later, along comes Magic Johnson, a 6-foot-9 unicorn with a skill set like Robertson's.
Today? Nikola Jokić is nearly 7-feet with the same complete package. That's evolution.
Redick's former teammate makes a bold, if accurate, claim
JJ Redick referenced a conversation with a former teammate with the Clippers that illustrates the evolution of the NBA. Austin Rivers, now with the Denver Nuggets, told Redick something bold about how the league has changed:
"I've tried to provide some middle ground where I acknowledge their greatness in their era. But one of my favorite things a player has said is when Austin Rivers said if he played against Bob Cousy, he would be a Hall of Famer … (because) he is not wrong.

"Here is my issue with the old-timers when they sh** on us, saying we couldn't play in their era. I would say this, and I don't think this is a hot take. Most NBA players in today's era could play in any era of the NBA.

"Most NBA players from the '50s, '60s, early 70s could not play in today's NBA. I think that's reality. Of course, you have Oscar Robertson, Jerry West, Bill Russell … the top 10 or so players from that era, but the talent from one to 450 is through the roof (now)."

JJ Redick
There's an argument to be made that the players from the past would improve via today's better training methods and diets (and not smoking cigarettes at halftime, just saying). But players in the 1950s and 1960s didn't get to spend their entire offseason in the gym, either. Paid a pittance, a few thousand dollars a year, those players had to work offseason jobs to get by and to set themselves up for their post-playing days.
Still, watching what was termed the ball-handling wizardry of Cousy and comparing it to some of today's great playmakers is stark. Sort of like watching a kid with finger paints next to Jean-Michel Basquiat.
JJ Redick's goal to 'not be that guy' is admirable
One hopes JJ Redick can be true to his word. It's tedious to listen to 60- and 70-year-old former players wax poetically about how great the game was when they played and how awful it is now. If one is old enough to have seen the NBA in the 1970s and in the 2020s, there are differences. It's plainly obvious that there are.
The NBA of the 1970s enjoyed an embarrassment of riches when it came to dominant big men. Size was valued over everything. There was no 3-point line to equalize play for the little dudes. The game involved pounding the ball down low and daring opponents to stop it.
Today's league is pacing and spacing. Shots going up from all around the 3-point arc, opening space for athletic drivers to do their aerial acts.
But it's not a contest. One doesn't have to pick and choose which is better. Instead, recognize the greatness of the Kareem Abdul-Jabbar era in the 1970s, of the Magic Johnson-Larry Bird driven 1980s, of Michael Jordan's dominance in the 1990s, of Shaquille O'Neal and Kobe Bryant and Tim Duncan in the early 21st century, right up to today's galaxy of stars.
The obsession with ranking everything clouds the issue. The NBA is great now; it was great then, and It will be great in the future. Nostalgia is great. But so is progress.
Like Sportscasting on Facebook. Follow us on Twitter @sportscasting19.
RELATED: Joe Buck Just Admitted His Final Days at Fox Sports Could Arrive Much Sooner than Fans Might Have Guessed: 'I'll Just Take a Breath and See What Works'