JJ Redick Hilariously Describes the Strength of Kawhi Leonard: 'I Just Touched a Robot'
Kawhi Leonard is a unique character. The Los Angeles Clippers star is known for his quiet demeanor off of the court, but on the court, he is a full-fledged superstar and one of the best two-way forwards the NBA has ever seen.
One might not look at Leonard and think of the word "strength". Particularly when other superstars like LeBron James and Giannis Antetokounmpo are more renowned for their size and athleticism. But as former NBA guard JJ Redick once described, The Claw is as strong as anyone in the league.
Kawhi Leonard is an athletic specimen
Before Leonard became the face of the San Antonio Spurs, he was an under-the-radar wing at San Diego State. Playing outside of a Power Five conference led to Kawhi going 15th overall in 2011, just outside of the lottery. While no one could have predicted he'd become an NBA star, his pre-draft measurements were mind-boggling.
At the NBA Draft Combine, Leonard's height came in at 6-foot-7 with shoes, 6-6 without. But The Claw's wingspan was a whopping 7-3. Additionally, his hands measured at 9.75 inches in length, tied for the longest of any draft prospect in 2011. For context, the average 6-7 player has hands that measure around 8.8 inches.
On top of everything, the Aztec weighed in at just over 227 lbs with 5.40% body fat.
Leonard's hands, wingspan, and height allow him to guard nearly anyone he's up against. It's a big reason why the 30-year-old has two Defensive Player of the Year awards and seven All-NBA Defensive team recognitions.
JJ Redick shares how he learned about Kawhi's strength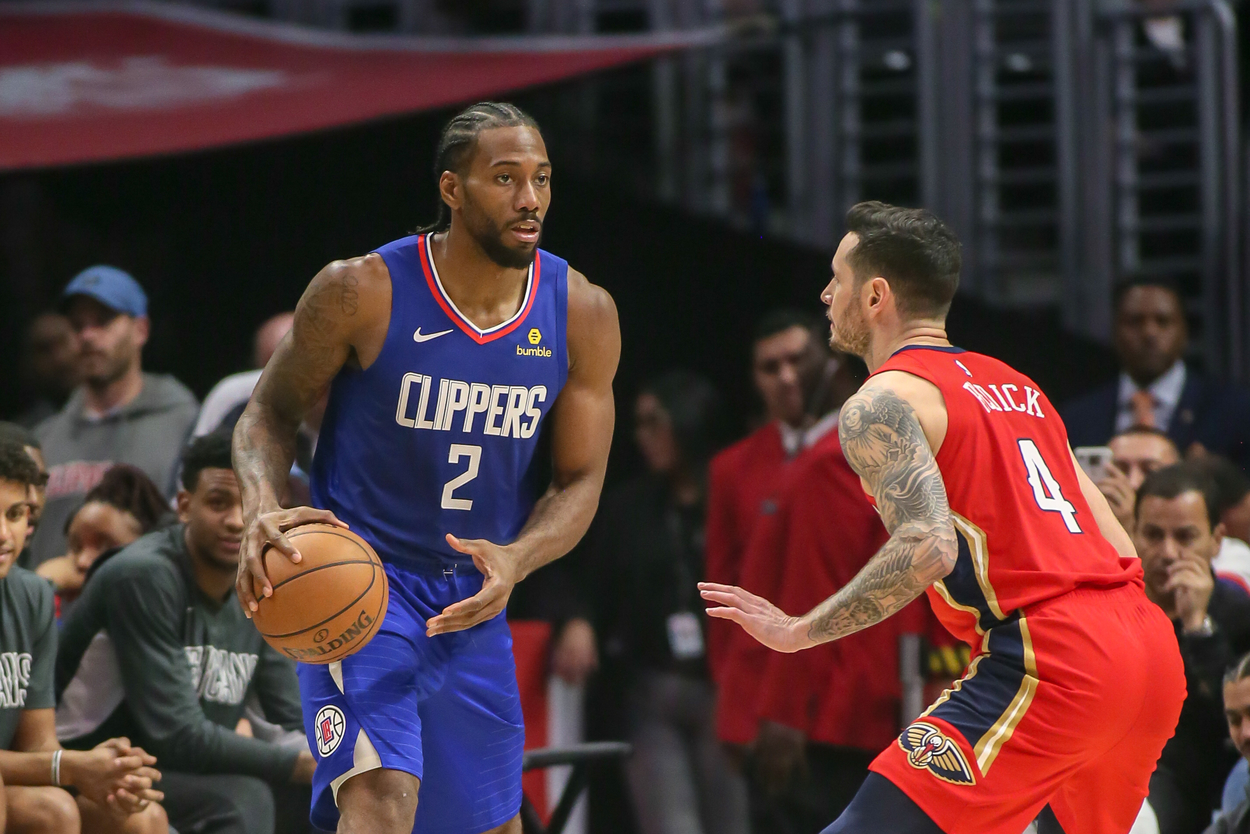 The newly-retired Redick hosts a podcast titled The Old Man and the Three. Speaking with Sacramento Kings guard Tyrese Haliburton, Redick told a story from when his Clippers took on Leonard's Spurs in the 2015 playoffs.
"It was a dead ball or free throw, and [me and Kawhi] had an exchange on the previous play and I just, like, walked over to him. And I can't remember what I said, but I just tapped him on his stomach. And I remember thinking to myself, 'I just touched a robot.' Like, this motherf***** is built. He's built. He's solid."

JJ Redick
Haliburton also had a similar experience with Leonard. The second-year guard referred to the All-Star as his "intro to NBA strength."
"We were playing the Clippers in LA, and at this point, guys off the bench are guarding me [since] I'm not that high up on the scouting report," Haliburton told Redick. "Kawhi's like, 'Yo, I got him,' and I'm like 'What's going on?' So I come to get a dribble handoff, and his hand is on my hip, and I'm at the three-point line I think. And then I get the handoff, I look down, and I'm at the logo. I don't even know how I got out here, I think he pushed me. It's crazy how strong these guys are."
Kawhi Leonard is destined for the Hall of Fame
With sneaky strength to go along with jaw-dropping measurables, Leonard is one-of-a-kind. But clearly, those athletic gifts weren't wasted. As it stands, the 30-year-old is on track to become a Basketball Hall of Famer.
Kawhi has seven All-Defense honors over 10 seasons, which is even more impressive considering he started just 39 games his rookie season and nine games in his final season with San Antonio. That basically means in seven of eight full seasons, he's been one of the league's best defenders all but once. He also has the postseason success to back it up, winning a ring with the Spurs and Toronto Raptors. Not to mention, two Finals MVP to put the cherry on top.
Leonard will face major adversity heading into the 2021-22 season. The Claw partially tore his ACL in LA's second-round series against the Utah Jazz, which will keep him sidelined for the majority of the year. But with his impressive strength and athleticism, expect Kawhi to bounce back and help the Los Angeles Clippers contend for their first title.
All statistics courtesy of Basketball Reference.
RELATED: Kawhi Leonard Is Committed to the Clippers, but His Superstar Rapper Friend Claims That He Misses Toronto: 'He Misses the Fans and the City'