JJ Redick: The 76ers Must Answer Serious Questions About Dealing Ben Simmons Before the NBA Trade Deadline
The year was 2013, and the Orlando Magic were in Dallas, where they had just wrapped up their 15th loss in a 16-game stretch. The team was about to fly Memphis on the afternoon of Feb. 21, very near the time as the NBA Trade Deadline hit.
On the tarmac at historic Love Field in Dallas, it was there where guard JJ Redick learned one of the harsh realities of pro sports.
As Magic players filed off the bus to get onto the plane, Redick received instructions to stay behind by Magic front-office members. Right there on the bus, steps away from his teammates, Redick learned he was no longer a member of the Magic and was off to the rebuilding Milwaukee Bucks.
Redick got on the plane that day, but only for a couple of minutes for some hurried hugs and handshakes. Just like that, he had to say goodbye to teammates he had spent 5 1/2 months with and some of whom he's been with for 6 1/2 years. If anybody knows the high levels of angst and anxiety that players go through in the hours before the NBA Trade Deadline, it's Redick. He especially feels right now for the players' plight on the Philadelphia 76ers and Brooklyn Nets — many of whom have already found themselves in the crosshairs of the rumored trades involving Ben Simmons and James Harden. 
"When you look at (Philadelphia's) roster, literally every guy outside of Joel Embiid has been in the trade rumor mill," Redick said earlier this week on ESPN, where he now works as an in-studio analyst. "So, I can imagine the conversations right now amongst players and coaches are pretty awkward, and it's a tense situation. Whatever happens, from a player's perspective, you're always relieved at 3:01 or 3:02 PM Eastern Time."
In just a short time, JJ Redick has already become one of ESPN's top NBA analysts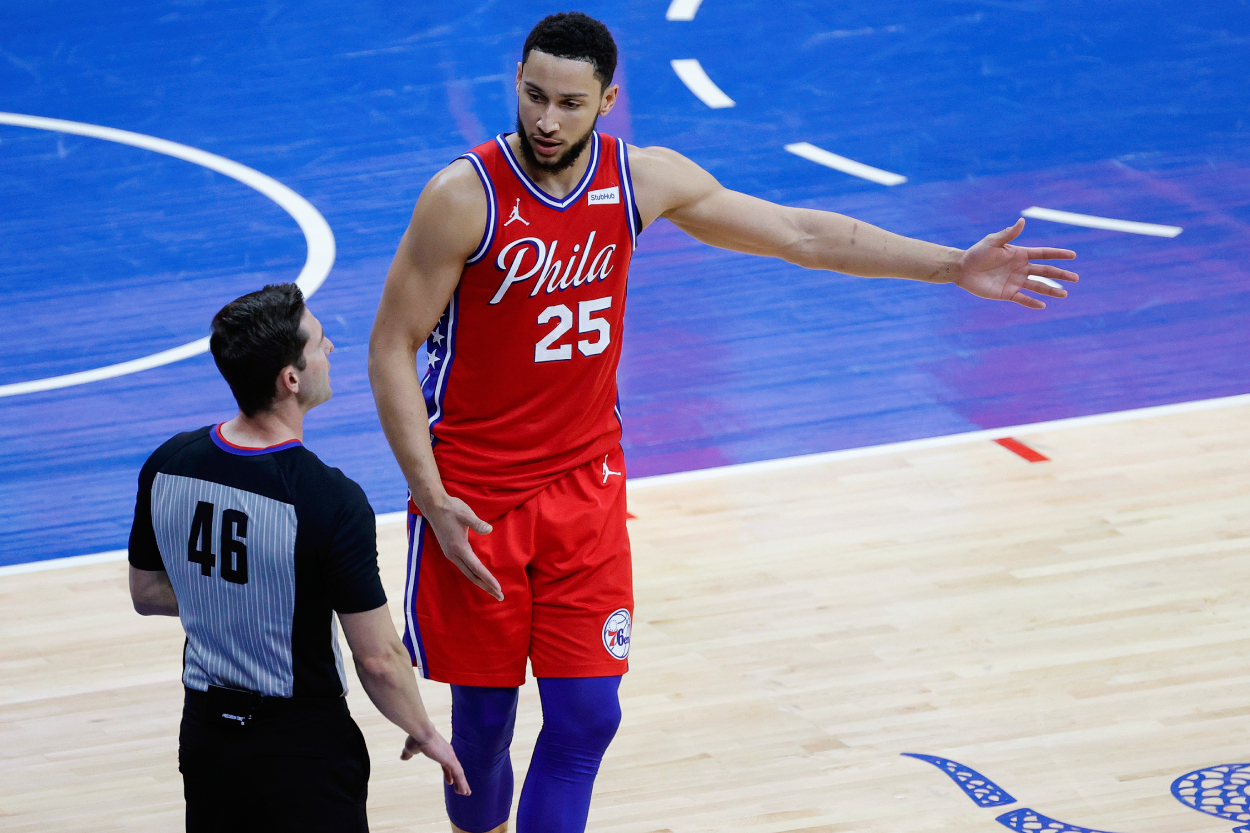 Well-spoken and outspoken, JJ Redick always seemed destined to be an analyst when his NBA playing career ended. Redick has a wealth of experience from which to draw. He was once a high school and college All-American, a star targeted by opposing college fan bases, and a reserve in Orlando. Then, Redick changed his body, got in the best shape of his life, and evolved into a key piece of a Magic squad that reached the 2009 NBA Finals and the 2010 Eastern Conference Finals.
Redick's career blossomed following his short stay in Milwaukee while playing alongside numerous superstars with the Los Angeles Clippers. From 2017-19, Redick was a teammate of Joel Embiid and Ben Simmons in Philadelphia. He reached the playoffs each of his first 13 seasons in the NBA but saw that streak end in 2020 in New Orleans.
Redick was moved at the NBA Trade Deadline again in 2021. Following a short stay with the Dallas Mavericks, the guard with the career 41.5% three-point accuracy retired.
Redick is curious how the 76ers handle the Ben Simmons saga at the NBA Trade Deadline
JJ Redick has a great interest in seeing how things unfold with the Philadelphia 76ers and Ben Simmons. Part of that curiosity is because of Redick's past links to Joel Embiid, Simmons, and coach Doc Rivers.
Simmons, the former No. 1 pick in the 2016 NBA Draft, melted down in Philadelphia's second-round playoff loss to the Atlanta Hawks last spring. He subsequently requested a trade and has yet to play all season while bickering with Sixers, management, Embiid, and Rivers. Now, a day before the NBA Trade Deadline, the time has come for the 76ers to decide whether or not to unload the malcontent point guard.
The Sixers are an interesting case study, Redick said, because they have an MVP-caliber player in Embiid, and the franchise is so close to being championship-worthy. Whether or not they unload an All-Star the caliber of Simmons will speak to how confident the franchise is that it can win it all.
"When you look at the 76ers, they have a really unique situation," Redick said on ESPN's airwaves. "They're (2 1/2) games out of first place; when Joel Embiid plays, they have the league's third-best win percentage (28-14, .667); and they're just not that far off from being the best team in the East."
Redick said the 76ers must answer several key questions before the NBA Trade Deadline
Redick, who someday might be in consideration for a front-office position, said the 76ers must be honest with themselves in the final hours before the NBA Trade Deadline. Redick said that if the 76ers feel they are one piece away from winning a championship, they'd be wise to deal Simmons and get Embiid more help. 
"To me, you have to ask yourself this, 'Does this make our team better in the short term and does it hurt us in the long term?'" Redick asked. "I don't know what the options are in the front office of the Sixers right now, but if they have a chance to get better right now, take it because you're not that far off.
"You're in the middle of Joel Embiid's prime. He had an injury history early in his career, and you don't know if you'll get this chance again," Redick continued. "If you look at the top six or seven in the Eastern Conference, this conference feels wide open. (The 76ers) are not that far off from being one of the favorites to win it all this year. Again, with Joel Embiid playing the way that he is, just adding a couple of complementary pieces and draft picks, that sets your franchise up for a chance to win now and in the future."      
All statistics are courtesy of ESPN.com.
RELATED: NBA Trade Deadline: A James Harden-Ben Simmons Trade Great for 76ers Now, but the Nets Will Get the Last Laugh