JJ Redick Still Salty About Kawhi Leonard's Series-Clincher Over 76ers in 2019: 'He Got a Running Start and Traveled'
JJ Redick retired in September 2021 after a 15-year NBA career. But grievances die hard, as the sharpshooter-turned-member of sports media revealed while speaking to Toronto Raptors star Pascal Siakam during a recent podcast. Redick played for the Philadelphia 76ers in 2018–19, a team that suffered a heart-breaking playoff elimination when Kawhi Leonard's last-second shot ended the Eastern Conference semifinals in favor of Toronto.
Leonard and the Raptors went on to win the franchise's first NBA championship in 2019. Redick retired without a ring. He played in the NBA Finals with the Orlando Magic in 2009, when they lost in five games to the Kobe Bryant-led Los Angeles Lakers. After an Eastern Conference Finals trip with Orlando in 2010, Redick never got closer to that elusive ring. Besides the Magic and Sixers, he also spent time with the Milwaukee Bucks, Los Angeles Clippers, New Orleans Pelicans, and Dallas Mavericks.
The quadruple-bounce finish was JJ Redick's last playoff game
JJ Redick didn't win an NBA title in his long career. But after the Raptors knocked off the 76ers with Kawhi Leonard's miraculous corner jumper in Game 7 of the 2019 Eastern Conference semifinals, Redick never played in the postseason again.
He signed with the New Orleans Pelicans before the 2019–20 season. Though the team was invited to the bubble after the season restarted in July 2020, New Orleans did not reach the playoffs. Last season, he missed the playoffs for the Dallas Mavericks with a right Achilles' tendon injury.
Leonard's winner in Game 7 is one of the most iconic shots in NBA Playoffs history. The high-arcing jump shot over the outstretched hand of Joel Embiid bounced on the rim four times before dropping. Redick wasn't on the floor, having been taken out for defensive purposes in favor of James Ennis after Jimmy Butler tied the game for Philadelphia with 4.2 seconds remaining in regulation.
When Siakam appeared on Redick's podcast on Dec. 3, Leonard's shot happened to come up in the conversation.
JJ Redick insists Kawhi Leonard traveled before the incredible fadeaway
Siakam appeared on The Old Man & the Three podcast with JJ Redick to discuss his unlikely rise to stardom. But the discussion ended up turning toward their shared moment in the 2019 NBA Playoffs. Siakam had a breakout season in 2018–19, earning NBA Most Improved Player honors, and he remembered the surreal finish in detail.
"I think it was like either Joel or Ben [Simmons] was guarding me, and [Kawhi Leonard] had the ball, and they both went to him," Siakam recalled. "And I was like, I was wide-open at the top of the key, and I was like waiting, and I'm like, 'OK, I don't know what's going on.' I knew Kawhi was gonna shoot it, but it's looking like they both got him!
Siakam saw the shot go up. He thought it was off-line.
"It looked like it was coming off, but then hit it, and it's like, I'm just like, if you look at me in the video, I don't even know if you can see me, but like I'm just waiting and I'm like, oh, counting all the bounces and the rest was like you know, it was history."
That was when Redick revealed he hadn't seen the video for more than a year. When he did watch it, he noticed something that made it even worse:
"I didn't watch the clip for well over a year, and I was scrolling through Instagram one day, and there was a fan angle from right behind your bench. And what I realized from rewatching the clip was when Kawhi caught the ball, he got a running start and traveled."
Siakam laughed the claim off.
Siakam defended former teammate Kawhi Leonard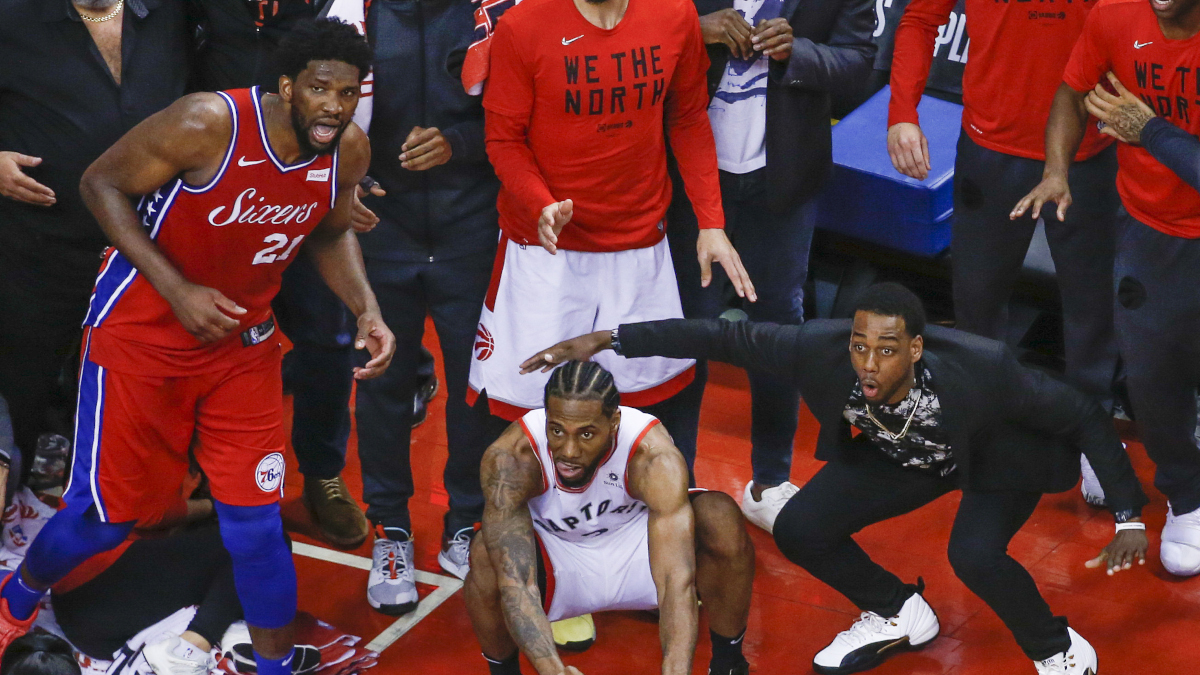 The record book shows, in a tremendous stat-sheet understatement, that Game 7 of the 2019 Eastern Conference semifinals ended on this note:
"K. Leonard 15' Fadeaway Shot."
That's probably best because "Kawhi Leonard hits an unbelievable fadeaway jumper over a 7-freaking-footer that hit the rim four times before dropping into the net" would have taken up more than one line on the paper.
JJ Redick revealed to Leonard's former teammate, Siakam, that he thought the eventual Finals MVP traveled before releasing the shot. Siakam was having none of that talk.
"Oh, my God, man! No. We're not gonna do this," Siakam said. "There was no travel. No, there's no way like, and yeah, there's no travel."
Redick and Siakam will agree to disagree on that point, it seems. It was a franchise-changing moment for Philadelphia. Butler and Redick left via free agency. The 76ers got swept out of the first round by the Boston Celtics in the 2020 bubble playoffs. Last season, as the East's top seed, Philadelphia lost Game 7 of the Eastern Conference semifinals at home to the Atlanta Hawks.
As for Siakam, he's back on the court after shoulder surgery that sidelined him for much of last season. Kawhi Leonard is recovering from knee surgery but may return to the Clippers later this season. And JJ Redick? He's got his podcast and a gig with ESPN as an NBA analyst. The disappointment, though, is still genuine.
Statistics courtesy of Basketball Reference and NBA.com.