J.K. Dobbins' Devastating Knee Injury Could Open the Door for the Baltimore Ravens to Unleash the Next Arian Foster
Baltimore Ravens fans and fantasy football managers are still grieving over J.K. Dobbins' season-ending knee injury. Rather than pass them some tissues, we present a gift in the form of Ty'Son Williams.
Who? No, seriously. Who?
Ty'Son Williams could see more carries after J.K. Dobins' injury
Football fans cried in anguish when Dobbins went down with a torn ACL in the Ravens' preseason finale. The Ohio State product ran for 805 yards and nine touchdowns on six yards per carry as a rookie last year.
Enter Williams, a 6-foot, 220-pound running back who went undrafted in 2020. The second-year back ran for 130 yards and a touchdown in the Ravens' three preseason games.
You'll be forgiven for not knowing Williams, a shifty running back who played for three colleges across five years. After opening his college career at North Carolina in 2015, he transferred to South Carolina and rushed for 799 yards and five touchdowns on 165 carries across two seasons.
The former four-star recruit finished his college career at BYU, totaling 264 rushing yards and three touchdowns across four games in 2019. However, a torn ACL ended his season — and college career — prematurely.
Williams could follow Arian Foster's path to superstardom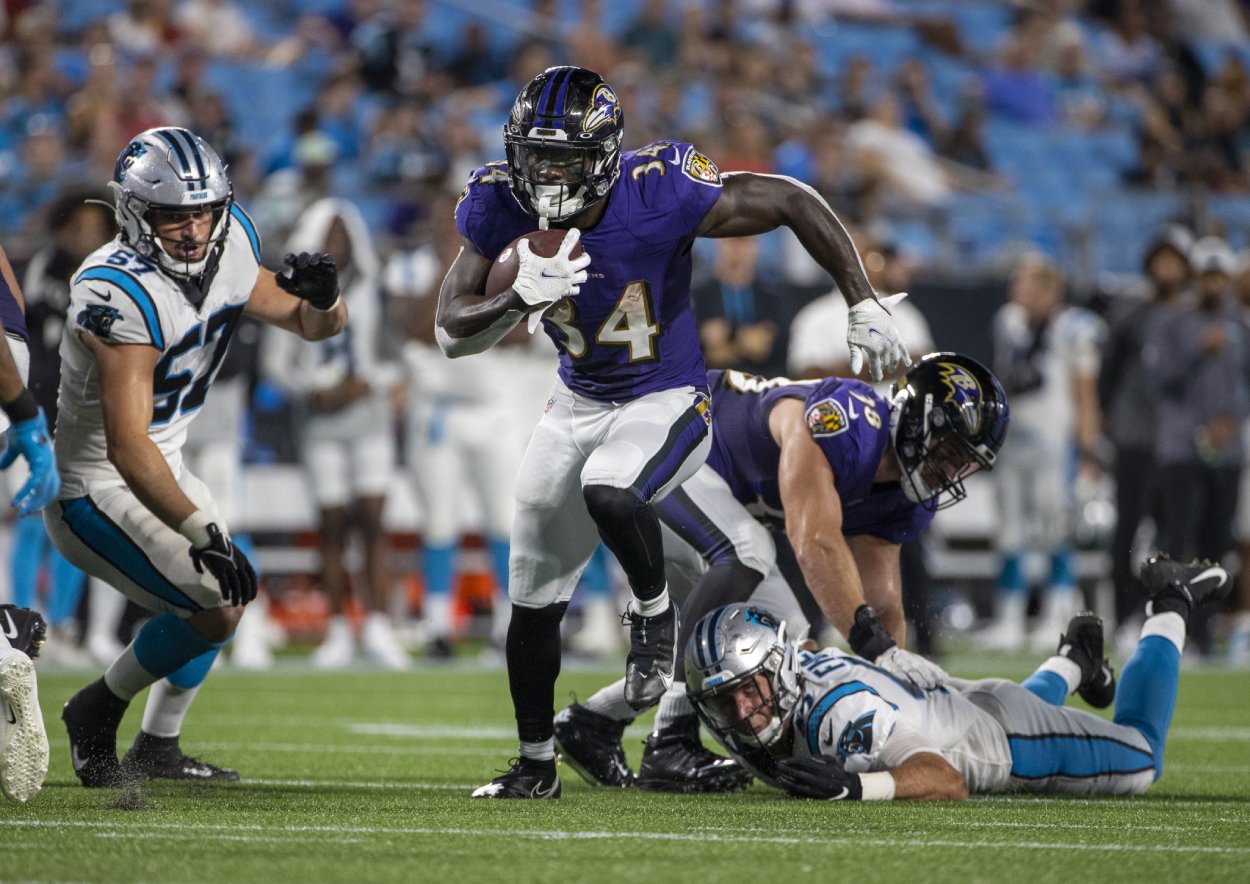 On the one hand, one could argue Lamar Jackson gives the Ravens the best chance to withstand Dobbins' injury. The 2019 NFL MVP remains one of the league's best dual-threat quarterbacks and has led the Ravens in rushing in each of the last two years.
Jackson can't do it all, however. The Ravens operate on a unique rushing by committee system where two or three running backs are all focal points as opposed to a lead back and his backup.
This is where Williams, who spent most of last season on the Ravens' practice squad, comes into play. Although Gus Edwards will take over as the de facto starting running back, he'll only get so many touches per game. Even if offensive coordinator Greg Roman wants a run-oriented game plan, the Ravens won't let Edwards and Jackson take all of the carries.
Roman is a brilliant offensive mind who excels at leading dynamic, up-tempo offenses. Williams and his sharp footwork make him a perfect fit for a system that helped turn Jackson into one of the league's top quarterbacks.
It's been a few years since a young, undrafted running back made massive strides and took control in his second season. Arian Foster did it for the Houston Texans in 2010 and wound up leading the league in rushing yards that year. Both landed in offenses that best fit their skillsets; Williams is a shifty back in an offense based around athleticism. Foster had the size and receiving skills needed to thrive in Gary Kubiak's wide zone offense.
It's admittedly way too early to suggest Williams will wind up making four Pro Bowls, and that's not what we're saying at all. We don't want you to be surprised if he becomes a significant factor in the Ravens' offense this year.
Edwards and Williams are each interesting fantasy football options
If you selected Dobbins in fantasy football, the joke is on you for holding your draft before the preseason ended. You fool!
Williams is definitely an attractive late-round option as someone who can come off your bench. However, don't be opposed to adding Edwards earlier in the draft if you have the opportunity.
Edwards, who went undrafted in 2018, ran for over 700 yards in each of his first three NFL seasons. The Rutgers product posted career-highs in rushing yards (723) and touchdowns (six) across 16 games and six starts last season.
According to ESPN's average draft position (ADP), Edwards has been the 14th running back off the board in a typical mock draft. Williams is way down the list with a No. 52 ADP.
Foster carried fantasy football managers to league titles for years. We won't be caught off guard if Williams manages to do something similar for the Ravens, at least in 2021.
All ADP (average draft position) figures courtesy of ESPN as of Aug. 31, 2021.