Joakim Noah Gets Long-Awaited Honor From the Chicago Bulls After Making Unforgettable Impression on Teammates With His 'Passion' and Heart: 'It Was Just All Out'
Joakim Noah's unbridled energy and spirit for the game of basketball made him a beloved figure in Chicago Bulls history. Finally, he is getting the acclaim he deserves from the organization that drafted him back in 2007.
The Bulls are holding "Joakim Noah Night" Thursday at the United Center as they host the New York Knicks. Though it hasn't been confirmed, there is a possibility Noah could sign a one-day contract to retire with the Bulls.
The COVID-19 pandemic threw a bit of a wrench in earlier plans to honor Noah. However, he is sure to get thunderous applause from the fans in Chicago. His Bulls teammates sure are happy for him, as a number of Noah's former colleagues have made the trip to the Windy City.
Joakim Noah became a star in Chicago with the Bulls
Joakim Noah gave his soul to the Chicago Bulls.
Noah was one of the most intense competitors in the NBA during his nine seasons in Chicago. He wore his heart on his sleeve, often displaying his emotion via a primal scream or even clapping in the faces of his opponents. The former Florida Gators star mixed it up with LeBron James and Kevin Garnett, plus he provided classic quotes, most notably from his "What's so great about Cleveland?" interview in 2010.
More importantly, Noah had a real impact on winning. The New York native gave the Bulls a rebounding and defensive presence in the middle. He made himself into the perfect complementary star for Derrick Rose and Luol Deng, doing the dirty work underneath and running the floor in transition. Additionally, Noah became an elite passing big, averaging 3.0 assists during his Bulls tenure.
The accolades are there, too. Noah made a pair of All-Star teams and three All-Defensive teams. He captured the 2013-14 Defensive Player of the Year Award while earning All-NBA First Team honors that same season.
Still, what teammates remember most ahead of Noah's big night are his consistent effort and dogged determination.
Teammates fondly recall the intangibles that made Noah such a heroic figure in Chicago
Last April, former Bulls swingman Luol Deng encouraged Joakim Noah to wait until the arenas filled up again to make his triumphant return to the United Center. Why? Because he deserved the adoration of Bulls fans in attendance.
Deng spoke with K.C. Johnson of NBC Sports Chicago about Noah's impact on the city and on the franchise, saying Jo gave the Bulls "everything." The two-time All-Star explained that Noah had a uniqueness about him.
"Even playing in a lot of different teams, I can honestly tell the fans I haven't met or played with someone like Jo, where it was just all out. I'm not even talking about being the best scorer. It was just all out. And it was consistent. It was the same energy, effort, good or bad. It was the same Jo."

–Luol Deng, via NBC Sports Chicago
That energy and charisma left a lasting impact on Noah's former teammates. They came out in waves to support him on the eve of his big night.
The Bulls' Twitter account posted numerous pictures of Noah with his old running mates on Wednesday night, from Kirk Hinrich to Carlos Boozer and many more. The gathering speaks to the respect those guys have for Jo and what he meant to the franchise.
Although Noah did not win a championship in Chicago, he defined the Tom Thibodeau era with his gritty play and boundless joy. Will he retire a Bull?
Thursday night could mark the perfect occasion for Noah to retire with the Bulls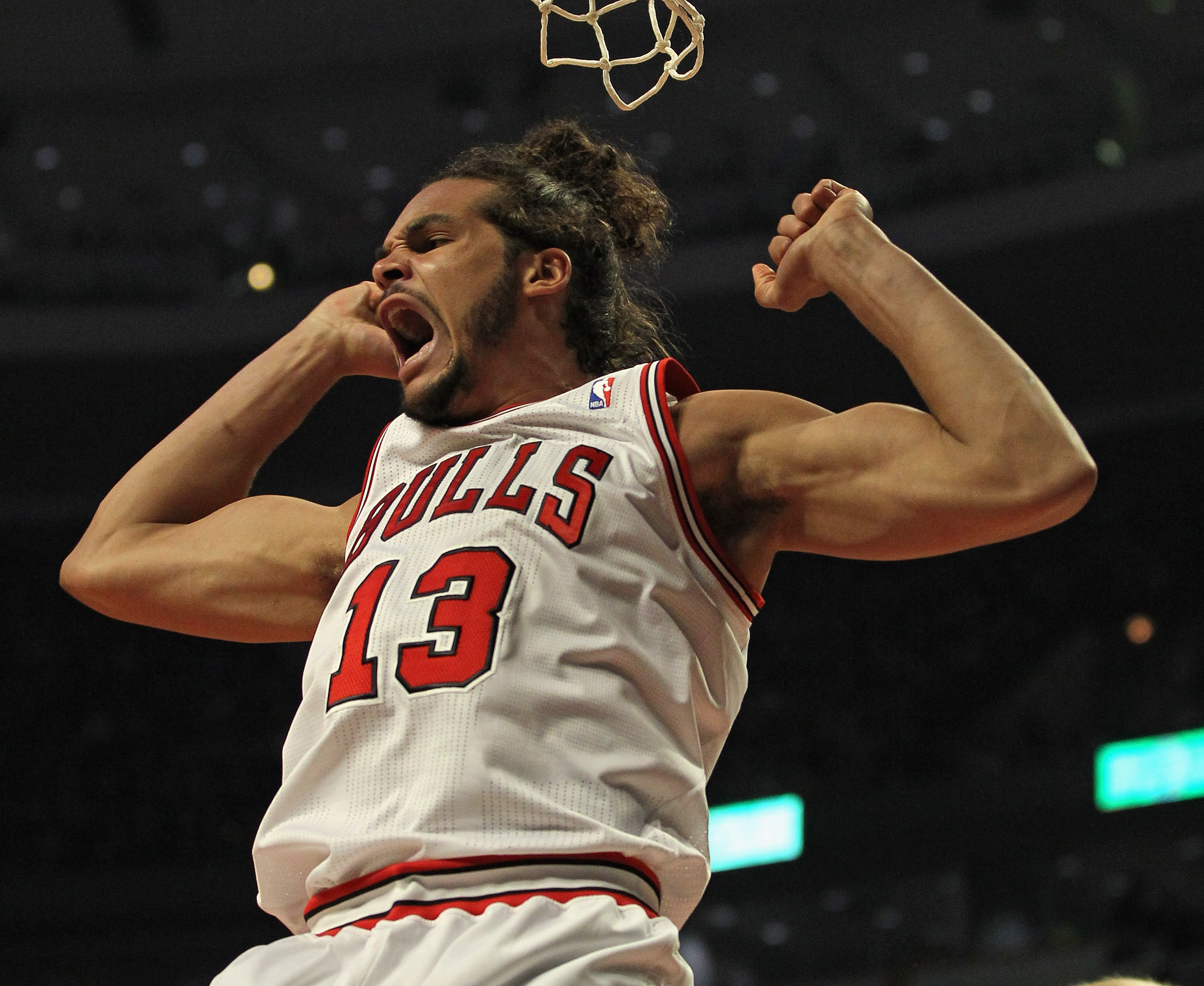 The Bulls organization chose their timing well for "Joakim Noah Night." The Knicks being in town means Rose and Taj Gibson will be on hand to see their former teammate honored. It feels like the right moment for Noah to retire with his first franchise.
The 36-year-old announced his intentions to call it a career in March, with The Athletic reporting he planned to retire as a member of the Bulls. The team has yet to formally announce any plans for a one-day contract, but it would not be a surprise if that declaration came shortly.
Regardless of any retirement plans, Joakim Noah will get his long-awaited ovation from the fans at the United Center on Thursday. It's unlikely the city of Chicago will ever forget the joy he brought to Bulls basketball.
Stats courtesy of Basketball Reference.
RELATED: Kevin Garnett 'Crushed' a Young Joakim Noah With a Vulgar Welcome to the NBA: 'Man, KG, I Had Your Poster on My Wall'