Joe Buck Just Admitted His Final Days at Fox Sports Could Arrive Much Sooner than Fans Might Have Guessed: 'I'll Just Take a Breath and See What Works'
Article Highlights:
Legendary Fox Sports announcer Joe Buck doesn't know how much longer he'll be with the network
The 52-year-old's contract is scheduled to expire in February 2023
It's hard to imagine a sports landscape without Buck working at Fox Sports
To give you an idea of how long Joe Buck has been at Fox Sports, consider that he called his first NFL game in September 1994. Troy Aikman, his on-air partner since 2002, was still over six years away from throwing his final pass.
It's been a long ride for Buck, who is currently working his 24th World Series for Fox and juggling NFL duties. By the sound of things, that nearly 30-year journey could quickly be reaching its ending.
Joe Buck admitted he may not be back at Fox Sports after his contract ends in 2023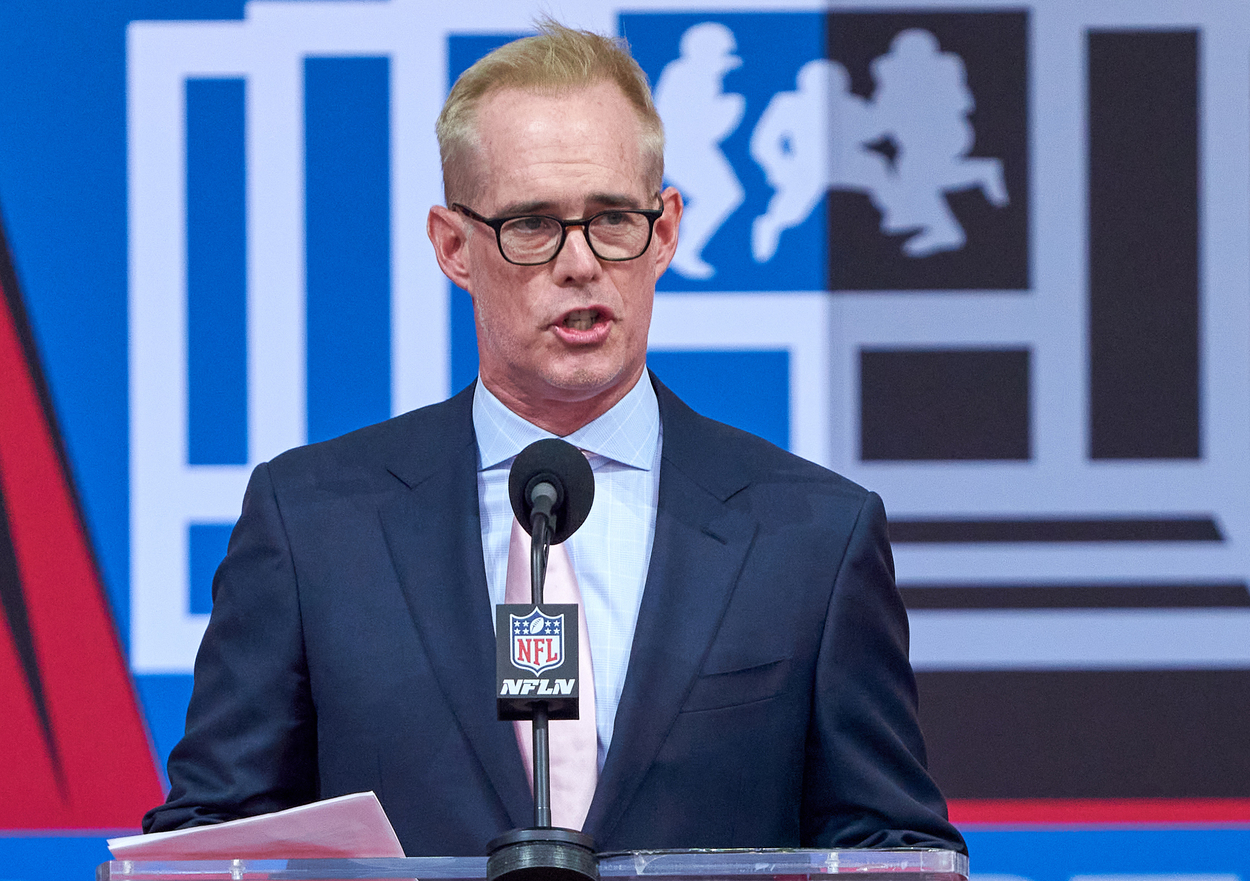 Buck should be grateful he's able to get any type of sleep each October. When he's not calling NFL games and serving as the lead television voice for Thursday Night Football, he's partnering with Atlanta Braves legend John Smoltz for baseball postseason games.
The busy fall seasons are expected to get a bit lighter beginning in 2022. In a recent interview with the St. Louis Post-Dispatch, Buck said he has not discussed continuing his TNF duties when Amazon acquires the broadcast rights next year.
A free space on Thursday nights might not be the only significant change coming to Buck's calendar. He told the newspaper that he hasn't spoken to Fox about extending his contract, which expires after he calls Super Bowl 57 in February 2023.
"I'll take it as it comes. … I have a wife who works. I have 3-year-old twins. I have older daughters who are entering the next phase of their lives. I'll just take a breath and see what works."

Joe Buck
His wife, Michelle Beisner-Buck, is an ESPN reporter. The Buck family still lives in St. Louis after Joe and his father, Jack, each worked as longtime broadcasters for the Cardinals.
"I grew up wanting to be my dad," Buck said. "Doing the World Series for 24 years never crossed my mind."
Buck's potential departure would be unprecedented in the current landscape
When Buck called his first NFL game at Fox in September 1994, basketball legend Michael Jordan still played in the Chicago White Sox system, Joe Montana was still an active NFL quarterback, and we were still five years away from learning Darth Vader turned out to be a precocious child.
It's easier to imagine whatever went into The Phantom Menace's production than a sports world without Buck calling baseball or football games. Love him or hate him, he's been the voice of multiple generations, from the ones that grew up mimicking Nomar Garciaparra's batting routine to the ones watching JuJu Smith-Schuster's TikTok videos with weekly Thursday Night Football games on in the background.
It's important to note that Buck never referenced retirement when he spoke with the Post-Dispatch. In theory, nothing is stopping him from re-signing with Fox as a fill-in broadcaster or joining another network as a remote analyst.
Still, consider other notable lead announcers in the sports world. Not only is NBC's Al Michaels still going strong at age 76, but he's considered the favorite to replace Buck on Thursday Night Football next year. CBS Sports' Jim Nantz turned 62 in May. Legendary NBA announcer Marv Albert called his final game on July 3, less than a month after turning 80.
No one is going to criticize Buck for putting his family over everything else. It's strange, though, to think about him potentially stepping away from calling games on a full-time basis at 54 years old when so many others are working deep into their 60s and 70s. In an interview with The Athletic earlier this year, Buck said he hoped he'd have a lighter workload by 2030.
However, maybe we shouldn't be so surprised the end could be nearing much sooner. Buck has steadily called fewer regular-season baseball games over the years, and he's quietly worked a reduced NFL schedule for Fox this season.
Who are the likely candidates to replace Buck in each of his three major roles?
Right now, Buck is the lead play-by-play voice in three specific areas: Thursday Night Football, baseball's League Championship Series and World Series, and Fox's overall NFL coverage.
Although Amazon hasn't officially announced Michaels as TNF's voice for 2022, it's safe to assume whoever has that role next year won't be Buck. That fills one hole.
Kevin Burkhardt currently works as studio host for Fox's MLB coverage and also does play-by-play on the NFL side. He's midway through his first season on the network's No. 2 NFL team with former Carolina Panthers tight end Greg Olsen.
As of October 2021, Burkhardt makes the most sense to replace Buck on the lead NFL broadcast team. As for baseball, Fox could promote Burkhardt or give the opportunity to Joe Davis, the Los Angeles Dodgers' play-by-play voice who also calls regular-season and playoff games for Fox and FS1.
Buck made it clear that plenty can change in 15 months, and he's right. Perhaps the same viewers who angrily tweet about Buck rooting against their team will start praising him in hopes he stays as long as possible.
Like Sportscasting on Facebook. Follow us on Twitter @sportscasting19.
RELATED: Pro Football Hall of Fame Announcer Joe Buck Still Studies His Broadcasting Rivals Despite His Own Success